You are here
Tarabband presents Arab music from Sweden, gives voice to victims of war
By Muath Freij - Jul 31,2015 - Last updated at Jul 31,2015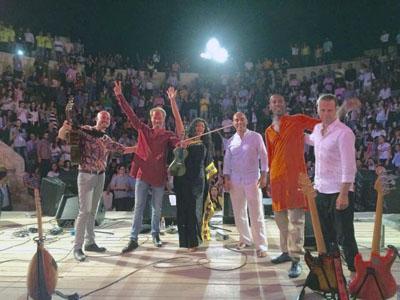 Members of the Tarabband group seek to present a mixture of Arab and Western music to a Western audience (Photo courtesy of Tarabband)
AMMAN –– After stopping briefly in Jordan on her journey to seek refuge in Europe 14 years ago, Iraqi musician Nadin Al Khalidi returned to the Kingdom on Wednesday from Sweden to make the voices and stories of fellow Iraqis and other victims of war heard through music.
"I first arrived in Jordan in 2001, leaving Baghdad to head to Europe as a refugee," said Khalidi, who is of Egyptian origin.
"When I settled in Sweden, I started playing Western music and wrote some lyrics. I am really proud to be back in Amman with my fellow band members to play music," she told The Jordan Times ahead of her group Tarabband's concert.
The band, which presents Arab music from Sweden, performed at the opening ceremony of Al Balad Music Festival, which was held at the Odeon in downtown Amman.
"After I arrived in Sweden, I met other likeminded artists and decided to form this group," Khalidi recalled.
The artist said her lyrics, written in Arabic, talk about incidents she witnessed or about experiences of people she encountered.
"Stories about people who lost their lives or were forced to leave their homes because of political agendas are also featured in the songs," she added.
"Ashofak Baaden [See you later] is our new album that we will release this year. This is a song about a Yazidi man and woman who fall in love and get married.
"They took a photo of themselves and posted it on Facebook and later it was widely shared. The girl was forced to leave with other girls and women fleeing conflict in Iraq and he stayed with his parents and their fate remains unknown," she added.
Khalidi — who provides vocals for Tarabband and plays the saz and guitar — sees herself as a "representative" of the victims of war who want to have their voices heard.
"I have a microphone and I have a gift that enables me to send messages of peace and of true stories of people who were affected by conflict."
Gabriel Hermansson, another member of the group, said Tarabband's songs introduces Western audiences, the Swedish one in particular, to something beautiful about the Middle East unlike the scenes of war and conflicts they are always exposed to.
"We want to present something different from the Middle East. People hear a lot in Europe... about bombs and wars and we want to let them hear something beautiful from the Middle East through our music.
"We want to sing for peace and humanity and we believe that music has great power to change things," Hermansson told The Jordan Times as he was preparing for Wednesday's concert.
He noted that Western audiences think the band's music is somewhat "exotic", because they do not listen to Arabic music often.
"But I think our music is not 100 per cent Arabic or traditional and that makes it easy for the Western audience to perceive because it is a bit of a mix with Western art," added Hermansson, who also provides vocals, and plays the oud and guitar.
Al Balad Music Festival, which concludes on August 3, is being held in parallel with a number of cultural and artistic activities in the Kingdom, such as the Jerash Festival for Culture and Arts and the Fuheis Festival.
Jordanian bands Ayloul and Zaed Naes are performing at the festival, in addition to singers from Tunisia, Palestine, Iraq and Lebanon.
Al Balad Theatre Director Raed Asfour said having so many events during the same period is "healthy" and is a sign of Jordan's stability and desire to celebrate joy in a region that is plagued with conflicts and wars.
"People want to celebrate joy and it is good to see all these songs of joy being flamed across the Kingdom," he added.
Related Articles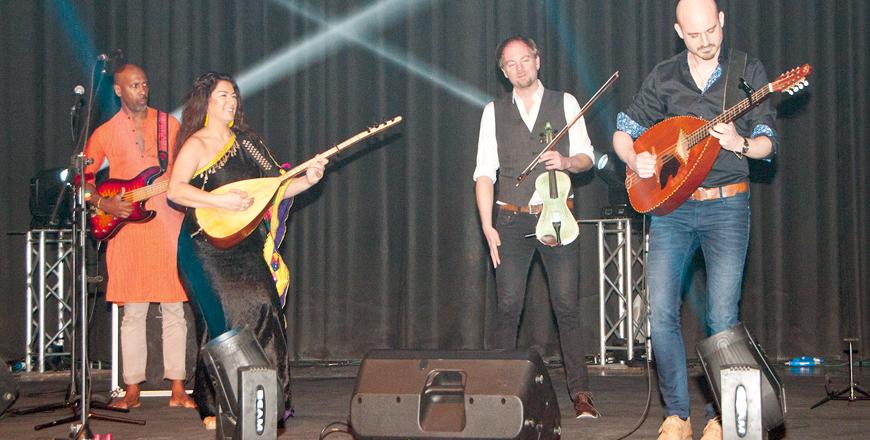 Apr 05,2017
AMMAN — Tarabband concert illustrated the perfect concept of popular music.
Jul 23,2015
AMMAN — Maen Mheidat used to attend Al Balad Music Festival activities over the past years, watching performances by his favourite local and
Aug 24,2017
AMMAN — Downtown's Odeon theatre on Thursday resonated with the catching rhythms of Jordanian Shiraz Band in a two-hour long concert.The mus
Newsletter
Get top stories and blog posts emailed to you each day.