You are here
Tarabband rocks the house
By Jean-Claude Elias - Apr 05,2017 - Last updated at Apr 05,2017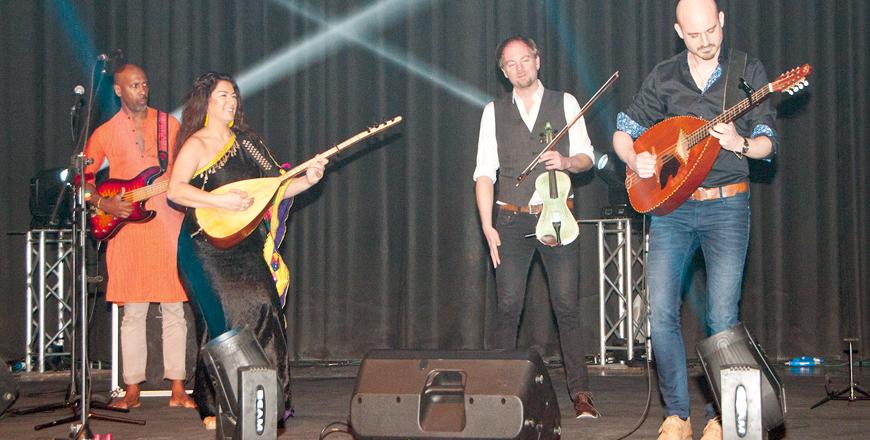 Tarabband performing at the Palace of Culture in Amman on Tuesday (Photo by Jean-Claude Elias)
AMMAN — Tarabband concert illustrated the perfect concept of popular music. Iraqi-born lead singer Nadin Al Khalidi, accompanied with four Swedish and one French musician captured the audiences' enthusiasm from the very beginning with upbeat, lively Arabic rhythms and easy to sing along melodic lines. The ensemble was performing in Amman on Tuesday night at the Palace of Culture, at Sports City, to a full house.
Explaining that she was blessed to have two mother tongues, Arabic and Swedish, the singer showed exceptional energy, stamina and also demonstrated great skills communicating with the delighted audience, managing to make them sing along, and even to make them get up and dance. Some left their seats, formed a group, joined hands, and joyfully went on to perform a typical Jordanian "dabké" dance. The tone of the evening was set.
Part of the tour de force was probably to have European musicians play excellent oriental improvisation and melodies, along with genuine percussions, as if they were born with it; they certainly had the technical skills and perhaps even more importantly the right feeling for it. The violin, the guitar, the bass, the special oud, all the instrument parts were impeccable and perfectly accompanied the strong vocals of Al Khalidi. Dazzling lights effects added a special aura to the entire show.
Like with many groups, the songs of Tarabband are mainly about peace and love. However, they go a bit further and frequently integrate more dramatic themes in the lyrics such as war, injustice, oppression and territory occupation. Still, hope in a better future was also among the themes that were sung.
The name of the group is a word play on the Arabic "tarab" and on "band". Tarab is one of these words that are virtually impossible to translate with precision in another language. The closest paraphrase would be "ecstasy, or absolute delight, in music". Indeed, the audience Tuesday night in Amman was ecstatic.
As explained by the emcee, it was the third time that Tarabband was in Jordan. Apparently they already have a huge fan club in the country. They are scheduled to perform this July at the Liverpool Arab Arts Festival in England.
Related Articles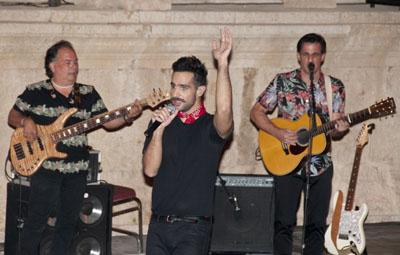 Jun 26,2014
As expected, young Jordanian singer and musician Jaafar delighted the audience at Jerash's North Theatre on Wednesday night, singing mainly covers but also a few of his own compositions.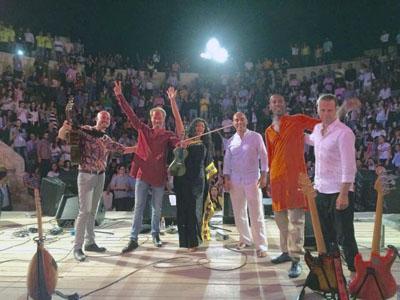 Jul 31,2015
AMMAN –– After stopping briefly in Jordan on her journey to seek refuge in Europe 14 years ago, Iraqi musician Nadin Al Khalidi returned to
May 12,2016
AMMAN — In celebration of Europe Day, Jordanian pop band Jadal gave a highly energetic concert Wednesday night at the small Odeon at the dow
Newsletter
Get top stories and blog posts emailed to you each day.