You are here
Amman church hosts iftar meal for sanitation workers
By Rula Samain - Jun 21,2016 - Last updated at Jun 21,2016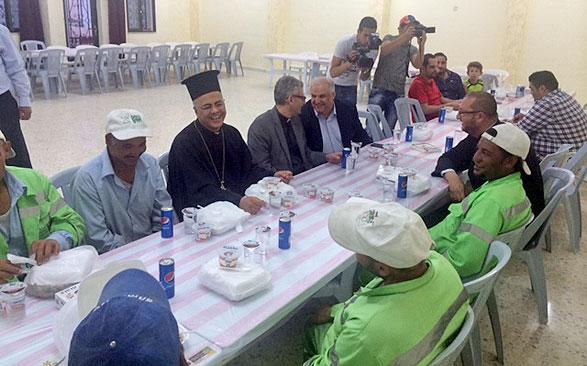 Sanitation workers break their fast at an iftar banquet hosted by the Saint Elias Melkite Greek Catholic Church in Marj Al Hamam recently (Photo by Rula Samain)
AMMAN — In appreciation of their hard work and effort during the Muslim holy month of Ramadan, a priest in Marj Al Hamam suburb has invited sanitation workers to break their daily fast with an iftar meal at his church.
"We just want to return the favour in action and kind words," said Father Mohammad George Sharaiha of the Saint Elias Melkite Greek Catholic Church.
The priest recently arranged with the municipality to invite every sanitation worker in the area to share the iftar meal at the church hall, he told The Jordan Times.
The Muslim call to prayer announced the time to break the fast, and around 20 municipal workers and several priests began their iftar meal.
"I could tell that we were able to put joy in their hearts, but what they do not know is that they added value to the place with their presence," Sharaiha said, noting that all people like to be appreciated.
The uneasy quiet at the start of the iftar was quickly replaced by laughter and storytelling as the meal progressed.
Sharaiha said the church usually invites prominent figures from the area every Ramadan, "but this year is special".
"We decided that Ramadan this year should have a different taste, and we wished to celebrate it with people whom the church feels are very special," he explained.
"So we decided to invite and extend our appreciation to people who serve in hot and cold weather to keep our streets clean."
The priest said he organised the event to celebrate Ramadan and to strengthen the religious unity in Jordan, as well as to thank the nation's workers and to show appreciation for their difficult work.
"It is hard to work while fasting all day. These men are fasting and never complain about the hot sun they work under all day," he said.
At the end of the meal, some workers volunteered to clean up, but Sharaiha refused.
He added that the next day while driving his son, two workers on the street waved good morning to them.
"I realised that the best bond is the human one, and the most solid establishment is the humanitarian one," the priest said.
Related Articles
Jun 30,2016
AMMAN — "People should strive to put joy and happiness in the hearts of abandoned and poor children, and what better times than these," said
Jun 13,2016
AMMAN — Sanitation workers in the capital are operating around-the-clock to cope with the 20 per cent rise in household waste produced durin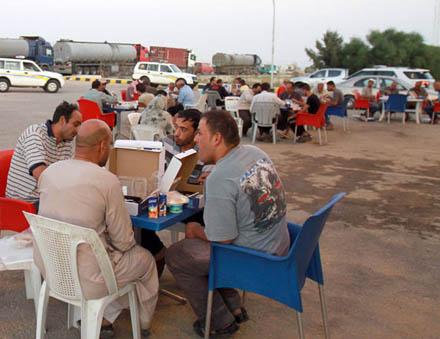 Jul 01,2015
AMMAN — Traffic Police patrol units hosted an iftar for motorists on the Desert Highway linking Amman with southern governorates on Tuesday.