You are here
Amman citizens face daily transportation hustle
Echoing King's remarks, citizens want better transport services to be planners' priority
By Dana Al Emam - Jun 09,2017 - Last updated at Jun 09,2017
Students board a bus near the University of Jordan in Amman on Thursday (Photo by Amjad Ghsoun)
AMMAN — Proximity of the workplace to the place of residence has become one of the top considerations Muna Hamdan bears in mind when looking for a job to avoid the headache of commuting.
The 34-year-old software engineer and mother of two said she had to disregard some ''great'' job opportunities in well-known companies only because it would take her nearly two hours to commute to and from work in the traffic.
''I do not have a car and it is difficult to move around via public transportation,'' she told The Jordan Times on Thursday.
Ahmad Khatib, a resident in the capital's Jubeiha neighbourhood and an employee at a company located in Shmeisani faces the same problem.
Every day, he takes a bus and a taxi on his way to work, and pays around JD1.5 for one way only.
"It is often hard to find a bus at a suitable and regular time, but what is more difficult is finding a taxi to take me from Dakhiliyah [Interior Ministry] Circle to my work place at a busy area," he said.
During a meeting with officials in the transportation sector on Wednesday, His Majesty King Abdullah underlined the vitality of the sector, which should not be neglected or exploited to serve personal interests as deterioration in such services affects the life of every individual and harms the national economy.
The King pointed out that the sector is witnessing a "worrying regression" and he urged stakeholders to take all necessary executive and correctional measures, as well as making the necessary legislative changes to reform the sector.
"It cannot be accepted that people suffer to reach their workplaces or homes because of the absence of a public transport system which respects their humanity and meets their needs," His Majesty said during the meeting.
Commenting on the issue, analyst and columnist at Al Rai daily Issam Qadmani said the transportation issue in Jordan is due to the lack of organised lanes and timing, noting that countries with narrower streets were able to create efficient public transportation systems.
Until this issue is addressed, Jordan will waste more money on the energy bill, and will witness further pressure on its infrastructure and roads, he noted, highlighting the higher rates of road accidents due to the large number of vehicles individual use due to the lack of a proper and safe public transportation network.
He also noted that the issue contributes to wasting time in traffic congestions and to harming the environment, two issues with indirect economic losses.
Meanwhile, he suggested moving all public agencies into one location on the sides of the capital and to serve it with an efficient transportation network to ease the pressure on roads inside the city.
For her part, SADAQA organisation core team member Sahar Aloul cited a study saying that 40 per cent of Jordanian women who were offered jobs have turned down these offers due to the lack of transportation.
She said the lack of an efficient and safe public transportation network is one of the major factors that hinder women's participation in the job market, noting that many women have to take more than one means of transportation on their way to and from work.
"So far, the transportation sector is not being treated as a priority sector," she concluded.
Related Articles
Apr 12,2018
AMMAN — In light of the repeated strikes by yellow taxis' owners demanding the ban of ride hailing apps due to "the incurred financial losse
Feb 07,2014
Inadequate public transportation is one of the major challenges impeding the employment of young job seekers, particularly females, according to a study released on Thursday.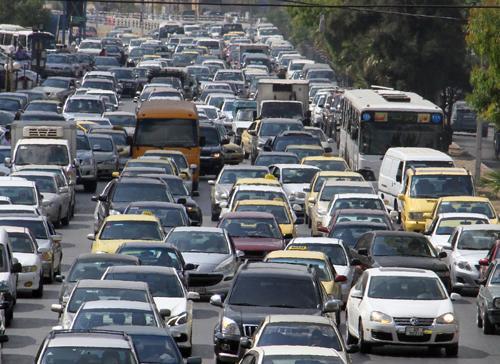 Jan 07,2018
AMMAN — As the deficiencies of Amman's transportation system keep fuelling popular frustration, Jordanian Rahmeh Abu Shweimeh decided to lau
Newsletter
Get top stories and blog posts emailed to you each day.