You are here
Amman soup kitchen spreads message of unity with iftar meals
By Suzanna Goussous - Jun 10,2016 - Last updated at Jun 10,2016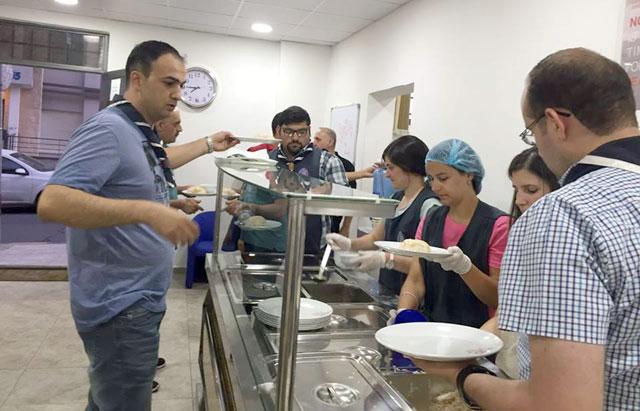 In this recent photo, volunteers at the Restaurant of Mercy in Amman's Jabal Luweibdeh prepare the iftar meal to serve underprivileged people during Ramadan (Photo courtesy of Restaurant of Mercy and Caritas Jordan)
AMMAN — Delivering a message of peace, forgiveness and conviviality, the Restaurant of Mercy is offering free iftar meals to underprivileged families across Jordan during Ramadan.
"It is our role to convey the message of conviviality and mercy to the world," said Dana Shahin, a spokesperson for Caritas Jordan, which launched the initiative.
"With the beginning of Ramadan, we emphasise the theme of our restaurant and the fact that it was inaugurated on the occasions of Christmas and Prophet Mohammad's birthday," she added.
Shahin said 2016 is the "year of mercy" and that it is the duty of privileged citizens to support and feed those who are celebrating the Muslim holy month of Ramadan but cannot afford to provide their families with iftar meal, shared at sunset to break the daily fast.
The restaurant, which has a capacity of 50, provided 200 iftar meals on the first day of Ramadan, including delivery orders, she added.
"This is an initiative to emphasise our faith in humanity, overlooking borders and terrorism. It aims to promote peace among people," Shahin continued.
Sawsan Awwad, who works at the restaurant, says Syrian and Iraqi refugees benefit from the soup kitchen.
"We will also pay visits to several areas around Jordan, including Hashemi Shamali, Baqaa, Misdar, Naour, Ashrafieh, Salt and Zarqa to celebrate Ramadan with them," she told The Jordan Times.
The restaurant plans to organise an iftar feast for Syrian and Iraqi refugees in the Garden of Mercy, Awwad said, noting that the meals would be cooked by Christian Iraqi refugees.
The kitchen serves dates, soup, fresh juice and a homemade main course, she noted, adding that the restaurant is a display of understanding to combat images of intolerance, racism and discrimination.
"We are one. Inseparable. We will not let anyone come between us," she said. Sheikh Hamdi Murad said the Ramadan initiative embraces the values of mercy and forgiveness encouraged in Islam.
"Every now and then, we hear of such humanitarian initiatives in Jordan… that aid the underprivileged and people in need, to draw a smile on their faces and brighten their lives," he told The Jordan Times.
Murad said the initiative also highlights the value of unity that the Jordanian people represent.
The Restaurant of Mercy, in Amman's Luweibdeh area, was inaugurated by Caritas Jordan and the Latin Archdiocese in December 2015, serving around 300 to 500 free lunches to visitors each day.
Related Articles
Dec 12,2015
AMMAN — As the holiday season approaches, Caritas Jordan and the Latin Archdiocese are collaborating to open a soup kitchen within the next
Jun 15,2016
AMMAN — Her Majesty Queen Rania on Tuesday visited programmes run by Caritas Jordan in Jabal Luweibdeh, including its community centre and t
Jun 30,2016
AMMAN — "People should strive to put joy and happiness in the hearts of abandoned and poor children, and what better times than these," said
Newsletter
Get top stories and blog posts emailed to you each day.