You are here
Up-and-coming Dead Sea Sirens weave rock into Jordan's music scene
By Saeb Rawashdeh - Aug 29,2021 - Last updated at Aug 29,2021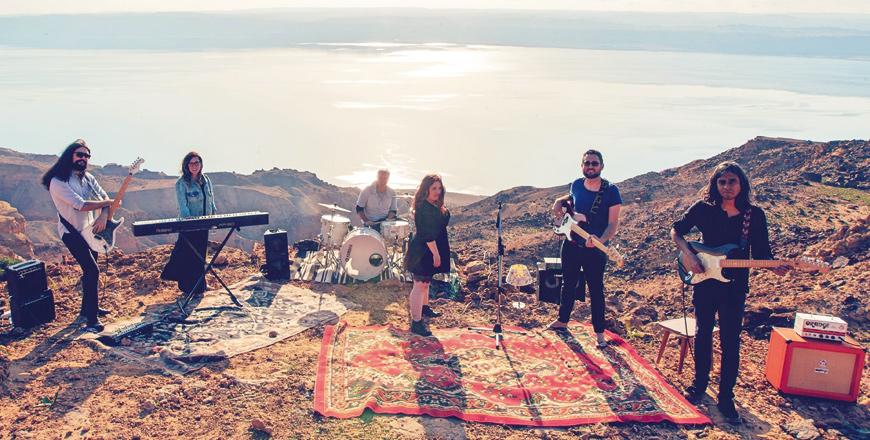 The Jordan-based Dead Sea Sirens, a self-described 'rock band from all corners of the globe' released their debut album, 'Visions', in July (Photo courtesy of Dead Sea Sirens)
AMMAN — Parting ways with playing covers, the Jordan-based Dead Sea Sirens, a self-described "rock band from all corners of the globe" have started to produce originals.
"It is no accident we chose the Dead Sea as a part of our name — it is the place that brought us together as a group and inspired our music," Murad Mousa, the group's drummer said.
"Occasionally, we would slip an original into a cover set and were surprised by how well it went down," said the group's guitarist Vivek Ayer.
The group released its debut album, "Visions", in July.
"Usually, we would have tested our tunes in live shows to see what works and what doesn't," Mousa said. "Thanks to COVID-19, we had to launch a new band and new songs without anyone outside of our inner circle ever hearing them."
The album's first track, "Again", written by vocalist Christina Penzes, "has a strong pop-rock drive, with a splash of 80s metal", Mousa said.
According to guitarist Amr Wajdi, Jordan's music scene has a lot to offer.
"The Cold Play gig at the Jordan Citadel in November 2019 helped introduce the country to Western audiences," said Wajdi, adding that Jordan has always been a "hidden gem".
The Dead Sea Sirens are very much Jordan-born and bred, Mousa said.
"We started dropping photos on our band's page, from the places we jammed or travelled — sing-alongs in Wadi Rum, road trips to Aqaba, film shoots on the Dead Sea," Penzes said, adding that people "can't believe the beauty of Jordan".
The band says it plans to drop new singles later this year.
The pandemic has pushed a lot of the music scene online, said Mousa, but the band is "looking forward to getting back to our first love — writing and producing music".
up
21 users have voted, including you.
Newsletter
Get top stories and blog posts emailed to you each day.