You are here
Arab Bank, respected multinational in dock for terror
By AFP - Aug 19,2014 - Last updated at Aug 19,2014
OCCUPIED JERUSALEM — Arab Bank, on trial in New York for allegedly supporting terrorism, is one of the biggest and most prestigious Arab banking giants in the world.
Founded in 1930 by Abdel Hamid Shoman, a Palestinian from Jerusalem who worked as a peddler in New York then returned home to start his empire, it started out as the first private sector financial institution in the Arab world.
In 1948, when Israel was established, the bank relocated to Amman.
Today, the Arab Bank Group is a hugely respected multinational with more than 600 branches in 30 countries, assets last year worth $46.4 billion and a shareholders' equity base of $7.8 billion.
Over the decades it has weathered a storm of political upheaval in the Middle East and economic boom and bust, forging an international reputation for honesty, fiscal conservatism and first-class professionalism.
"This is a well-established, well-rooted and very successful, very profitable organisation," Jordanian economist Riad Al Khouri told AFP.
"Everything the Arab Bank has ever done under any and all circumstances has been ultra professional," he added. "It is inconceivable that the Arab Bank would have done anything like it is being charged with."
Last week, the bank went on trial on charges of "aiding terror" by transferring support funds to the families of Palestinians killed while carrying out anti-Israeli attacks during the second Intifada (2000-2005).
The lawsuit was filed by the families of Americans killed in Hamas attacks, who claim that in transferring such monies, the bank was in violation of the 2001 Anti-Terrorism Act.
'A global business culture'
The bank vehemently denies the charges, saying it provided "routine banking services" in compliance with counterterrorism laws, and "had no intention of providing support to Hamas or any other known terrorist organisation".
Experts and economists believe the bank will emerge unscathed with flying colours, dismissing the case as a political attempt by American Zionist organisations looking to discredit the Palestinian cause.
What is without doubt is that the bank has impeccable credentials.
In the Palestinian territories it has been the bank of choice for the international development and donor community, helping to process payments for the US and European governments, the United Nations and major charities.
It also maintains the account of the Palestinian Authority into which Israel deposits all tax and customs revenue that it collects on its behalf.
It is one of the largest employers in the Palestinian territories, providing direct employment for nearly 1,000 employees across 27 branches.
But independent economists scoff at the idea that it is a Palestinian entity.
'A globalised banking business'
"Their culture is a globalised banking business. It's not a Palestinian one. They are a business. They are not there for some kind of religious, cultural or political purpose," said Khouri.
In 2002, then-US ambassador Edward Gnehm described the bank as so important commercially, financially and culturally to Jordan that its "stability plays a role in the stability of the country and the region as a whole".
Today the Shoman family is no longer directly involved in managing the bank and owns less than 2 per cent of the business. The founder's son oversaw its huge expansion but his grandson resigned in 2012 following a dispute with the board over management of the bank.
Its current chairman, Sabih Masri, was elected by the board.
Experts say that the bank has been through worse and will thrive.
Following the 1948 war when Israel was established, and the Six-Day War of 1967 when Israel seized the West Bank, the Gaza Strip and East Jerusalem, the bank returned in full the deposits of every customer who asked for their money back and fled.
It was this commitment, despite the painful loss of assets, that early on forged its reputation for having very high liquidity and for offering customers low — but guaranteed — returns.
"The private sector perceives the bank as a first class bank, as an ethical bank, as a very apolitical bank," said Zahi Khouri, chairman of the National Beverage Company which holds the Coca Cola licence in the Palestinian territories.
In the 1960s, it lost two dozen branches to nationalisation in Egypt, Syria, Iraq, Yemen, Sudan and Libya, but in the 1970s it went truly global, opening offices in London, Frankfurt, Australia, New York and Singapore.
This first trial is a liability trial only. If the bank is found guilty there will be a separate trial before a new jury can rule on damages.
Ahmad Khalidi, a senior associate member of St. Anthony's College, Oxford and a former Palestinian negotiator, said there has been a concerted campaign by American Zionist groups to constrain Palestinian institutions.
Related Articles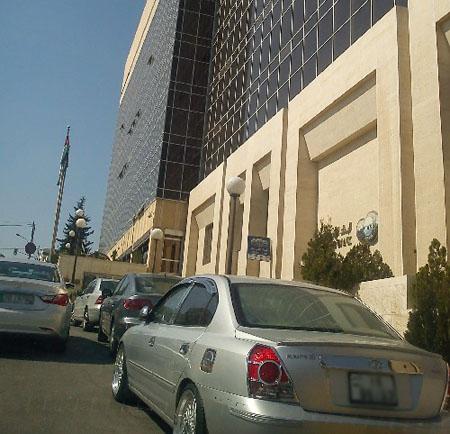 Aug 09,2014
A civil trial involving Arab Bank over claims it provided material support to the Palestinian group Hamas will start in New York on Monday, according to the law firm representing the bank. 
Sep 23,2014
Arab Bank will appeal a New York verdict that found the Amman-based bank liable on counts of providing material support to Palestinian group Hamas, its lawyer announced Tuesday. 
Oct 12,2014
Arab Bank has filed a motion for a new trial in the US, arguing that a New York jury made "many serious errors" that led to a September 22 ruling that found Jordan's largest bank liable for injuries resulting from 24 "terrorist" attacks in Palestine. 
Newsletter
Get top stories and blog posts emailed to you each day.