You are here
Arab, European FMs in Dublin stress need for relaunching Mideast negotiations
By JT - Feb 19,2019 - Last updated at Feb 19,2019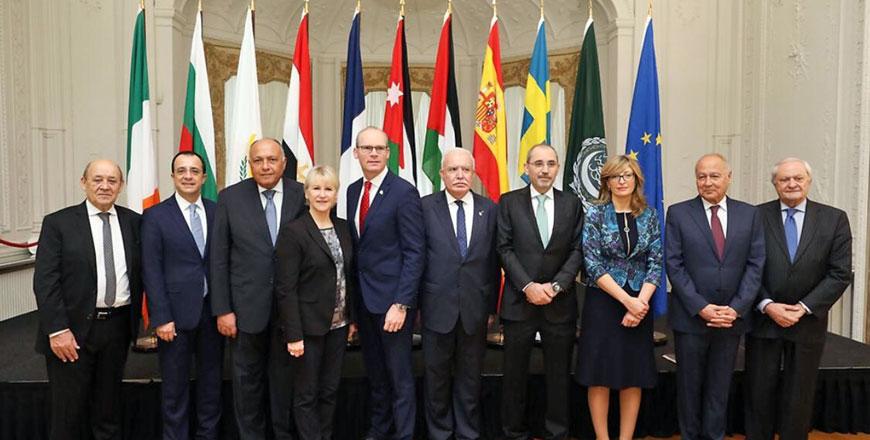 Foreign Minister Ayman Safadi poses for a photo with foreign ministers of Ireland, Egypt, Palestine, France, Sweden, Bulgaria, Cyprus and Spain, as well as Arab League Secretary General Ahmad Aboul Gheit, during a consultative meeting in Dublin, Ireland, on Tuesday (Photo courtesy of Foreign Ministry)
AMMAN — Minister of Foreign Affairs and Expatriates Ayman Safadi and foreign ministers of several Arab and European countries, as well as the Arab League secretary general, on Tuesday agreed on the importance of launching serious and effective negotiations to resolve the Palestinian-Israeli conflict on the basis of a two-state solution.
Safadi stressed that the Kingdom has always affirmed that the two-state solution is the only way to achieve a comprehensive and lasting peace, a Foreign Ministry statement said.
The foreign minister's remarks came during a consultative meeting on breaking the stalemate in the peace process, called for by Irish Deputy Prime Minister and Foreign Minister Simon Coveney.
In addition to Jordan, the summit brought together the foreign ministers of Egypt, Palestine, France, Sweden, Bulgaria, Cyprus and Spain, as well as Arab League Secretary General Ahmad Aboul Gheit.
Discussions highlighted the importance of supporting all effective efforts towards ending the conflict, with participants stressing the centrality of the Palestinian cause and the two-state solution to efforts aiming to achieve security and stability in the region and combat extremism and despair.
The ministers affirmed during the meeting, which was preceded by a dinner banquet with President of Ireland Michael Higgins and Irish Prime Minister Leo Varadkar, their support for a comprehensive peace that meets the Palestinians' right to freedom and statehood, and offers Israel security and recognition, in accordance with the two-state solution.
The ministers expressed concern about the status quo and stressed the importance of finding a political prospect for progress towards resolving the conflict, the statement noted.
Safadi conveyed to the meeting the Kingdom's stance that resolving the Palestinian-Israeli conflict on the basis of the two-state solution and in accordance with the resolutions of international legitimacy and the Arab Peace Initiative, is the only way towards comprehensive peace.
He warned of the consequences of the stalemate in peace efforts, the absence of prospects towards a two-state solution and the rooting of despair at the expense of security and stability in the region.
He added that the Kingdom would continue to exert every possible effort to achieve a comprehensive peace that is acceptable to all, and meets all the legitimate rights of the Palestinian people, foremost of which are their rights to freedom and statehood along the lines of June 4, 1967 with East Jerusalem as its capital.
On the sidelines of the meeting, Safadi discussed with his counterparts bilateral relations and regional developments, the statement said.
Newsletter
Get top stories and blog posts emailed to you each day.