You are here
Arab League chief praises Kingdom's presidency of summit
King Abdullah meets with UNRWA's chief, renews support for agency
By JT - Mar 27,2018 - Last updated at Mar 27,2018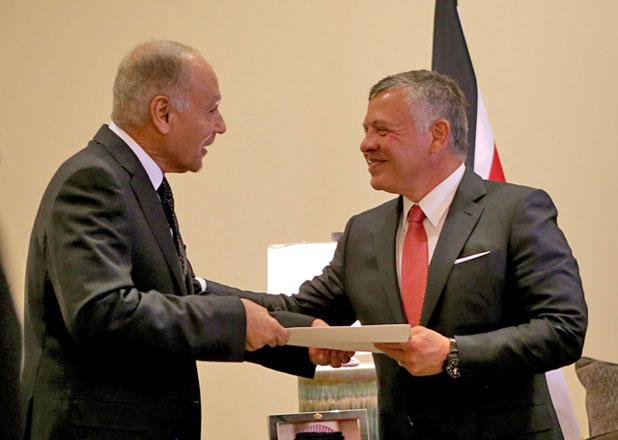 His Majesty King Abdullah receives the Arab league report covering Jordan's presidency of the Arab summit from the league's Secretary General Ahmad Aboul Gheit in Amman on Monday (Photo courtesy of Royal Court)
AMMAN — His Majesty King Abdullah on Monday met with Arab League Secretary General Ahmad Aboul Gheit, who handed the King an evaluation report on pan-Arab joint action during Jordan's rotating presidency of the Arab summit.
During the meeting, Aboul Gheit praised the Kingdom presidency, during which various decisions were issued to stress the centrality of the Palestinian cause and the need to reach an end to the Palestinian-Israeli conflict based on the two-state solution with East Jerusalem as capital of Palestine.
The meeting focused on the challenges and crises that face the region and efforts to work out political solutions to these conflicts.
His Majesty stressed Jordan's keenness on supporting the pan-Arab action in light of the critical circumstances that the region is undergoing, which, he said, require collective action to serve the nation's interests and just causes.
The King highlighted the role of the Arab League in unifying Arab countries positions on issues of common interest.
King Abdullah praised the role and efforts of the Arab League, especially during Jordan's presidency of the summit, which started at the Amman-hosted leaders' summit one year ago.
For his part, Aboul Gheit expressed his appreciation for the King's efforts in supporting the organisation.
Also on Monday, His Majesty met with UNRWA Commissioner General Pierre Krahenbuhl on the sidelines of the Laureates and Leaders for Children Summit 2018, a Royal Court statement said.
The meeting covered the economic challenges that face UNRWA and means to support the UN organisation to continue providing basic services to more than five million registered Palestinian refugees.
His Majesty highlighted the importance of the agency's humanitarian role, urging the international community to fulfil its responsibilities in supporting it to continue delivering education, health and relief services.
For his part, Krahenbuhl commended the Kingdom's efforts and the contacts it has made with influential international stakeholders, in finding effective and quick solutions to address UNRWA's unprecedented financial crisis, which was deepened by US President Donald Trump's to drastically cut aid to the agency .
He also thanked Jordan for its endeavour in co-chairing a ministerial emergency conference recently in Rome to support the UNRWA, where new pledges were made to the organisation to help it overcome the financial challenge.
Related Articles
Nov 22,2017
AMMAN — His Majesty King Abdullah on Wednesday discussed with visiting Arab League Secretary General Ahmed Aboul Gheit regional and pa
Apr 04,2018
AMMAN — His Majesty King Abdullah on Tuesday received an invitation from Saudi King Salman Bin Abdulaziz to participate in the Arab summit s
Mar 19,2017
AMMAN — His Majesty King Abdullah on Sunday emphasised the importance of coordinating and unifying stances of Arab states to address challen
Newsletter
Get top stories and blog posts emailed to you each day.