You are here
Arab youth invited to join sustainable development network
By Hana Namrouqa - Jan 03,2018 - Last updated at Jan 03,2018
AMMAN — Arab youngsters are invited to join a new regional network that encourages the involvement of the younger generation in the sustainable development of their communities, one of the network's founders said on Wednesday.
The Arab Youth Sustainable Development Network (AYSDN), which was launched on January 1, brings together a group of young leaders in sustainable development from the Middle East and North Africa region with the aim of setting up an efficient youth-based system that proposes solutions and ideas for the development of communities in the Arab world, AYSDN Secretary General Yousef Awawdeh said.
"We are reaching out for the youth of the Arab region to join our network to benefit from their capacities and ideas and also train them and share with them our expertise in sustainable development," Awawdeh, who is one of the founders of the network, told The Jordan Times.
The network entails board members, ambassadors and members from different Arab countries, he said, noting that the network will organise training workshops for its members to enhance their awareness on sustainable development.
"The network is already very much active in Jordan… we aim at establishing an effective younger generation that plays a role in the sustainable development of our communities and also build the youth's capacities to have them involved in the decision-making process," Awawdeh underscored.
The AYSDN also aims at achieving greater involvement of the Arab youth in achieving the goals of sustainable development and contributing to enhancing the young people's leading role in community development, according to the network.
"We are now in the process of formulating a plan that will entail projects to achieve our goals," Awawdeh noted.
AYSDN President Tareq Hassan said in a press statement that the network seeks to motivate young people to achieve the United Nations 2030 Agenda for Sustainable Development Goals.
"Arab youth are a key element in reform, change and pushing societies towards development. Arab youth are capable of taking responsibility, capable of development and reform if given the opportunity, the means and the necessary and main means," Hassan said in the statement.
Related Articles
Nov 09,2017
BONN — At the 23rd Conference of the Parties (COP 23), where thousands of diplomats and heads of international organisations are currently n
Mar 27,2017
AMMAN — Around 500 young people took part in the first annual Jeel962 Forum at Al Hussein Cultural Centre in Amman on Saturday, under the th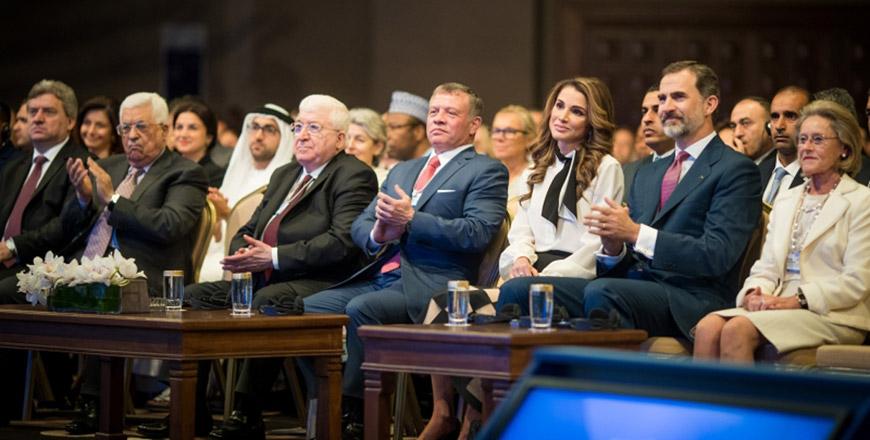 May 20,2017
DEAD SEA — HRH Crown Prince Hussein on Saturday said Arab youth want a fair chance to be heard and to make a difference, stressing the need
Newsletter
Get top stories and blog posts emailed to you each day.