You are here
Authorities to tackle traffic jams
By JT - Aug 24,2014 - Last updated at Aug 24,2014
AMMAN — Interior Minister Hussein Majali on Sunday formed an ad hoc committee to resolve traffic congestion in the capital and other major cities in the Kingdom.
The Jordan News Agency, Petra, said the newly formed panel will be headed by the director of the ministry's traffic safety department, with representatives of the ministries of municipal affairs, public works and transportation, as well as the Greater Amman Municipality, the Central Traffic Department (CTD) and the Land Transport Regulatory Commission as members.
Interior Ministry Spokesperson Zeyad Zu'bi said the committee will look into solutions to the daily traffic jams in Amman and other cities.
He blamed population density, the excessive use of private vehicles and the lack of parking spaces adjacent to public buildings for the road congestion.
The government move comes after a month of severe traffic jams across the capital and other major cities, which authorities and motorists attribute to the thousands of cars that entered the Kingdom from the Gulf region during the Eid Al Fitr holiday, which started on July 28 and continued through August 2.
According to CTD figures, there are over 1.29 million cars in Jordan.
The department estimates that an average of 150,000 cars enter the country from Arab Gulf states every year.
Several Amman residents have complained that this summer's traffic congestion was unprecedented.
In previous remarks to The Jordan Times, Lt. Col. Muawiah Rababaa, director of the CTD's public relations team, said tens of thousands of vehicles entered Jordan from Gulf states before the Eid holiday, most of them from Saudi Arabia.
A majority of the cars are driven by Jordanian expatriates who work in Gulf countries as they usually return to the Kingdom to spend summer holidays with their families.
Official figures estimate the number of Jordanian professionals in the Gulf at around 750,000.
Also on Sunday, Public Security Department (PSD) Director Gen. Tawfiq Tawalbeh and Transport Minister Lina Shbeeb discussed traffic problems and their impact on citizens' daily life, Petra reported.
Shbeeb said the ministry, in cooperation with the PSD, will work on curbing the illegal practice of private cars ferrying paying passengers, adding that a plan is currently being prepared to reduce traffic accidents.
For his part, Tawalbeh expressed readiness to assist the ministry in organising traffic and saving lives, according to Petra.
Related Articles
Aug 02,2014
Having to navigate through severe traffic jams was a common complaint for residents of some major cities in the Kingdom during the Eid Al Fitr holiday.
Mar 14,2016
AMMAN — The Greater Amman Municipality (GAM) has started implementing what officials describe as "traffic solutions" to curb gridlocks in th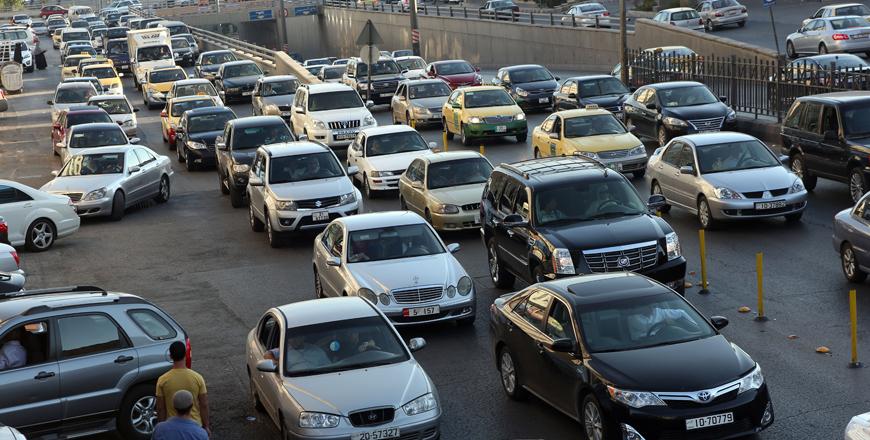 Sep 03,2015
AMMAN — Fewer traffic jams are expected on the roads now as expatriates are returning to their work abroad and the summer season is about to
Newsletter
Get top stories and blog posts emailed to you each day.