You are here
Belgium's trade relations with Jordan stand to benefit from relaxed rules of origin — ambassador
By Mohammad Ghazal - Dec 10,2016 - Last updated at Dec 10,2016
AMMAN — The potential for increased cooperation between Jordan and Belgium, which are key partners in the war on terror, is large, according to Hendrik Van de Velde, the Belgian ambassador in Amman.
Relations between Jordan and Belgium are strong and are marked by the close relationship between the two Royal families of Belgium and Jordan, the ambassador said in a recent interview with The Jordan Times.
Van de Velde said Their Majesties King Abdullah and Queen Rania's several-day state visit to Belgium in May, which came a few weeks after the terrorist attacks in Brussels is a testimony to the close ties and trust between the two countries.
"King Abdullah is seen as a voice of reason, balance and moderation," said the ambassador, adding that 2016 was a special year in terms of bilateral relations.
Highlighting security and military cooperation, he said Belgium and Jordan are two active players in the war on terrorism as members of the international coalition against Daesh.
"We have respect and trust for Jordan's role in this regard…Jordan has strong experience in the field of countering terrorism and we see eye to eye in the war on terror."
Belgium has six fighter jets that fly from Jordan to hit Daesh in Syria and Iraq, the ambassador explained.
"We are very grateful for the support we receive in this regard."
Commenting on Jordan's deal with the EU that will go into effect as of early 2017, entailing the relaxing of rules of origin for Jordanian industries to be able to boost exports to Europe, the ambassador said Belgium supported and wanted the deal.
The agreement, which Van de Velde said, is beneficial for the two sides, and can help boost trade ties between Jordan and Belgium.
The trade balance between Belgium and Jordan was 95.4 million euros in the first six months of 2016. Jordan's exports to Belgium reached 23.1 million euros in the same period, according to figures by the Belgian Foreign Trade Agency.
In 2015, the trade balance reached 288.6 million euros. Jordan's exports to Belgium in 2015 reached 40 million euros, according to the agency.
Belgian exports include chemicals, foodstuff and equipment and machinery, while Belgian imports from Jordan include textiles and some types of chemicals and foodstuff.
The ambassador said a meeting will be held in Brussels by the end of January bringing together stakeholders and representatives from the Jordanian and European private and public sectors to explain the rules of origin deal and how to maximise benefit from it.
"For Jordanian industries to boost exports and benefit from the deal, there is a need to focus on manufacturing high quality products and packaging," he said, adding that the upcoming meeting is an opportunity to explore potential collaboration and investments.
Aware of the pressure Jordan is facing due to the influx of Syrian refugees, Belgium will continue to support the Kingdom and host communities, Van de Velde added.
The volume of aid Belgium provided to mitigate the effect of the Syrian crisis between 2014-2016 reached around 100 million euros. Of the total, around 20 per cent went to Jordan, he said.
up
172 users have voted, including you.
Related Articles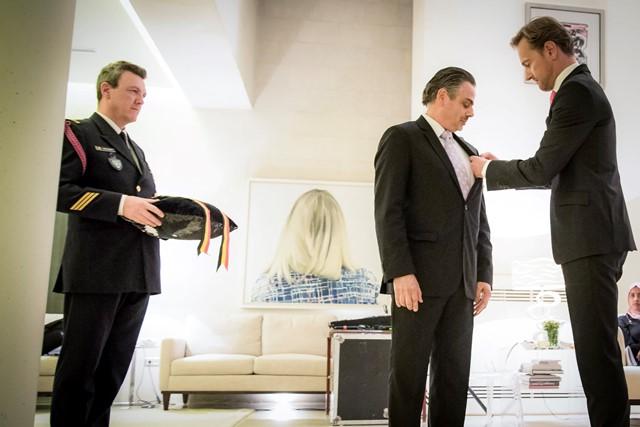 May 08,2018
AMMAN — Upon an official visit by the Belgian and Luxembourg Trade Mission, the Belgian embassy on Tuesday awarded the Order of the Crown fr
Oct 07,2015
AMMAN — Civil Defence Department (CDD) Deputy Director Maj. Gen.
Sep 20,2015
AMMAN — Amman Chamber of Commerce (ACC) President Issa Murad on Sunday met separately with Belgian Ambassador Hendrik van de Velde and Japan
Newsletter
Get top stories and blog posts emailed to you each day.