You are here
Campaign highlights Arab youth's model of peacebuilders
Shughel Shabab followed Crown Prince-led Amman Declaration
By Camille Dupire - Feb 23,2018 - Last updated at Feb 23,2018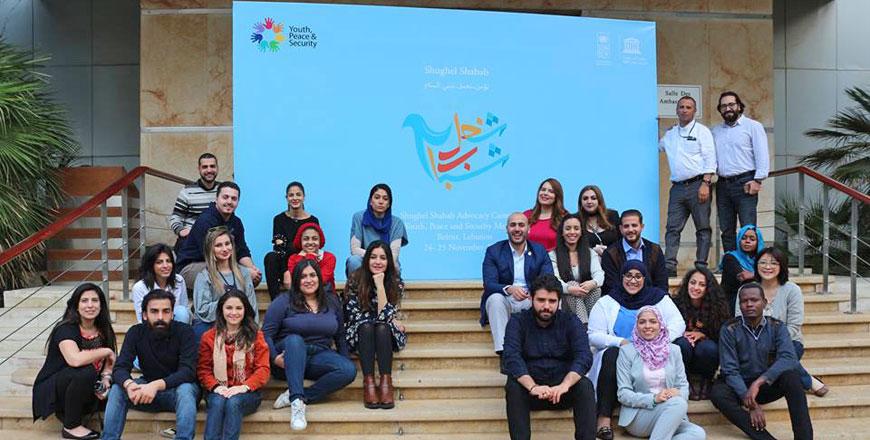 Shughel Shabab's members pose for a group picture in Beirut recently (Photo courtesy of Shughel Shabab)
AMMAN — A group of 18 Arab youth is collecting 100 success stories of young Arab peacebuilders, as part of the Shughel Shabab campaign launched in September of last year.
"During Jordan's presidency of the Security Council in 2015, HRH Crown Prince Hussein called for the Global Youth Forum on Youth, Peace and Security which was held here in Jordan, leading to the adoption of the noted Amman Declaration," recalled Jordanian Barik Mhadeen, one of the Shughel Shabab members.
"A few months later, and for the first time ever, the UN Security Council unanimously voted to adopt the Resolution 2250 acknowledging young people's positive contribution to peacebuilding, which was largely informed by the Amman Declaration."
"However, with a group of 17 other Arab youth, we realised that there was almost no evidence available of the good things young people are doing in the field of peacebuilding. So we decided to launch this youth-led network to share the positive stories of 100 young peacebuilders from the region," Mhadeen recalled, stressing that this campaign aims at "changing the stereotypes of young Arabs as being terrorists and security threats".
In September 2017, the group comprised of Tunisians, Yemenis, Libyans, Kurds, Syrians and Sudanese, among others, launched the initiative, which was quickly endorsed by the UNDP Regional Bureau for Arab States and the UNESCO Beirut Office.
Through an online social media campaign, Shughel Shabab has called on young Arabs to tell their story in the form of a short video, photos or infographics, in which they are invited to showcase a solution they have implemented in their community to overcome a peacebuilding issue.
"Applicants can send us videos of up to two-and-a-half minutes already edited or five-minute long videos which our team can edit for them," said Azza Al Salmi from Oman, noting that this will provide them with a platform to express their voice and promote more inclusive policies and peace processes in the region.
"We encourage any youth to send us their story, regardless of the tools they are using to promote peacebuilding: it can be music, art, street events, etc. as long as they show the positive impact young Arabs have in their community," Mhadeen continued, stressing that "this will help us in building a database of evidence of what is being done in the Middle East and North Africa".
"Youth in the Arab region have been very resilient and resourceful and have found ways to help rebuild their communities," stressed Iraqi Shughel Shabab member Hind Mohammed, denouncing the lack of attention paid to these positive contributions.
The campaign, which was presented by Mhadeen at the ECOSOC Youth Forum 2018 in New York last month, was commended as an "example of youth creativity towards development" by UN officials.
"All too often, young people in the Arab states are portrayed as universally, perpetually in despair. While many Arab countries are indeed in a state of turmoil, the truth is that young people across the region are finding ways to keep their societies moving forward and be at the forefront of development worldwide," UNDP Regional Hub for Arab States Director Khaled Abdelshafi told The Jordan Times previously.
Following the first phase of story collection, which will conclude in April, Shughel Shabab will begin a call for action, whereby it will approach policymakers asking for further support of the youth initiatives.
"So far, this campaign has been a great success with some very surprising submissions. It is truly inspiring to see how peace means something very different for people living in different countries," Mhadeen rejoiced, citing the enlightening contrast in perspectives in applications of Omani and Syrian youth.
Related Articles
Nov 19,2017
AMMAN — Young people from across the globe on Saturday gathered at the UN headquarters in New York for a two-day validation consultation aim
Oct 29,2016
AMMAN — HRH Crown Prince Hussein on Friday said Jordan will be hosting the Arab States Regional Workshop on Peacebuilding in December, accor
Aug 19,2015
AMMAN — The first Global Forum on Youth, Peace and Security, hosted by Jordan in partnership with the UN, will open on Friday at King's Acad
Newsletter
Get top stories and blog posts emailed to you each day.