You are here
CDFJ releases guidelines for journalists covering COVID-19
By Bahaa Al Deen Al Nawas - Apr 07,2020 - Last updated at Apr 07,2020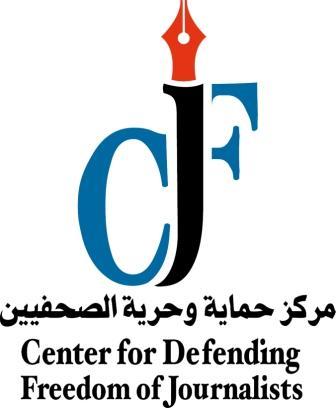 AMMAN — The Centre for Defending Freedom of Journalists (CDFJ) has launched the "media for combating coronavirus" campaign in cooperation with the awareness and media department and the Health Ministry.
The campaign focuses on three aspects; the first is seeking truth while reporting, the second is protecting the privacy of individuals and avoiding terminology that induces panic and the third is protecting journalists during their work, CDFJ President Nidal Mansour told The Jordan Times over the phone on Tuesday.
"Delivering true information and reviewing them becomes tenfold important during a pandemic, because any misinformation can cause confusion in a society undergoing a crisis, so reporters and journalists have to be sure they are not publishing fake news," Mansour said.
Reporters also need to be selective with their sources, Mansour said, adding "some experts or sources might provide information that, for example, that contradict information published by the World Health Organisation, writing a point of view that only one or few people agree upon."
On the second aspect, Mansour said that it is a violation of privacy to publish names or images of patients, as all international standards state that medical files are protected and cannot be divulged to the public.
There is also the matter of stigmatising a certain race or group of people, solidifying a stereotype that harms them, such as saying that this group of people is the cause of spreading the pandemic, which Mansour described as "a violation of professional journalistic standards and an instigation of hate speech and possibly violence against the group."
"Some called it 'the killer virus', which is incorrect and improper, and this is an example of terms that needlessly cause panic among the public," Mansour said.
Regarding the third aspect, it focused on the importance of keeping journalists' tools clean, keeping safe distance in face-to-face interviews or better yet conducting interviews on the phone or online when possible, he said.
"Reporters need to prioritise their health and safety over scoops and need to keep sanitisers, masks and gloves with them at all times," Mansour said.
He added that journalists are advised to notify authorities of what they are doing when in public, even if they have permits, "to ensure that no trouble happens, as the atmosphere is already charged and it is always good to let the authorities know the reason for working outside."
The campaign's posts, addressing reporters and journalists, can be found on the CDFJ's social media accounts.
Mansour highlighted that all the posts are first approved by the Health Ministry before being published.
Newsletter
Get top stories and blog posts emailed to you each day.