You are here
Centres for people with disabilities to switch to day-time facilities from October — ministry
By Maram Kayed - Sep 13,2018 - Last updated at Sep 13,2018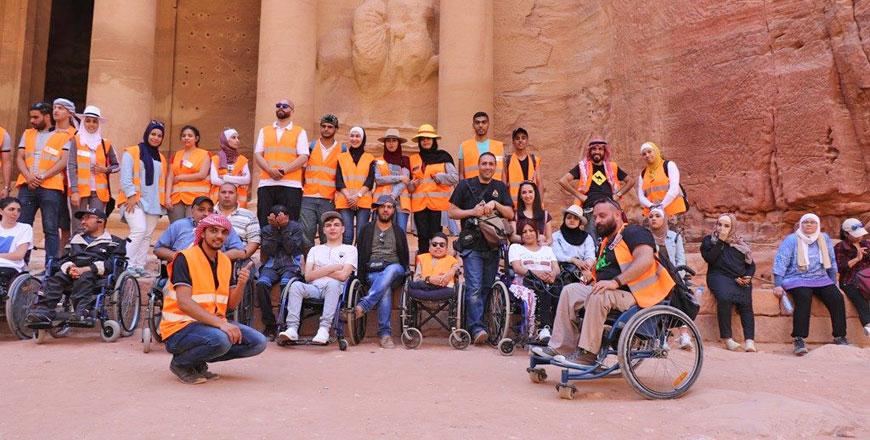 Members of the Higher Council for the Rights of People with Disabilities take a trip to Petra to raise awareness of inclusion in Jordan recently (Photo courtesy of HCD's Facebook page)
AMMAN — As part of its 10-year plan to gradually integrate people with disabilities in society, the Ministry of Social Development last week held several workshops aimed at brainstorming the issue with experts.
The plan was drawn following the promulgation of the Law on the Rights of Persons with Disabilities in September 2017, which stated that "disabled people have the right to live within a family, not isolated from society".
According to a report sent to The Jordan Times, the ministry has since then been working with governmental and private centres for people with disabilities "to devise a comprehensive plan that provides safe environments for the disabled within their families".
"Some families put their kids in the centre and never check up on them after that. That is careless, and it goes against human rights," a worker at the Higher Council for the Rights of People with Disabilities (HCD), told The Jordan Times, adding "the situation is worse with private centres, because they have patients from other countries, so the patient's parents are not immediately within reach in case of an emergency."
The ministry recently set October as the first month during which centres will have to start working towards transforming their facilities into day-time centres only, which means patients can only go during the day for activities or check-ups.
"The plan is to have people with disabilities live permanently with their families and use the centre exclusively for medical and counselling services without overnight stays," said Bashar Dalaeen, manager of disabled people affairs, to The Jordan Times.
The transformation will not be required immediately for centres, as experts called that "impossible" and "unscientific", the report said, noting however that it is expected to happen over a 10-year period during which a study will commence to cite the success and failure of each case.
"Each case will be treated with delicacy, as we are dealing with people, not machines. Each case will have medical and psychological professionals monitoring it, to affirm that the transformation is not abrupt or harmful for the patient," Dalaeen stressed.
To ensure the safety and appropriateness of the environment that the patient is being transferred to, families of the beneficiary, the ministry and various centres' staff are all undergoing trainings to handle the problems that may arise with this change, he added.
"The plan needs time, effort and cooperation on all sides. We have a time plan and outline for the first 3 years of the plan, and there may be changes that need to be made to the original," said Ghadeer Hares, spokesperson of the HCD.
Newsletter
Get top stories and blog posts emailed to you each day.