You are here
Church outlaws view Jerusalem from narrow religious apocalyptic perspective — Lutheran Bishop Yunan
Dec 18,2017 - Last updated at Dec 18,2017
Lutheran Church Bishop of Jerusalem and Jordan Bishop Munib Yunan (Photo courtesy of Royal Court)
Following is the full text of Lutheran Church Bishop of Jerusalem and Jordan Bishop Munib Yunan's remarks during His Majesty King Abdullah's meeting with Christian religious leaders and figures from Jordan and Jerusalem on the occasions of Christmas and the New Year at the Baptism Site (Bethany beyond the Jordan) on Sunday:
Your Majesty King Abdullah II Bin Al Hussein,
First, we would like to thank Your Majesty for this gracious Hashemite gesture in inviting us from beloved Jerusalem to convey to Your Majesty greetings from the holy city. We bring to Your Majesty the love of the Holy Sepulchre and Al Aqsa. Jerusalem, the cradle of monotheistic faiths, is also the eternal capital of Christians and Muslims. It joins you in prayer for justice, peace and reconciliation.
Your Majesty,
The people of Jerusalem, Christians and Muslims, took a peaceful stand last July with the Islamic Awqaf and called clearly for respecting the historical status quo in Jerusalem. No one may undermine this historical status quo, because it is the only guarantor of peace in Jerusalem, and of peace among the followers of the three monotheistic religions. Jerusalem is the city of pluralism. It is the mother of all. It embraces all. It must not be exclusive to one religion or one people. Its strength lies in its plurality.
Your Majesty, as the Hashemite Custodian of Christian and Muslim holy sites in Jerusalem, have always supported our perseverance so that we may stand strong on Jerusalem's land and maintain its Arab identity, despite all the challenges that we face.
Your Majesty,
The positions of our Christian churches around the world are in support of justice and peace in Jerusalem. All churches, including the Vatican, the World Council of Churches, the International Lutheran Council, and the Council of Churches in the United States have risen to support the stand of justice for Jerusalem over the past month. We are proud that they adopt the stand of the leaders Jerusalem's churches.
However, and frankly, we also face some Christian groups in the world that view the developments in the Middle East and Jerusalem from a narrow religious apocalyptic perspective.
This group, whom we refer as Evangelicals, are the ones who politicise religion and "religionise" politics. Unfortunately, they view the wars, concerns, displacements, destruction and injustice in the Middle East as a precursor to the second coming of the Messiah. However, we, the true Anglicans, including the Arab Anglicans, disagree completely in letter and in spirit with these groups of Anglicans who do not support justice, and who politicise religion with misconceived and unrealistic scenarios about the Middle East.
Although some of them may have influence over decision makers in the United States, we, Arab Christians, view this group as representative of extremism religiously and politically, not as a representative of true Christianity. This group does not comprehend justice nor does it care about human rights.
Just as Your Majesty has disavowed a misguided terrorist group that does not represent true Islam, describing them as khawarej (outlaws), we, Arab Christians, disavow this Christian group that does not represent the Bible nor Christ. To us they are khawarej, outlaws to the church.
Through their literal and misguided interpretation of the Bible, they abuse the Bible and Christ, who has carried a message of peace, dignity, and justice for all mankind. Therefore, we as Arab Christians dedicated to our homeland and our just causes, are an integral part of the Arab — including Jordanian and Palestinian — social fabric. We say this clearly: The core of our Arab causes is the Palestinian issue and Jerusalem. Perhaps from harm, good will come. The US decision has renewed interest in the centrality of Jerusalem more than ever. The world understands today that there can be no peace in the Middle East without a just peace in Jerusalem and for Jerusalem.
Your Majesty,
We support you, your honourable stands, and declarations, which were adopted by the Organisation of Islamic Cooperation. Allow me to quote from your speech: "our region can never live in full peace without resolving the Palestinian-Israeli conflict, based on the two-state solution, and in accordance with international law and resolutions, and the Arab Peace Initiative, leading to the establishment of the Palestinian state on Palestinian soil, with East Jerusalem as its capital. There is no alternative to Jerusalem as the key to ending this historical conflict," from the speech of His Majesty King Abdullah II in Istanbul on December 13, 2017. Only this Hashemite vision will achieve a just peace in our region, because we are proponents of peace, justice and reconciliation. As Jesus Christ, whose birth we celebrate, teaches us: "Blessed are the peacemakers, for they shall be called sons of God." Mathew 5:9
Your Majesty,
On behalf of Arab Christianity, we hope that Your Majesty, as the Custodian of all Islamic and Christian holy sites in Jerusalem, will address the United Nations, UNESCO, and all influential countries and fora around the world to condemn injustice and protect the holy sites and their property against the flagrant violations of Jerusalem's Christian and Islamic heritage.
With these words, we would like to thank you once again for this kind invitation, Your Majesty. We also thank His Royal Highness Prince Ghazi Bin Muhammed for the love and support.
This meeting shows that you are a father to this steadfast people. It is testament to your honest keenness to safeguard the freedom of religion and worship in Jordan and the Middle East. It is also a testament to Jordan as a model of harmony and coexistence, a country that is safe for interfaith dialogue.
From Jerusalem, we pray that God Almighty will grant Your Majesty long life and support you in your endeavours for peace and harmony, justice and reconciliation, and respecting everyone's rights.
Sending you, Jordan and the Hashemite family our best wishes.
May the peace of God be with you.
Related Articles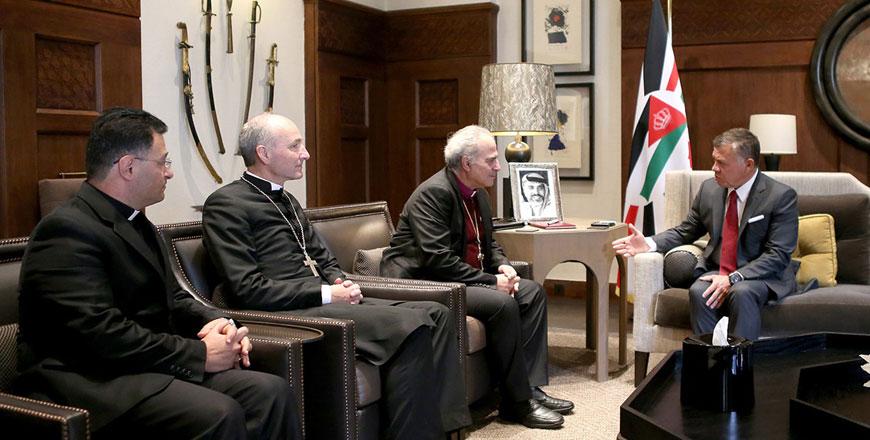 Feb 12,2018
AMMAN — His Majesty King Abdullah on Sunday met with Bishop of the Evangelical Lutheran Church in Jordan and the Holy Land (ELCJHL) Ibrahim
Dec 18,2017
Following is the full text of Dima Karadsheh's remarks, member of the World Council of Churches, during His Majesty King Abdullah's meeting
Dec 18,2017
Following is the full text of Greek Orthodox Patriarch of Jerusalem Patriarch Theophilos III's remarks during His Majesty King Abdullah's me
Newsletter
Get top stories and blog posts emailed to you each day.