You are here
Circumnavigating the globe reveals interconnectedness of humanity — French-American traveller
By Saeb Rawashdeh - Apr 19,2017 - Last updated at Apr 21,2017
The Kieffers cycling in Kyrgyzstan in 2014 (Photo courtesy of Dimitri Kieffer)
AMMAN — Travelling around the world by cycling, rowing and walking exposes a human being to a number of other humans and elements, said a French-American traveller.
According to Dimitri Kieffer, if one has the time for it, he or she should go out to explore and learn more about the world we live in.
"The more you get to see our world, hopefully, the greater respect you will gain for it and for its complexities," he said during a recent visit to Jordan.
In 2005, Kieffer completed the Iditarod Trail Invitational, travelling 1,850 kilometres in 37 days by foot and snowshoe from Knik Lake to Nome, Alaska. This is when he met the British adventurer Karl Bushby in the rest cabin.
"At the time, he had already been walking for seven years from the tip of South America to Alaska and was planning to continue his trek back to his native England," Kieffer recollected.
"He asked me if I was interested to continue further west and attempt together the crossing of the Bering Strait between Alaska, USA and Russia," Kieffer said, adding that they spent a year planning this crossing and finally succeeded in April 2006, "being the first men able to cross it eastbound [in modern times]".
The explorer is accompanied by his wife Gulnara Kieffer, who joined in 2011 what he calls the "Nexus Expedition". He chose that name due to the Latin meaning of the work nexus, "to connect".
After crossing the Bering Strait, he felt like he was in some regards "connecting" continents through his human-powered journey, Kieffer explained, stressing that consequently, the goal of the expedition had become "the circumnavigation of the globe through human power while connecting a multitude of different societies, civilisations and landscapes".
The traveller has been facing both legal and physical obstacles going all the way from Alaska, around the world, and back to Alaska.
"Crossing the Bering Strait while swimming/skiing/trekking and pulling a sled in -30 degree weather conditions presented some serious complexities," he added.
They needed special gear, proper clothing for all body parts, face masks, gloves to avoid frost bites, tent, stove, skis, sled, fuel, dehydrated meals, sleeping bags, mattresses, sat phone, GPS and so on, the adventurer explained.
The expedition also required proper dry suits in order for them to swim between ice flows. They also needed ice axes to be able to raise themselves while climbing over ice surges, Kieffer noted.
"We had to cross some uninhabited, remote sections and we needed sufficient supplies. For example, in Chukotka, Russia, I once had to cross 300km of difficult terrain while pulling my sled through snow and rock. This took 30 days to complete, during which I only saw one old rusty tin can," he said.
Cycling throughout Far Eastern Russia (on the "Road of bones"), Mongolia and Central Asia (on the "Pamir Highway") also presented some tough physical challenges, Kieffer explained, stressing that these sections were not often paved, forcing them to cycle through thousands of kilometres of sandy and rocky trails.
"On the Pamir Highway, we also had to acclimate ourselves to the high elevation when we had to ride our bicycles to altitude of up to 4,655 metres [Ak-Baital Pass in Tajikistan]," he noted.
Another ball game, he said, was how to cross borders at some specifically guarded points, which come with their own logistical and legal challenges.
The couple completed 45 per cent of their journey, and came to Jordan to recuperate and prepare for their African journey, which will start by rowing from Jordan to Taba on Egypt's Red Sea coast.
"As of March 1st 2017, we have completed 24,215 kilometres [from Anchorage, Alaska to Tala Bay] trekking, swimming, skiing, rowing, kayaking and cycling," Kieffer stressed, "Now, we have approximately 35,000km of cycling, 7,000km of rowing plus bits of kayaking/swimming/trekking left in our human-powered circumnavigation, and of course, so many new people to meet and places to experience along the way," he explained.
In addition, the travellers face all kinds of bizarre people and situations: "When you are travelling by bicycle or by foot, you are easily exposed to everyone.
As a result, you end up meeting quite a smorgasbord of characters: gold miners, apiarists, farmers, herders, firemen, shamans, priests, truck drivers, cobblers, musicians, dancers, photographers, designers, journalists, doctors, soldiers, border guards, businessmen, politicians etc… ."
Kieffer worked for 14 years at Microsoft, with a home base in Seattle, where he returns from time to time. He also goes back to his native France sometimes to rest from his journey and visit friends and family.
The trip, and the ordeal entailed in crossing the globe, have shown him the interconnectedness of the world.
"The interconnection of our world became very clear to me early on in the expedition when I was sharing with different native populations in Alaska and Russia such as the Inupiaq, the Chukchi, the Koryaks and the Evens" the adventurer pointed out.
Kieffers will continue to document their journey and enjoy sharing what they have experienced with the photos, videos and stories they post, he noted.
"I love to hear comments such as: 'Thank you, I did not know there were Buddhists in Russia and Muslims in China,'" Kieffer said.
"I do feel it is our duty to show to everyone we can learn; to show how interconnected our world is and how we can benefit from learning more about each other's lives and customs," he concluded.
Related Articles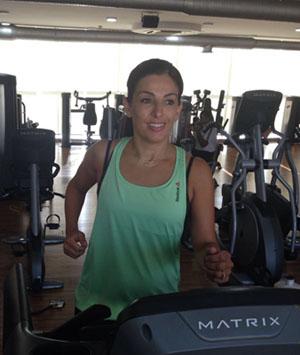 Sep 05,2016
AMMAN — An international team of women from across Europe and the Middle East will set out to ski the last degree to the North Pole in April
May 16,2015
Sonya Baumstein lay in bed one sleepless night and wept softly as she pondered her upcoming attempt to cross the Pacific Ocean alone in a rowboat.
Sep 30,2017
AMMAN — The Jordanian mountaineer Mostafa Salameh is preparing for a global challenge in 2019 to attract international attention to the suff
Newsletter
Get top stories and blog posts emailed to you each day.