You are here
Conservationists raise alarm over Aqaba's diminishing public beaches
By Hana Namrouqa - Sep 04,2014 - Last updated at Sep 04,2014
AMMAN — One to two square kilometres of Aqaba's public beaches are lost every year to investment projects, according to marine conservationists.
Less than five square kilometres of Aqaba's 27-kilometre coastline are left for the public, Royal Marine Conservation Society (JREDS) Executive Director Faisal Abu Sondos said, underscoring that more beaches are being closed for investments.
"A total of 10 square kilometres of the coastline was lost to investment projects during the past 12 years. If this continues, there will be no more beaches open to the public in Aqaba," Abu Sondos told reporters at a recent meeting.
He blamed weak legislation and the absence of a definition of public beaches in Aqaba's master plan for the shrinking coastline accessible to the public in Jordan's only seaport.
Unplanned investment projects in Aqaba are not only taking away the public's right to enjoy beaches, but are also destroying Aqaba's unique coral reefs, the conservationist charged, noting that the Red Sea resort's coastline houses the last coral reefs in the northern hemisphere.
"Some 55 per cent of Aqaba's fish population are coral reef fish, which means that if the coral reefs are destroyed, the majority of the fish population will disappear," Abu Sondos said.
Destruction of the coral reefs is already happening, he added, underscoring that the number of households relying on fishing for a living has decreased from 300 to 60 families over the past decade due to the dwindling fish population.
"Three investment projects in Aqaba over the past three years destroyed 55,000 square metres of coral, which is equal to a third of the coral reefs," Abu Sondos said, citing JREDS studies.
He warned that damaging the coral reefs will have a negative socio-economic impact on local inhabitants, affecting the glass-bottom boats and diving sectors.
There are 21 diving spots in Aqaba and 20 diving clubs that rely on the coral reefs to attract tourists, according to Abu Sondos.
"We are destroying the coral reefs and thus destroying our tourism."
Reputed for having one of the world's most unique coral reef systems, Aqaba's Red Sea waters are a prime attraction for both tourists and divers.
Some of the underwater treasures include around 127 species of hard coral and 300 kinds of soft coral, as well as thousands of plants and animals that have coexisted in the gulf for hundreds of years.
JREDS Programme Manager Ehab Eid noted that investments are not the only threat to coral reefs and marine life in Aqaba, as garbage dumped on the beaches and in the sea is also leading to the destruction of coral.
"At least one campaign is organised every month to clean up the sea. A total of 80 per cent of waste collected during the campaigns is plastic… and one tonne of waste is collected every half-hour on a clean-up day," Eid told The Jordan Times.
He said JREDS is implementing a project to raise the awareness of Aqaba residents and visitors on the negative impact of littering on the beach and dumping waste into the sea.
"We are trying to create a new generation, one that is aware of the importance of marine life and calls for its environmental rights," Eid added.
Related Articles
Mar 04,2014
Environmental activists on Tuesday expressed their "absolute rejection" of plans to establish fish farms in Aqaba, warning against their adverse impact on marine life and coral reefs.
Jul 08,2018
AMMAN — A specialised training on reef-checking and eco-dive has concluded in Aqaba, producing Jordan's first certified female divers, marin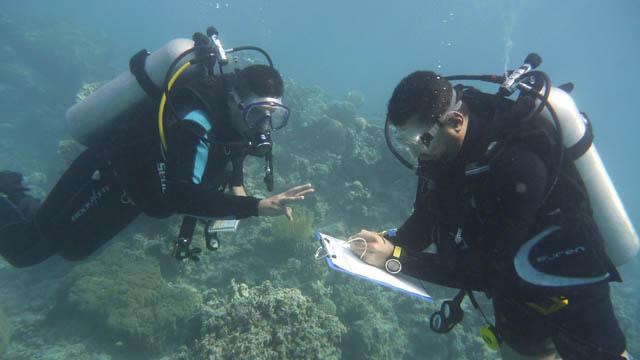 May 09,2017
AMMAN — Marine conservationists are currently rallying support to list the coral reefs in the Gulf of Aqaba as a UNESCO world heritage site.