You are here
Czech long-distance runner raises over $13,000 from charity marathons
By JT - May 13,2014 - Last updated at May 13,2014
AMMAN — Czech long-distance runner David Chrištof, who ran 11 marathons in 11 days across the Kingdom in March, raised over $13,000 from his initiative, according to a statement released by the embassy of the Czech Republic in Amman on Tuesday.
The charitable run sought to raise funds to support Jordanian and Syrian children's educational needs such as school improvements, supplies and equipment.
Chrištof, whose wife resides in Jordan and teaches German at a local university, has thrown his support behind "Helping Refugees in Jordan" (HRJ), a group of volunteers living in Amman that works closely with Mercy Corps and local and international charities.
Chrištof has started purchasing furniture, school supplies and books with the donated money and handing these donations to selected schools in different underprivileged areas in Jordan with the support of the embassy and in cooperation with Mercy Corps, the statement said.
With the help of Mercy Corps, Chrištof managed to fix a minivan belonging to a kindergarten run by the South Azraq Women's Association in Azraq, located in the eastern region, which is now trying to cope with many poor refugee families living in the area.
The minivan had been broken for over two years, preventing children living in remote areas from reaching the school.
"The minivan will [now] be able to carry out important humanitarian work helping hundreds of children and their families for years to come," the embassy statement said.
In Irbid, Al Khansaa Secondary School for Girls — chosen by the Ministry of Education — benefitted from a donation of sports and recreational supplies.
On Tuesday, Chrištof and HRJ founder Catherine Ashcroft, accompanied by Czech Ambassador Petr Hladík, visited two tented refugee schools in a refugee community in the capital's Sahab District, according to the statement.
The two informal schools, which "lack even the basic essential educational equipment and materials", were given fans, water coolers, footballs, skipping ropes and stationery supplies.
Next week they will receive desks, chairs and cupboards, as well as a library with books for all ages, the statement said, adding that "this would benefit older children in the tented community [and] not only those that attend the schools, which are run by Syrian teachers who rely on donations as they are not paid."
In progress is the delivery of 50 chairs and 25 desks for students and the refurbishment of a playground, according to the embassy.
Commending Chrištof's achievement and the efforts of Mercy Corps in helping ease the misery of Syrians residing in Jordan, Hladík said his country will continue to support similar activities that would help the government bear the burden of the Syrian refugee crisis.
The March 15-25 fund-raising marathons constituted the fourth charitable run for Chrištof, who is not a professional runner and has already completed 21 marathons and 13 ultra-marathon races around the world.
Related Articles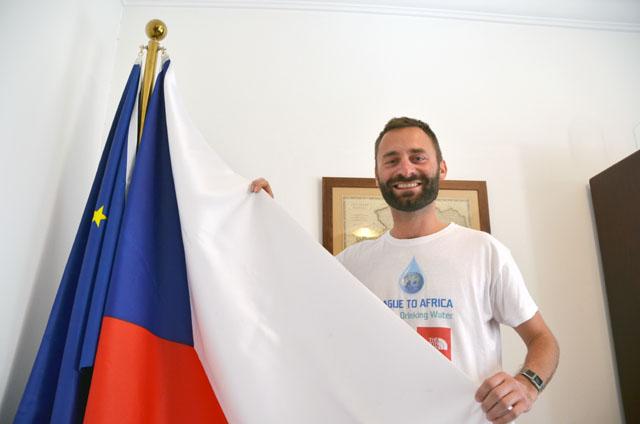 Mar 06,2014
A visit David Christof paid to Jordan last September inspired him to become a volunteer with a group that helps Syrian refugees and underprivileged Jordanians.
Apr 11,2016
AMMAN — Foreign Ministry Secretary General Mohamed Tayseer Bani Yaseen and Czech Ambassador to Jordan Petr Hladik on Sunday signed an agreem
Mar 20,2016
AMMAN — Run Jordan has recently held a training workshop in Karak Governorate for physical education teachers and running coaches at 29 publ
Newsletter
Get top stories and blog posts emailed to you each day.