You are here
Czech long-distance runner seeks to raise funds for Syrian, Jordanian children
By Muath Freij - Mar 06,2014 - Last updated at Mar 06,2014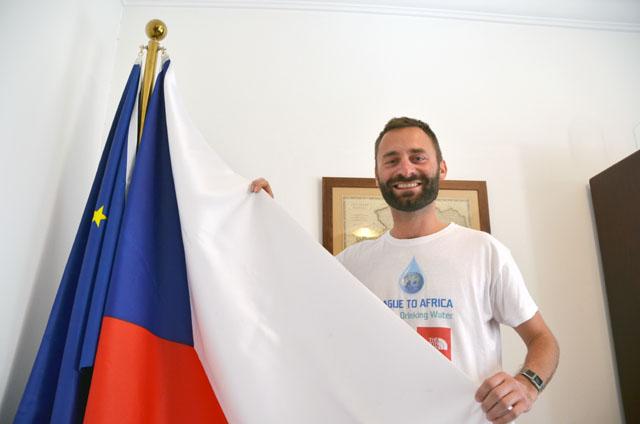 AMMAN — A visit David Christof paid to Jordan last September inspired him to become a volunteer with a group that helps Syrian refugees and underprivileged Jordanians.
The Czech long-distance runner's voluntary work exposed him to the educational needs of Syrian and Jordanian children, so he decided to run 11 marathons in 11 days this month to raise money for these students.
Christof, whose wife resides in Jordan and teaches German at a local university, has thrown his support behind "Helping Refugees in Jordan", a group of volunteers living in Amman that collects donations which are sent to several local charities.
"After I learned about the Syrian crisis and... its impact on Jordanian schools, I decided to run across the country," he told The Jordan Times in an interview at the Czech embassy.
The March 15-25 fund-raising marathons will be the fourth charitable run for Christof, who is not a professional runner.
People from around the world can donate through credit cards or cash, and a donation page has been set up through Mercy Corps: http://www.mercycorps.org/people/catherine-ashcroft/refugees-jordan, according to a Czech embassy statement.
"It's a great opportunity to call for continuous support for all children in Jordan and also to thank the Kingdom for the great generosity it has shown in handling the refugee crisis," the statement quoted Christof as saying.
The Czech runner noted that people in his country are aware of Syrian conflict in general and the huge numbers of refugees, but not the day-to-day realities, voicing hope that his charity run might make his compatriots curious to check further details related to the Syrian crisis and Jordan as a country.
"I knew about the Syrian crisis before I visited Jordan but not about its impact... I really appreciate what Jordan is doing for refugees," added Christof, who started running for charity in 2007 when he was living in the US.
"I was chosen to be on a relay of 20 runners who run around the world to raise awareness about the safe drinking water crisis. It was called the Blue Planet Run... Until then, I had been a marathon runner and ran races, but did not do anything for charity," he noted.
In 2012, he decided to do a run from Prague to London, where the Olympic Games were being held, and undertook another charitable journey called "Prague to Africa" in 2013, which combined both running and cycling.
Christof said some people call these marathons "races", but he prefers to the term "journeys".
The Czech runner usually sets a target for the figure he hopes to reach.
"I set $10,000 for this one. I know it's ambitious because the duration is shorter than the past trips," he said, noting that most donors are individuals not companies.
Catherine Ashcroft, founder of Helping Refugees in Jordan, said they have raised $1,000 so far, expressing hope that Christof's efforts will help some of the children affected by the Syrian crisis.
"All of this also raises awareness of the education issues facing Syrian children," she noted. Ashcroft, who is also a consultant at Mercy Corps, said the Kingdom has been "amazing" in offering refuge to people escaping conflict. However, she added, so many people arriving in a relatively short period of time has put an enormous strain on Jordan's infrastructure and resources.
"One of those resources is education where some of the schools are already running two shifts and now have to absorb more children than ever imagined. Also, many Syrian children, who have missed years of education, are suffering the trauma of war and grief, and there is great fear that a whole generation is being affected for decades to come," she said in a statement e-mailed to The Jordan Times.
Ashcroft said the donations will support both regular schools, and ones affiliated with local charities and groups that offer some form of education for refugee children in areas such as Azraq, Mafraq, Irbid, Ajloun, Marka.
"These might be tents, converted garages, community centres and warehouses. Others would be mainstream schools that require supplies and support," she noted.
"It could be by buying schools supplies or if funds are more substantial, we can investigate some renovation work, playgrounds or sports facilities."
Meanwhile, Christof said anyone can join him in the marathon, during which he will run approximately 42 kilometres every day.
"There will be a chance to take so many beautiful pictures of Jordan on the way, so it will be a good way to promote Jordan's destinations to the whole world."
Those interested in Christof's adventure can follow it day by day on his public Facebook page www.facebook.com/WaterIsLife.
Christof said he has not yet decided where to end his "journey" in Jordan, but it could be either in a school in Mafraq or in the Zaatari Refugee Camp.
"I know that the money I will raise through my run across Jordan will be just a drop in the ocean, but even if I can just help a handful of people, it is better than to help no one."
Marathon schedule
- March 15 — Aqaba
- March 17 — Petra/Wadi Musa
- March 19 — King's Highway through Tafileh
- March 21 — Karak
- March 23 — Madaba
- March 24 — Amman
- March 25 — Mafraq
Related Articles
May 13,2014
Czech long-distance runner David Chrištof, who ran 11 marathons in 11 days across the Kingdom in March, raised over $13,000 from his initiative, according to a statement released by the embassy of the Czech Republic in Amman on Tuesday.
May 12,2015
The 2nd Istiklal Run set for May 22 is being organised by a group of running enthusiast and ultra-marathon athletes.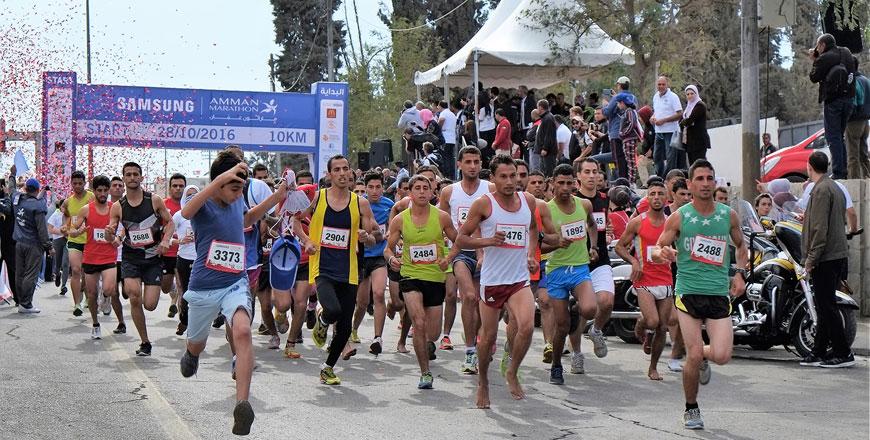 Sep 19,2017
AMMAN — The 9th edition of the Samsung Amman Marathon will be held October 13 under the slogan "Run to The Heart of The City of Amman"
Newsletter
Get top stories and blog posts emailed to you each day.