You are here
Dairy farmers see milk yield decrease of 20% 
By Maria Weldali - May 26,2023 - Last updated at May 26,2023
Representative image (Photo courtesy of unsplash/Eiliv Aceron)
AMMAN — Milk yield has decreased by around 20 per cent over the last period, according to stakeholders.
"Every day, between 600 to 700 tonnes of fresh milk is produced, and especially if it's from smallholder or small-scale farms, requires a clear marketing strategy, in order not to have slack demand," said President of the Cooperative Society for Cow Breeders Ali Ghabayen.
Ghabayen said that there is also an urgent need for farmers to cooperate with the relevant governmental authorities to optimise the dairy cattle industry.
Among key factors that led to decreased milk production is the use of powdered milk in some dairy factories, Ghabayen told The Jordan Times over the phone, noting that foot-and-mouth disease (FMD) also impacted milk yield in the past period.
About two months ago, the National Society of Consumer Protection (NSCP), announced that the daily milk production averages around 1,000 tonnes, which is sufficient for the needs of the local market.
Abu Nidal, a Jordanian who owns a dairy products shop, told The Jordan Times that "the factory I work with did not have any shortages," adding that variations in daily milk yield are normal.
Other conditions that might affect milk production include diseases, heat and nutritional deficiencies of dairy cattle, he added.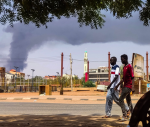 Newsletter
Get top stories and blog posts emailed to you each day.