You are here
'Demand for bread rises sharply in anticipation of coming storm'
By Dana Al Emam - Jan 04,2015 - Last updated at Jan 04,2015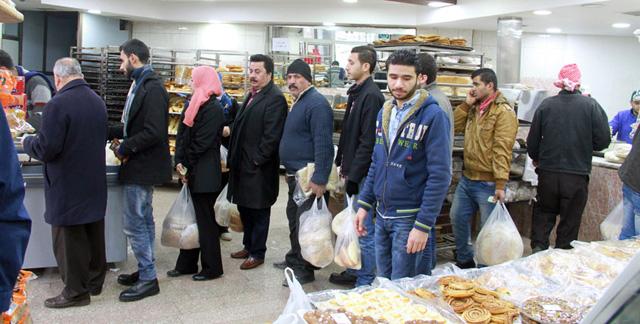 AMMAN — There is no need to buy large amounts of bread to prepare for the expected severe weather this week as the Kingdom's flour reserves are enough for an entire year, a sector leader said on Sunday.
"People must not worry about a shortage in bread under any circumstances, including the forecast of snow," Bakery Owners Association President Abdul Ilah Hamawi told The Jordan Times over the phone.
Hamawi noted that bakeries use some 2,000 tonnes of subsidised flour daily to bake up to 10 million loaves of bread every day, a figure that doubled more than twice over the past three-day weekend.
"Business is usually slow over the weekends and holidays as people visit each other rather than buy bread, but this weekend people preferred to stand in line at bakeries," he said, adding that some individuals bought a month's needs last week.
Hamawi urged those who buy bread in large amounts to be "reasonable and considerate" so that the staple commodity is available for other consumers who buy their needs of bread one day at a time.
"This weekend, some bakeries allowed customers to buy only one kilogramme at a time, and those who wished to buy more were asked to stand at the end of the line again," he noted.
Hamawi said the association follows up on the performance and requirements of bakeries in all governorates on a daily basis, adding that the Ministry of Industry, Trade and Supply will provide bakeries with their needs of subsidised flour for four to seven days.
"Wheat mills and bakeries are capable of doubling their production when the demand for bread increases," he said.
During the December 2013 snowstorm, which lasted for a few days, all bakeries were open and served bread without any shortages, Hamawi pointed out.
In previous remarks to The Jordan Times, he said bread is sold at JD0.160 a kilo due to the flour subsidy, while the actual cost on the Treasury is JD0.450 per kilo. The government sells flour to bakeries at JD36 per tonne while its actual cost is around JD305 per tonne, according to official figures, which put the overall value of flour subsidy at around JD260 million per year.
A worker at a bakery on the capital's Medina Munnawara Street, who preferred anonymity, said the facility produces three tonnes of subsidised bread on an average day.
"Our production of bread has increased by 90 per cent since Thursday in comparison with average winter days," he told The Jordan Times, adding that the bakery is working at full capacity, which places "huge pressure" on workers and resources.
Standing in a queue of some 20 people, Abu Ahmad was waiting his turn to buy bread with his 10-year-old son.
"I want to make sure that my family has enough bread if the snow blocks the roads," he told The Jordan Times, adding that he will keep it in the freezer and use what he needs day by day.
Moving across the bakery from one corner to another, Rana selected a variety of wheat products that her children, who recently finished their final exams at school, might want.
"It's always a good idea to sit near the heater with a cup of tea and some kaak," Rana said, noting that she bought "enough" bread and grocery items for a week.
"We always tell our customers that we will not run out of bread, but we cannot force them not to buy… people generally prefer to buy small amounts of bread so it remains fresh," the bakery employee remarked.
Related Articles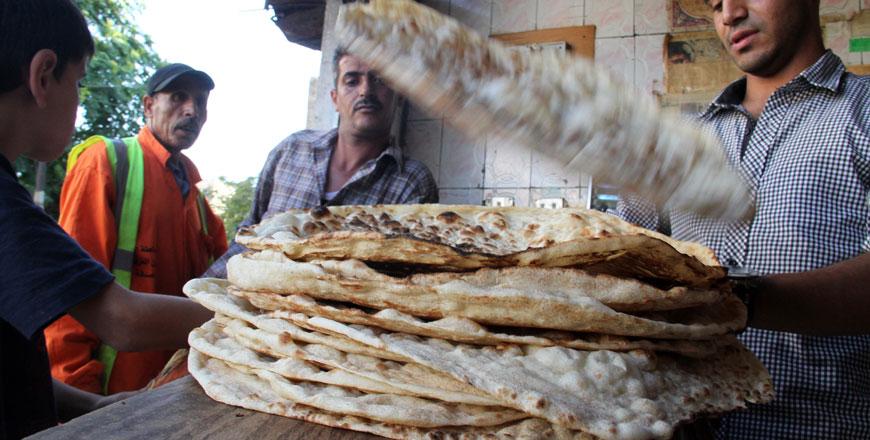 Jun 29,2015
AMMAN — The Bakery Owners Association expects a slowdown in production during Eid Al Fitr, citing "insufficient" supplies of subsidised flou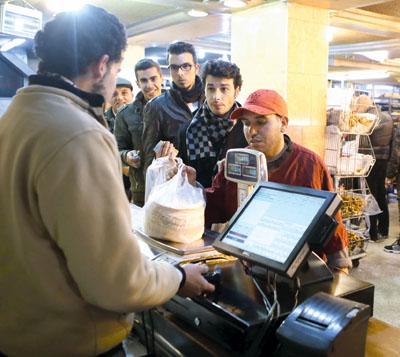 Jan 21,2015
Most consumers in Jordan throw away nearly a quarter of the bread they buy, according to estimates, a figure seen by officials as alarming enough to call for reviewing the subsidy system.
Jun 04,2014
Consumption of subsidised flour has increased by over 35 per cent in the past two years due to hosting hundreds of thousands of Syrian refugees, according to President of the Bakery Owners Association Abdul Ilah Hamawi. 
Newsletter
Get top stories and blog posts emailed to you each day.