You are here
Dozan wa Awtar revives spirit of old Arabic musicals in new show
By Camille Dupire - Aug 16,2017 - Last updated at Aug 16,2017
Performers rehearse for their show 'Arabic Musicals — the Golden Era!' under the supervision of conductor Abu Khader recently (Photo by Camille Dupire)
AMMAN — While the small and big screens have been flooded with musical theatre productions in recent years, from "Glee" to "La La La Land", Jordan has not yet managed to impose its own version of musicals.
Shireen Abu Khader, founder of Dozan wa Awtar, and her troupe of singers have taken it upon themselves to meet this challenge, but with a particular twist.
"We have performed musicals before, but this is the first time we're doing one fully in Arabic," the conductor of the choir told The Jordan Times in a recent interview, ahead of the opening night on Wednesday.
"Arabic Musicals — the Golden Era!" prides itself in taking the spectators "on a trip down musical memory lane" by making them experience songs "that trigger nostalgia, joy and absolute appreciation of the artistry that helped shape the musical scene of days long gone," according to the event's organisers.
Divided into three main sections, the show begins by immersing the audience in the romantic atmosphere of Egyptian black and white movies, whose timeless soundtracks instantly resonate in the spectators' memories.
The second section then carries you away to the catchy ambiance of the Syrian series of the 1960s.
In the third part, the spectator finds himself immersed in the Levantine movies of Jordan, Lebanon and Palestine.
Long regarded as a "niche" that attracted only a handful of aficionados, the market of musicals has risen to international glory in recent years, with Broadway productions monopolising the public and media's attention.
"It's actually the members of the choir who have been asking to set up this kind of show," Abu Khader explained, noting that "this required a lot of work though, as it is very different from what we usually do".
Founded by Abu Khader in January 2002, Dozan wa Awtar ("Tuning and Strings" in Arabic) is a group of artists working to promote choral music and innovative performance art in Jordan and around the region.
"Our troupe has a very wide repertoire. We perform all kinds of shows," the choir's founder said, adding, "our aim is that, each time you sit in the audience, you experience a totally new musical and visual experience".
The team of non-professional artists has faced a number of artistic and logistic challenges, Abu Khader explained, noting that "at Dozan, we work to promote the community; so, all our singers are non-performers; they do it because they love it".
"So, when you put them on the stage, there is a lot of work to be done on choreography, getting into characters and so on," she noted.
To revive the epic glory of the old Arab musicals, the 21-performer troupe has been rehearsing since May with the help of acting coach Tala Nazzal, choreography adviser Lana Abu Khader and musical coach Nedy Muna, all under the supervision of conductor Abu Khader.
The multi-faceted production is further accompanied by an on-stage orchestra of eight musicians, directed by Syrian composers Qusai Al Daker and Nareg Abajian.
The production will run every day until Sunday at 8pm, at the Terra Santa College Theatre in Jabal Luweibdeh.
Related Articles

Jun 17,2014
Her Majesty Queen Rania on Tuesday met with members of the Dozan wa Awtar choir which is participating in the 8th World Choir Games next month.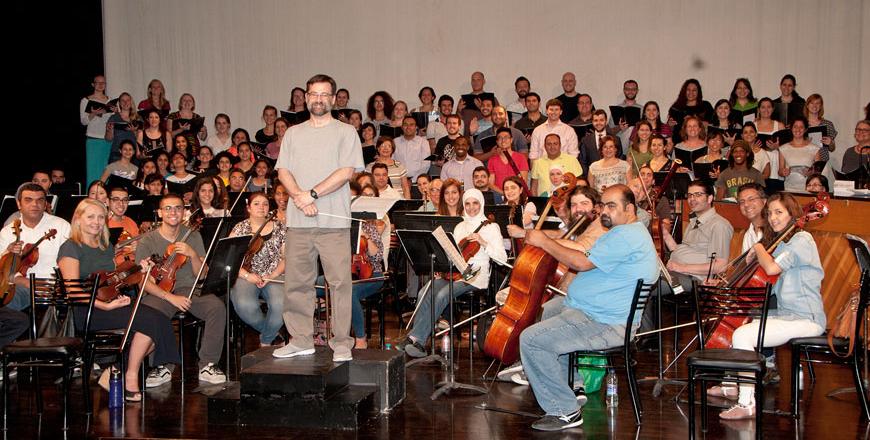 Jun 09,2015
Even by European or American standards this is considered a big classical musical event.
Jul 27,2016
AMMAN — Jordan's Dozan wa Awtar choir has won two gold medals at the 9th World Choir Games in Sochi, Russia, choir manager Nedy Muna announc
Newsletter
Get top stories and blog posts emailed to you each day.