You are here
'Even before produce ban, sector's relationship with Syria rocky'
Agriculture Ministry says pesticide residue, competition behind move
By Maram Kayed - Jun 26,2019 - Last updated at Jun 26,2019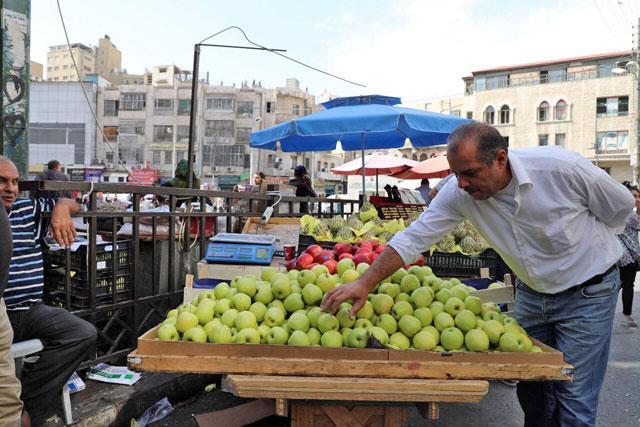 Sector leaders on Tuesday reacted to a recent decision by the Ministry of Agriculture to ban Syrian fruit and vegetables from entering the Kingdom. Farmers and produce exporters have charged that cheap Syrian produce has been flooding the market since the reopening of borders late last year (Photo by Osama Aqarbeh)
AMMAN — Citing traces of "residual pesticides" and "local competition", Syrian produce is now banned from entering Jordanian markets, the Ministry of Agriculture said on Monday.
Ministry Spokesperson Lawrence Majali said that the produce contained "higher levels of residual pesticide than Jordan will allow, especially in fruits".
He added: "There is also the fact that Syrian vegetables and fruits are sold at much lower prices, which would terribly hurt the already-struggling agricultural sector, especially individual, small-time farmers."
However, the produce-export relationship between Syria and Jordan goes "beyond pesticides", and has been marked by a "tense" relationship for quite a while, President of the Jordan Exporters and Producers Association for Fruit and Vegetables Saadi Abu Hammad said.
In February, Abu Hammad said that "not one kilogramme has been exported to Syria ever since the Jaber/Nasib was opened", a statement which was later repeated by Jordan Valley Farmers Union President Adnan Khaddam.
In a phone interview with The Jordan Times on Tuesday, Abu Hammad reiterated that the border opening in October of last year "has done more harm than good".
He added: "At least when the border was closed we only had to deal with the problem of getting our exports to Europe. Now, not only do we still have that problem, but we also have to compete with extremely cheap Syrian produce which is being sent to neighbouring countries through the Gulf."
The Jordanian-Syrian tension began when Syria turned to Pakistan for its fruit and vegetable needs, according to the association's president, who said that the private sector has "decided to treat Syria the same way it treated us [Jordan] and stop importing from them as well."
"The fact that the ministry came out and officially said it, although masked by a different reason, validates our stance further," he added.
In April, the Chamber of Industry stated that Jordan's industrial exports to Syria had dropped by 70 per cent during the first quarter of 2019, although Syrian trucks were still allowed to enter Jordan and transport their agricultural produce to other countries.
However, now the "sailors", the term used to describe the vehicles ferrying passengers to Syria, Iraq and other countries, are prohibited from carrying Syrian goods.
"We have warned about this for months. The Syrian government pays $1,000 to any exporter or producer using the 'sailors', which allowed the Syrian side to pay more for vehicles, leaving a shortage for the Jordanian market and Jordanian farmers," said Abu Hammad.
Jordanian farmers confirmed that transportation has gone up given a shortage of vehicles, and that produce has become cheaper.
Mohammed-Saeed Reemoni, a farmer who works in Ghor Safi, some 112km southwest of Amman, said that when the border was first opened, cheap Syrian produce "flooded the markets", leaving Jordanian farmers "without a fair chance of competition".
He added: "There is no way we could compete with the Syrian side, which not only has cheaper operating costs but government support as well. Even after the imports to Jordan halted, there is still the matter of regional competition."
Newsletter
Get top stories and blog posts emailed to you each day.