You are here
Fashion designers blend East and West at Amman catwalk show
By Suzanna Goussous - Aug 06,2016 - Last updated at Aug 06,2016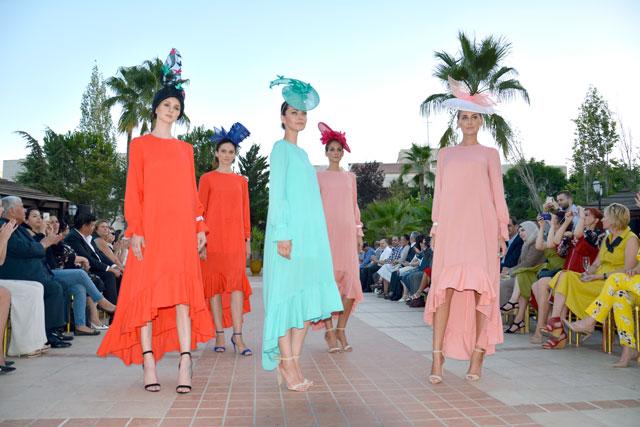 Models showcase clothes by Jordanian and Ukrainian designers during a fashion show in Amman on Thursday (Photo by Amjad Ghsoun)
AMMAN — Fashion designers blended influences from the Arabian Desert, the Middle Eastern lifestyle and European trends at a catwalk show in Amman on Thursday, marking the 25th anniversary of Ukrainian independence.
Five designers, four from Ukraine and one from Jordan, showcased 60 outfits at the show, held by the Ukrainian embassy in cooperation with the Ministry of Tourism and Antiquities, Tyche Tours and UM Airlines.
The show was part of Ukrainian fashion week in the Kingdom, which aims to share the country's traditions with Jordanian people, said Iryna Danylevska, head of the organising committee.
For over 10 years, Ukrainian designers have been showcasing their collections in fashion weeks held around the world, she added.
"It is the first [Ukrainian] fashion show in Jordan. We came here with Ukrainian designers [who] have already been represented in the Middle East fashion market," Danylevska told The Jordan Times.
The show presented famous brands that "represent Ukrainian fashion at a good level", she said.
"In Ukraine, fashion is a very important global and cultural factor, as [it has been] developed for more than 20 years," Danylevska added.
She said the fashion week aimed to broaden Jordanians' understanding of the Ukrainian people and strengthen the connection between the two countries.
"We even want to exchange our traditions through fashion."
Ukrainian designer Olena Dats' said her collection was inspired by Jordanian women and the Christian treasures across the Kingdom.
"With the thought of [stories] of the Promised Land, I was thinking about the beautiful women that live here and what they wear; I was inspired by them," Dats' said.
The designer added that her collection fused the Middle Eastern and European lifestyles.
"The most interesting part of this fashion show was to discover Jordan and what is going on here. I was really moved by the views we can see here, as this is my first time in Jordan," she told The Jordan Times.
Designer Ivan Fotesko, who visited Jordan in June, said he kept a special collection of his designs for Jordan.
"When I was preparing this collection, I viewed some pictures of Arab designs, and I tried combining the sense of design present in both Arab and Ukrainian models," he added.
Jordanian designer Ayat Zou'bi, who presented over 10 outfits at the show, said her interest in Ukrainian fashion with a Jordanian touch had grown over time.
"I tried to include colours in my designs, with some touches from our Jordanian heritage, in addition to modern elements. I used flowers, simple colours and designed them in a form that can be comfortable and wearable for any occasion," she said.
"This era's culture is based on fashion. Combining cultures through fashion is a very beautiful idea. We revive the traditions and heritage of countries in our designs," Zou'bi said, noting that Ukrainian designers were impressed by her collection.
Larissa Lobanove and Marta Holod also presented their collections at the show.
Ukrainian fashion week will present another show at Aqaba's Radisson Blu Tala Bay Resort with free entrance on Sunday at 6pm.
Related Articles
Jul 25,2016
AMMAN — The Ukrainian embassy in Amman on Monday said it will organise a fashion week in Jordan to celebrate the 25th anniversary of Ukraine
Feb 28,2017
AMMAN — Oriental embroidery, the olive tree and the black iris were present at the opening event of the Milan Fashion Week this year as repr
Oct 03,2023
PARIS — From wearing your underwear in the street to very muted colour schemes, some trends stood out from the spring-summer 2024 womens wea