You are here
Finding bread vendors no easier for people in south after subsidy lifted
Many bakeries closed due to high costs, low demand
By Renad Aljadid - Jul 13,2018 - Last updated at Jul 13,2018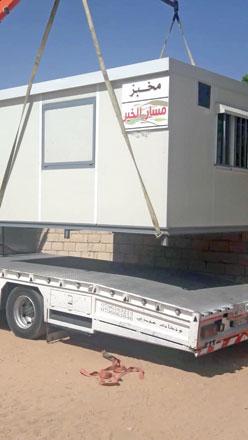 A donated prefabricated bakery is unloaded at a village near Aqaba earlier this year as several bakeries in the area went out of business after the bread subsidiary was lifted (Photo courtesy of Harbi Huweitat)
AMMAN — The closure of 300 bakeries across the Kingdom following the lifting of a bread subsidy has caused "severe harm" to the sector in addition to affecting residents of remote areas who find it difficult to find nearby bakeries to buy the staple food, Bakery Owners Association President Abdul Ilah Hamawi said on Thursday.
Following the government's decision to lift subsidy on bread, prices of the commodity have increased by 100 per cent, resulting in a drop in production and demand by 50 per cent in the governorates, and 30 to 35 per cent in the capital, according to Hamawi.
"Some people are now changing their diet to reduce their consumption of bread, while many other families, especially in the governorates, are starting to bake their own bread just like the old days," he told The Jordan Times on Thursday.
"With a JD200 average loss on daily basis, I believe I will be joining these 300 closed shops very soon," Mohammad Yassin, a bakery owner in western Amman said, adding that "the cost we bear is very high and people are not buying like before."
"The recession in the market is not affecting bread only, but all sectors," he lamented, noting: "We are not asking the government to give us money, but to attract tourists, support the private sector, and offer job opportunities to people so we can find customers."
"If owners in [rich] western Amman are complaining, then I rest my case", another shop-owner in eastern Amman said, adding that the sales of flour-based sweets and cakes are even worse, because they are a luxury under the circumstances.
While bakery owners in Amman complain of dwindling number of consumers showing up at their shops, residents in other areas reported they are suffering from lack of bakeries that serve their needs.
Shaker Zalabia, a citizen in Rum, a village community lying 300km south of Amman, said that "there is no single bakery in the entire village".
He noted that there is only one bakery, located in Disi, 15 to 20km away from Rum and its neighbouring villages: Al Ghal, Tweise, Mneisher, and Rum. Each of these four is inhabited by 2,000 people. "We need to travel to buy fresh bread!" Zalabia said.
This solo bakery supplies some supermarkets in the four villages with bread, "but sometimes nothing can be found at the end of the day", he told The Jordan Times.
Harbi Huweitat, a social activist, said that the 1,900 residents of Dabbat Hanout near Aqaba have only one bakery for the entire district, a charity outlet established with donations from the people.
Huweitat said that there is no single bakery to serve the around 1,000 people living in Maan's Al Mohamadiyah village, adding that people there have to drive 25 to 30km to reach the nearest bakery in Maan governorate, some 220km south of Amman.
"People in the south suffer from the absence of several necessary commodities and services and, most importantly, of the availability of sufficient bakeries in each district," he told The Jordan Times, adding, "We cannot keep collecting donations every time we open a bakery."
And life has changed in a way that few women are now baking their own bread, according to the activist.
"The charity bakery in our district offers an oven to the women who wish to bake their dough, but it is rare now to find women baking their own bread," he explained.
"The lifestyle has changed in general and particularly among females, who are more into pursuing higher education rather than doing the old days' domestic chores."
Even if some try, "they do not have the needed ingredients to do so available all the time".
Hamawi said that the high costs put on owners in return for very few profits leave them with no other choice but to shut down their businesses.
"We have met with the Minister of Industry, Trade and Supply Tareq Hammouri to discuss our major demands to save the sector and we were promised to receive a reply within the coming two weeks," he noted.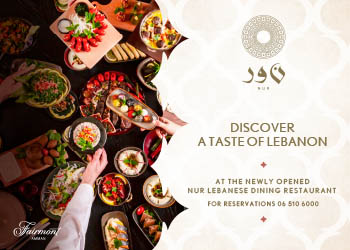 Newsletter
Get top stories and blog posts emailed to you each day.