You are here
France ADP Group raises its stake in AIG to 51%
Remaining 49 stakes in QAIA operator owned by three local, regional, international investors
By Mohammad Ghazal - Apr 19,2018 - Last updated at Apr 19,2018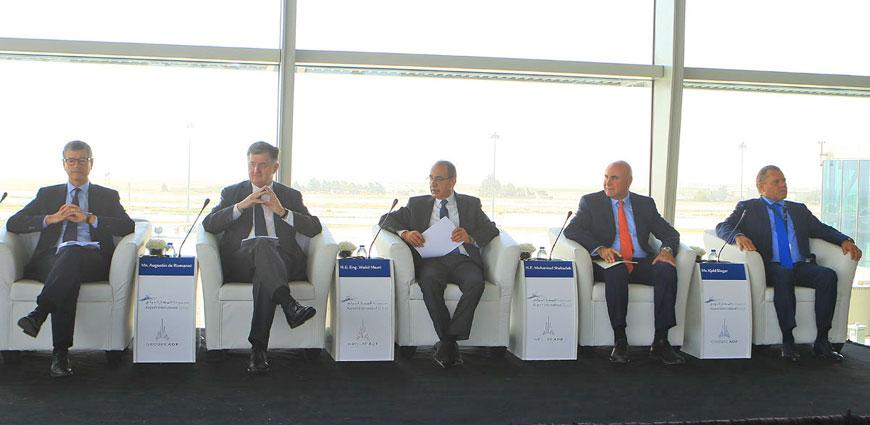 Airport International Group and international airport operator Groupe Aéroports de Paris on Thursday announce a new acquisition deal under which the French group acquired a majority stake of 51 per cent (Petra photo)
AMMAN — Airport International Group (AIG) and international airport operator Groupe Aéroports de Paris (ADP) on Thursday announced a new acquisition deal whereby the French group acquired a majority stake of 51 per cent.
Group ADP, which offers expertise on international airport investment and operation, with airports such as Paris-Charles de Gaulle Airport among its enterprises and managed 26 airports worldwide, owned a 9.5 per cent stake in Airport International Group via a subsidiary since 2007, when Airport International Group was awarded a 25-year Build-Operate-Transfer (BOT) concession agreement to rehabilitate, expand and operate Queen Alia International Airport through a $850 million public-private partnership (PPP) plan.
Following Thursday's acquisition, Groupe ADP now owns 51 per cent, with the remaining shares distributed among Meridiam Eastern Europe Investments — 32 per cent, Mena Airport Holding Ltd. — 12.25 per cent and Edgo Investment Holdings Ltd. — 4.75 per cent.
"This is great news to Jordan and it is a testimony to the country's inviting business environment and that investments in Jordan are lucrative," Muhannad Shehadeh, minister of state for investment affairs and chairman of the Jordan Investment Commission, said during a press conference where the deal was announced.
"Jordan is open to businesses and investors and having one of the largest investors in the field coming to invest in the airport is very positive for the entire country," said Shehadeh.
"What we have today goes beyond a simple buy-and-sell agreement as it carries a strong message which states that the Kingdom has been able to prove, once again, that it can be an investment destination and a trusted stronghold for the most important of foreign investments," said Shehadeh.
He added that in the first three quarters of 2017, the Kingdom witnessed a tangible increase of 19.3 per cent in foreign investment, which ultimately benefits economic growth rates.
"When we manage to attract a prestigious fund like Meridiam Eastern Europe Investment, this sends a very strong message about the business and investments potential in the Kingdom," said Shehadeh.
Groupe ADP Chairman and CEO Augustin de Romanet said the total value of the acquisition deal by the group's investments stand at $265 million.
"Queen Alia International Airport is one of the best airports in the Middle East, and Groupe ADP, having already been a shareholder of Airport International Group through ADP International, has contributed to the superb performance and growth of the airport over the last ten years. By acquiring control of Airport International Group, Groupe ADP will be able to fully spread its limitless know-how, expertise and offerings," De Romanet told reporters Thursday.
"Alongside our co-shareholders, Meridiam Eastern Europe Investments and Edgo Investment Holdings Ltd., we aim to reinforce the routes network, departing from Amman, and improve the quality of service for passengers and the performance of aeronautical and retail activities, for the benefit of all stakeholders," he said.
De Romanet stressed that the group was keen on improving services and introducing innovative solutions in Queen Alia International Airport, adding that there is a growth in airport passenger traffic globally and that this traffic is expected to triple in the Middle East and North Africa.
Minister of Transport and Municipal Affairs Walid Masri said the project is the result of cooperation and hard work, aided by support from all official security bodies.
"It symbolises an important milestone for the partnership between the public and private sector; a partnership between the Government of Jordan and the investor, Airport International Group, which has been lauded as one of the top 40 PPPs in the world," said the minister.
Airport International Group CEO Kjeld Binger said that, in recent years, Jordan has been in the global spotlight, evoking the interest of foreign investors with its investment-friendly environment and policies, which in turn contribute to the Kingdom's economic growth.
"We are proud to be working with Groupe ADP, as they possess a repertoire of internationally acclaimed airports and worldwide experience in airport management. This step marks a pivotal moment in our journey with Queen Alia International Airport, as we aspire to build on the substantial success we have achieved thus far, and reach unprecedented levels of excellence and innovation in the years to come," Binger said.
Following the completion of the acquisition, Groupe ADP will be implementing strategies in the near future to further enhance the services and traveller experience offered at QAIA.
Related Articles
Jan 23,2018
AMMAN — His Majesty King Abdullah on Tuesday met with Meridiam's CEO Thierry Déau in Davos and discussed the investment opportunities offere
Oct 04,2017
AMMAN —State Minister for Investment Affairs Mohannad Shehadeh said foreign direct investment (FDI) in Jordan rose by 87 per cent during the
Oct 05,2017
AMMAN — The Council of Ministers on Wednesday outlined the achievements of the Jordanian economy including the increase of foreign direct in
Newsletter
Get top stories and blog posts emailed to you each day.