You are here
Franco-Japanese duet enchants audience
By Jean-Claude Elias - Mar 06,2018 - Last updated at Mar 06,2018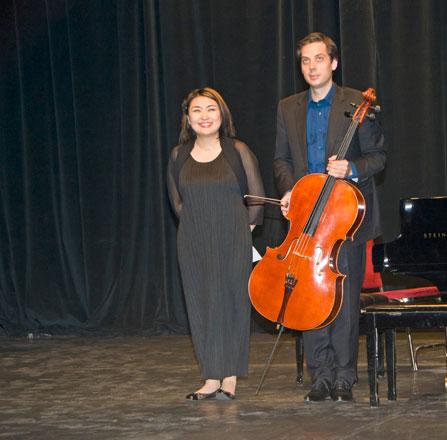 French cellist Guillaume Effler and Japanese pianist Kanae Endo performed a concert at Al Hussein Cultural Centre on Sunday (Photo by Jean-Claude Elias)
AMMAN — On Sunday evening, French cellist Guillaume Effler and Japanese pianist Kanae Endo performed a concert that can easily be summed up in two words: finesse and class.
Performing at Al Hussein Centre, the duo interpreted works by Franz Schubert, Ludwig van Beethoven, Johann Sebastian Bach, Gabriel Fauré, Charles-Valentin Alkan, Astor Piazzolla and Camille Saint-Saëns.
The musicians, based in France, belong to the young generation of brilliant performers that possess exceptional technical skills, refined taste, delicate "feeling" and raw talent. From the well-known cello suite No.1 by Bach to the lesser known "Song of the madwoman on the seashore" by Alkan, Effler and Endo demonstrated a great sense of musical expression.
The inherent tone of Effler's cello, a special Mirecourt instrument, certainly played a significant role in the resulting marvelous sound.
There existed a flawless understanding between the two musicians, not only regarding the tempo and the attack of the notes, but even more importantly with the dynamics of the performance. In particular, the audience could appreciate the clever way Kanae Endo would keep the piano in the background during those passages where the cello was playing the leading melodic lines. Needless to say, they performed as the perfect duo.
After the intermission, the Jordanian Etihad String Quartet joined in for a special guest appearance, playing two pieces by Schubert. The string quartet, which includes Nabih Boulos, Yarub Smeirat, Firas Hattar and Fadi Hattar, liked to quote Khalil Gibran as saying "Music is the language of the spirit."
The last piece that the duo performed was a spirited rendition of the famous "Le grand tango" by Argentinean composer Astor Piazzolla. Chiefly known for his works for the bandoneon and for writing sophisticated tango music, Piazzolla has become increasingly popular at classical concerts where his compositions are transcribed for various instruments. His breathtaking harmonies and unique rhythms provide the perfect bridge between jazz, the Latin-American sound, and the classical genre.
Ending the evening with a very attractive encore, the duo played Camille Saint-Saëns' "Le Cygne" (The Swan), a short piece taken from the composer's "Le Carnaval des Animaux". The hauntingly beautiful and exquisitely lyrical cello melody enchanted the audience.
The concert was organised by Friends of Jordan Festival, in cooperation with Bank Al Etihad
Related Articles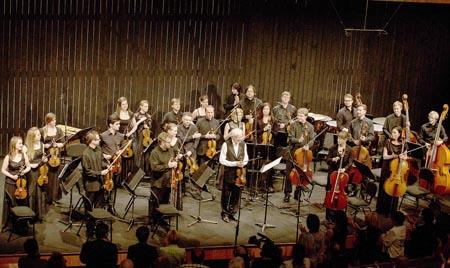 Nov 05,2016
AMMAN — In the scope of the Middle Eastern tour they are currently taking, the Kremerata Baltica Chamber Orchestra, led by founder and prest
Mar 13,2014
Jordan's Japanese community earlier this week marked the three-year anniversary of their country's tsunami and Fukushima nuclear crisis, highlighting the support provided by the Kingdom at the time. 
Mar 03,2016
FRANKFURT — One of Germany's leading concert halls has expressed shock after a performance by an Iranian harpsichord virtuoso ended in a tum
Newsletter
Get top stories and blog posts emailed to you each day.