You are here
Freedom, exile fill Palestinian artist's canvas
By Johanna Montanari - Oct 16,2019 - Last updated at Oct 17,2019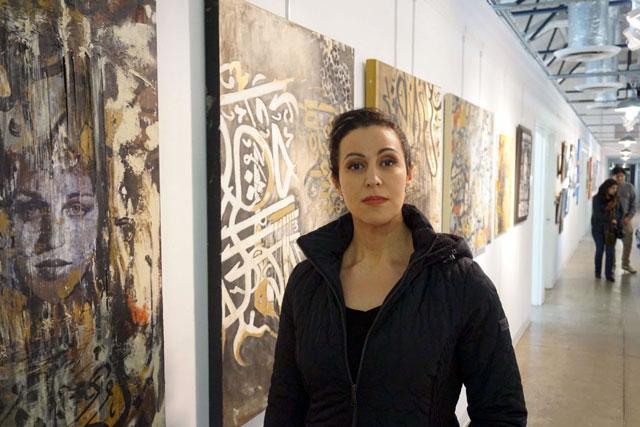 Palestinian-American visual artist Manal Deeb's works focus on Palestinian identity, women's empowerment and the experiences of exiles (Photo courtesy of palestine.net)
AMMAN — Manal Deeb, a Palestinian-American visual artist who was born in Ramallah and moved to the US to study fine arts, explores Palestinian identity, women's empowerment and the experiences of exiles in her artwork.
"Jordan is my second home. I usually go to Palestine through Jordan and I have my husband's family there," she said in a recent interview with The Jordan Times.
In 2017, she exhibited her work at the National Gallery of Fine Arts in Amman as part of the group exhibition titled "I AM" involving 31 contemporary women artists from 12 countries in the region.
According to Deeb's website, personality extends "beyond present existence" to what is in the past and the artist's mission is to preserve her Palestinian identity moved by a "desire for happiness".
Deeb has presented her work in solo and group exhibits with her original paintings and digital art in cities across the United States and Europe as well as in the Middle East. In the US, her work is displayed in two museums that focus on Palestinian heritage, one in Connecticut and one in Washington, DC.
Deeb's career highlights include recognition as an Arab Woman of the Year by the American-Arab Anti-Discrimination Committee (ADC) in 2013, and exhibiting thirty works of art representing Palestine at the UN Visitors Centre in New York City in 2012 and 2013. She has also published a book titled "Dome of the Soul" in Arabic, in collaboration with a Palestinian poet, which merges poetry and images of her artwork.
"I love poetry. It affects me so much," the artist said.
"I always see Palestine and freedom on my colour palette. I have worked towards making images that I have always known, images I knew as a child. These images come from my inner truth," Deeb said.
Her art often touches on the "traumatic" Palestinian history and she believes that art is a better tool than military solutions "because art is an emotional force and a powerful means of communication", she explained.
When asked about her experience of exile, Deeb said that she paints "home away from home", continuously celebrating her Palestinian identity.
"Exile ignites creativity. Creativity is similar to dream-time. I can be working on a piece of art for weeks and weeks and yet something can transpire in only an hour, just as the last five minutes of dream-time can process something epic. Yet one needed the entire night of sleep," she said.
The artist also touched on a political message in her work: That to live in this world, "we need love" and that there are people misled by Islamophobia or Arab phobia.
"I am a Muslim Arab female presenting the beauty of my identity, soul, language, culture and religion," she concluded.
Newsletter
Get top stories and blog posts emailed to you each day.