You are here
German Development Bank grants Jordan 10m euros for education programme
By Ana V. Ibáñez Prieto - Nov 12,2017 - Last updated at Nov 12,2017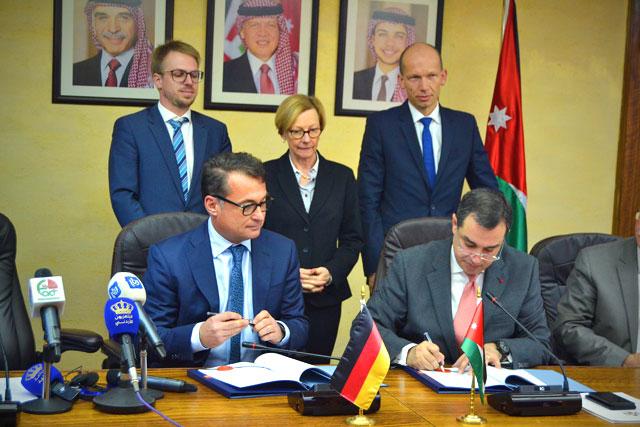 Joachim Nagel (left) from the German Development Bank and Minister of Planning Imad Fakhoury sign a Financing Agreement of the second phase of the 'School Construction Programme' in Amman on Sunday (Photo by Ana  V. Ibáñez Prieto)
AMMAN — Minister of Planning Imad Fakhoury and executive member of the German Development Bank (KfW) Joachim Nagel on Sunday signed the Financing Agreement of the second phase of the "School Construction Programme", granting an aid of 10 million euros for the construction of new schools and the expansion of those already existing across the Kingdom.
The programme aims to contribute to the improvement of learning conditions and access to education for all children. Its target sites will be located in areas with a high density of vulnerable children from Jordan and Syria, according to a KfW statement.
During the ceremony, Fakhoury expressed the ministry's "appreciation to Germany's longstanding support to Jordan, and to our strong partnership with KfW over the years", noting that "Germany has been a true supporter and a reliable partner, especially at these difficult times."
"I would like to praise the efforts of the KfW team in the preparation of this project, in addition to their support to our institutions in the implementation of a large number of priority projects as well as in building our capacities in this regard," the minister continued.
Furthermore, Fakhoury expressed his wish to "keep counting on Germany's continued support to deliver on our development agenda as articulated in the Executive Development Programme, and to support host community projects under the Jordan Response Plan".
For his part, Nagel noted that KfW's relationship with Jordan dates back to the 1960s, adding that "we will continue to be partners not only in the education field, but in many other areas."
"Children are always the future of a country, and we are confident that this grant will help benefit the future of both Jordan and Syria," Nagel added.
German Ambassador Birgitta Siefker-Eberle was also present at the ceremony, where she said: "The German government is aware of the challenges in the Jordanian education sector, and is willing to support Jordan in this important area."
"Education is the core area of cooperation between Jordan and Germany, and, until now, our government has provided a total of 42 million euros for the construction of 37 schools countrywide through KfW," the ambassador remarked.
up
57 users have voted, including you.
Related Articles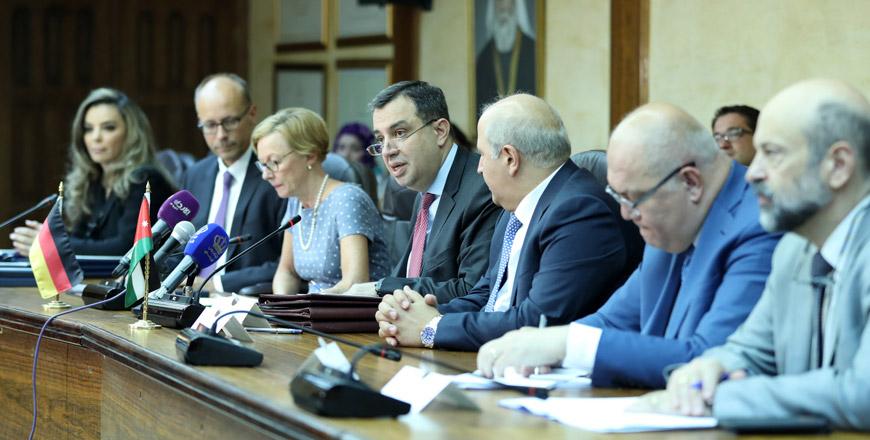 Jul 31,2017
AMMAN – Jordan and Germany on Monday signed several agreements for grants and soft loans to support development projects in the Kingdom.&nbs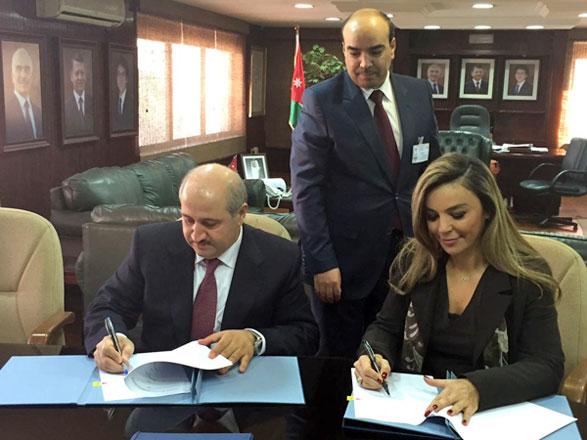 Feb 17,2016
AMMAN — The Water Ministry and the German Development Bank (KfW) on Wednesday signed a financing agreement for the "Irrigation in the Jordan
Jul 14,2016
AMMAN — Germany is providing 10 million euros (around JD7.86 million) to create jobs for Syrian refugees and Jordanians in Mafraq and Irbid,
Newsletter
Get top stories and blog posts emailed to you each day.