You are here
Government committed to support JIACC in fighting corruption — PM
By JT - Oct 18,2020 - Last updated at Oct 18,2020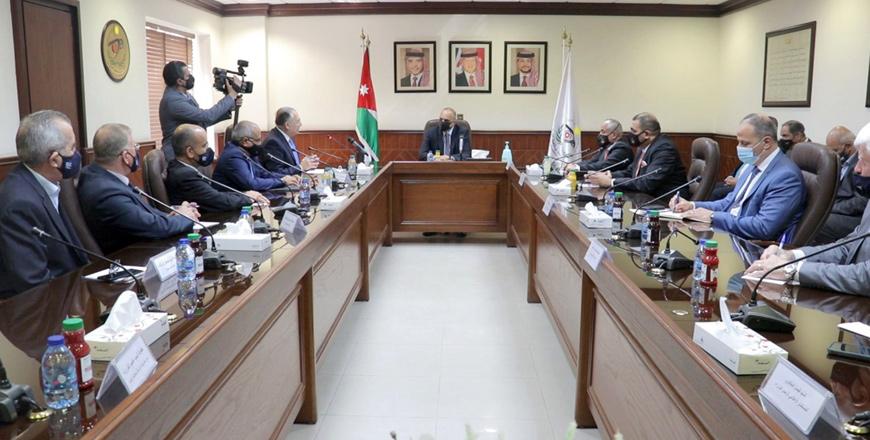 Prime Minister and Minister of Defence Bisher Al Khasawneh chairs a meeting during a visit to the Jordan Integrity and Anti-Corruption Commission on Sunday (Petra photo)
AMMAN — Prime Minister and Minister of Defence Bisher Al Khasawneh on Sunday emphasised the government's support for the Jordan Integrity and Anti-Corruption Commission (JIACC) to combat all forms of corruption and protect public funds.
During a visit to the commission, Khasawneh said that the JIACC is a key element of the system highlighted in the Royal Letter of Designation, which indicated that the essence of justice and equality lies in promoting the rule of law and the values of transparency and accountability to ultimately provide assurance that the public funds are protected against transgressions.
The prime minister also highlighted the government's commitment to the independence of the commission and its support for the public system that targets anti-corruption and promotes the values of integrity in the Jordanian society, the Jordan News Agency, Petra, reported.
He also underscored readiness to cooperate with the JIACC to bridge gaps in legislation that may allow corrupt practices or wasteful public spending.
JIACC Chairman Muhannad Hijazi noted that the visit indicates the government's commitment to boosting the commission's role in combating corruption under the directives of His Majesty King Abdullah.
Hijazi said that the commission is also mandated with cementing the national integrity system and good governance and preventing all forms of corruption, pointing out that a new strategy will be launched within a month from now to re-evaluate the national integrity standards, Petra reported.
Speaking on an amendment to the commission's law, the chairman said the draft law includes provisions that criminalise political money (vote buying), character assassination and money laundering, in addition to authorising the commission to make settlements.
On the JIACC's achievements, Hijazi stated that the commission recovered JD151 million in 2019, adding that the number of cases it investigated was 948, of which 277 were referred to the Public Prosecutor, while 171 cases are still being processed.
He said the remaining 500 cases were reserved due to either malicious claims, lack of subject matter jurisdiction, or have been remedied, Petra reported.
In 2020, the number of cases reached 1,289, of which 150 were referred to the Public Prosecutor, 793 cases are being processed, while 346 are reserved.
Newsletter
Get top stories and blog posts emailed to you each day.