You are here
Government will not tolerate graft, in any shape or form — PM
By JT - Jan 29,2017 - Last updated at Jan 29,2017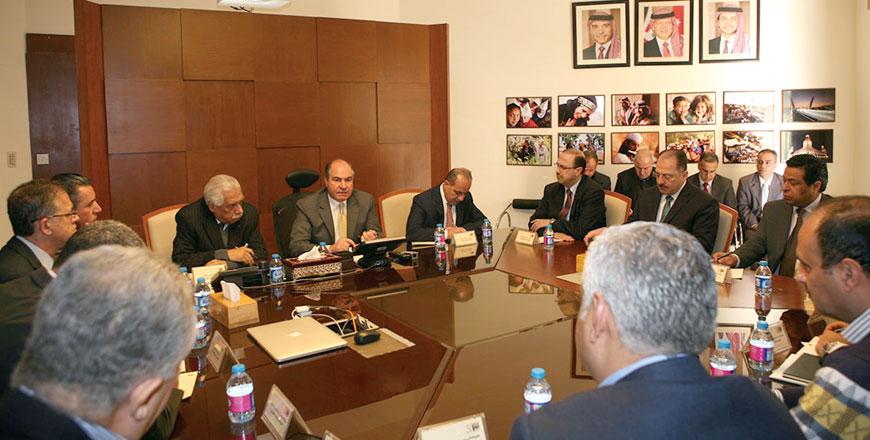 Prime Minister Hani Mulki meets with Greater Amman Municipality officials at its headquarters on Sunday (Petra photo)
AMMAN — Prime Minister Hani Mulki on Sunday said that the government would not tolerate any delay in procedures related to service provision to citizens or investors, underlining the need to work out immediate solutions to address such hindrances, the Jordan News Agency, Petra, reported.
Mulki highlighted the importance of restructuring public service procedures in a way that deters corruption, noting the existence of a "small segment of government employees who delay procedures", some of them would request or accept ikramiyah (a bribe in the form
of a tip).
The premier said that ikramiyah, which literally means appreciation, is degrading to Jordanian employees and citizens, as it is alien to Jordanian values, stressing that citizens are supposed to receive high-quality services away from favouritism, which, he said, is a felony that leads to prison.
Mulki made his remarks during visits to the Jordan Integrity and Anti-Corruption Commission (JIACC), Amman Greater Municipality (GAM) and the Income and Sales Tax Department (ISTD).
Incorrupt employees should be honoured, while names and pictures of corrupt employees should be made public, Mulki added.
He stressed the importance of enhancing procedures to curb tax evasion and prosecuting any person who provides false or inaccurate tax statements.
During his visit to GAM, where he met with Mayor Aqel Biltaji, Mulki said that middle- and low-ranking employees should be re-energised, noting that overstaffing slows down activity and affects services adversely.
He noted the importance of granting new businesses permits to operate, but called for intensifying inspection campaigns, stressing that violating regulations such as lack of parking lots and mandatory distance of buildings from streets should not be penalised by fines but by rectifying the situation as the goal is not collecting funds from people.
In his visit to JIACC, Mulki met with its President Mohammad Allaf and its members and congratulated them for accomplishing the National Strategy of Integrity and Anti-Corruption, noting that the visit came as a follow up on His Majesty King Abdullah's visit to the commission last week.
He commended the commission's role in dealing with corruption cases and referring corrupt people who abused public funds to court, calling on JIACC to implement an innovative approach to ensure a smooth flow of procedures at government agencies.
For his part, Allaf said the Kingdom has witnessed a considerable decrease of corruption cases, stressing that there have been no major corruption cases since 2011.
He said that JIACC categorises corruption cases according to the financial gains and posts where employees can make illicit money, including ikramiyah, which is considered as a bribe.
"We will be in every corner where public funds are collected and where corruption is suspected. We will work on the ground in disguise, as citizens, to spot any violation and refer suspects to court," Allaf stated.
During the visit to ISTD, Mulki met with its Director General Bashar Saber, and stressed the importance of stiffening penalties on tax evasion.
Mulki said that corruption does not only include employees who abuse public funds but also citizens who evade paying taxes.
The premier directed tax officials to better regulate the importing procedures to prevent tax evasion through fake import-export companies.
He noted that the majority of public servants "do their jobs with honesty and integrity, but higher administrations must keep their eyes open to prevent the emergence of any kind of corruption or bribery".
The department's director said that tax defaults are estimated at around JD2 billion, including JD612 million that are collectable, while cases worth JD415 million are being seen by competent courts. In 2016, the department was able to collect JD77 million in late tax payments, while JD17 million are being followed up on, Saber told the prime minister.
Later in the day, Mulki chaired a Cabinet meeting, during which he stressed the need to firmly enforce all legal and administrative procedures to ensure integrity and combat all forms of financial and administrative graft, in all state agencies.
He directed ministries and institutions concerned with the issue to suggest measures of legislative amendments that serve such a goal.
In a statement carried by Petra, the Council of Ministers said that embezzlement of public money is "stealing from every Jordanian", stressing the need to take deterring measures against those who misuse entrusted public funds or office to make illicit gains.
Ministries concerned with legal issues were tasked with revisiting all relevant provisions to stiffen penalties on corruption-related offences, the statement said, noting that some measures have been already taken towards that end, such as ongoing changes to the Civil Service By-Law, aimed at "rewarding hardworking employees and punishing those who fail to fulfil their duties".
Related Articles
Feb 09,2017
AMMAN — Four employees at Mafraq's Labour Department were detained on Wednesday for their alleged involvement in corruption, the Jordan News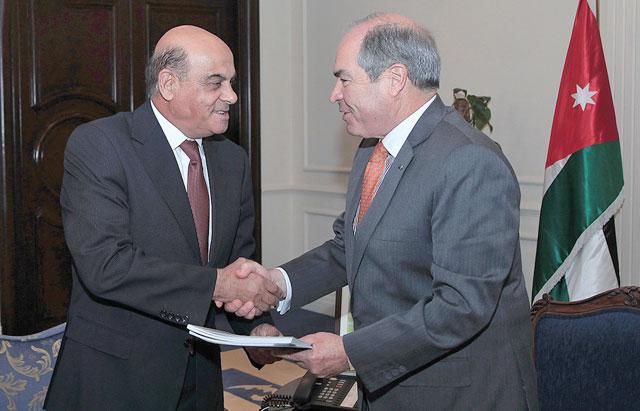 Jul 28,2016
AMMAN – Prime Minister Hani Mulki on Wednesday said that reports of the Jordan Integrity and Anti-Corruption Commission (JIACC) have to also
Feb 12,2017
AMMAN — Labour Minister Ali Ghezawi on Sunday visited the Jordan Integrity and Anti-Corruption Commission (JIACC) and met with its President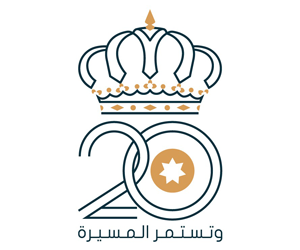 Newsletter
Get top stories and blog posts emailed to you each day.