You are here
Housing developers say new customs duties harmful; food traders assured
By Dana Al Emam - Feb 14,2017 - Last updated at Feb 14,2017
The housing developers syndicate says increasing customs duties on construction material will cause a surge in real estate prices, while the food trader syndicate says prices of essentials will not be affected (Photo by Amjad Ghsoun)
AMMAN — Sector representatives voiced mixed reactions towards the expected impacts of the recent amendments to by-laws governing customs duties and sales tax.
In separate phone interviews with The Jordan Times on Tuesday, representatives of the real estate and trading sectors said the recently endorsed decisions will negatively affect investments, and ultimately result in further price hikes.
On the other hand, stakeholders in the foodstuff sector predicted "minimal" impacts of the new regulations, as hikes address only "luxury" items.
On Sunday, the government published in the Official Gazette several by-laws, including those governing customs service on imported commodities, which used to be exempted from duties and a by-law amending the by-law of the special tax.
The amendments to the by-law of customs service fees on imported commodities stipulate adding 5 per cent to the duties on imported commodities, provided that the total value of the imposed fee is no less than JD100 and no more than JD10,000.
The measures came as the government seeks to secure JD450 million, as part of a plan to narrow the budget deficit, within the context of economic reforms agreed upon with the International Monetary Fund.
The amendments repealed old exemptions on reinforced steel, which had previously decreased the sales tax from 16 to 8 per cent, and annulled previous tax exemptions on all Internet services that had decreased taxes in the same rates.
The new by-laws also included a detailed list of items that underwent increases in customs duties. For example, duties on stationery increased from 10 to 20 per cent.
Several materials used in construction have witnessed price increases, such as reinforced steel (from 25 to 30 per cent), cement (from 10 to 15 per cent), pipes (from 10 to 15 per cent) and equipment used in cutting wood and steel.
Hikes also included heavy car lifting machines (from 10 to 15 per cent), several car parts (from 15 to 20 per cent), while prices of vehicles that weigh below 5 tonnes, including pickup trucks, vans, trucks and forklifts, which had been exempted now include a 5 per cent fee.
For food items, the list included meat (from 5 to 15 per cent), some leafy vegetables, salmon and cocoa (all from 10 to 15 per cent).
Jordan Housing Developers Association President Zuhair Omari said the newly endorsed fees will exacerbate problems facing the sector, which has been affected by a decrease in revenue by 14 per cent over the last two years.
He added that increasing production costs in the housing and construction sectors will raise prices, a matter that will widen the gap between Jordanians' purchasing power and the offered prices for apartments.
For his part, Nabil Rumman, president of the Jordan Free Zone Investors Association, told The Jordan Times that imposing a 5 per cent customs duty on vehicles that weigh below 5 tonnes negatively increases costs on logistics and service companies and construction investments, which heavily depend on these vehicles.
He added that the move contradicts efforts to encourage investments in the Kingdom, especially since investors did not see the new regulations coming.
"Any hikes will negatively affect investments," Rumman said, expecting affected factories and projects to lay-off some workers in order to cut costs.
Meanwhile, Foodstuff Traders Association President Khalil Haj Tawfiq said none of the basic food items witnessed increase in prices or fees.
Imports from Arab countries, Europe and the US are exempted from fees under free trade agreements, the sector leader added.
While Haj Tawfiq said the government has negotiated the new decisions with the foodstuff sector, Omari said no such discussion had taken place with the housing sector.
He noted that only dues on "luxury" items were increased by 16 per cent, adding that their annual consumption is "very low".
Haj Tawfiq said Jordanian families spend nearly 40 per cent of their income on food, adding that the association monitors the markets and will report any violations.
Jordan Chamber of Commerce President Nael Kabariti said 80 basic food items consumed heavily by the middle- and lower-income families were not included in the recently imposed 5 per cent customs duty on imported commodities.
He added in a statement carried by the Jordan News Agency, Petra, that the newly imposed customs duties seek to maintain the stability of prices in accordance with the incomes of the majority of Jordanians.
up
82 users have voted, including you.
Related Articles
Feb 12,2017
AMMAN — Several administrative, social and economic reform measures endorsed by the government recently went into effect on Sunday after the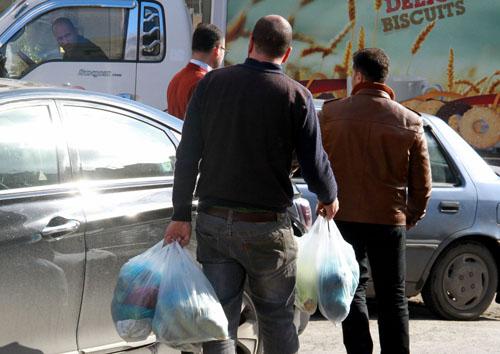 Apr 05,2015
The Foodstuff Traders Association on Sunday called on the government to annul a fee imposed on commodities imported from Arab countries, in a bid to lower prices and ease burden on traders.
Oct 25,2015
AMMAN — A consumer advocate and the syndicate representing food traders on Sunday expressed "surprise" at a recent government decision that
Newsletter
Get top stories and blog posts emailed to you each day.