You are here
Hungary keen to deepen ties with Jordan — ambassador
'Potential evident in educational, cultural programmes'
By Dana Al Emam - Oct 22,2016 - Last updated at Oct 22,2016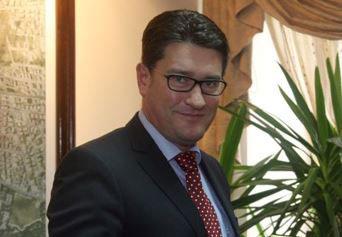 AMMAN — Hungary is keen to develop people-to-people interactions with Jordan through educational and cultural programmes, according to Hungarian Ambassador to Jordan Csaba Czibere.
In a recent interview with The Jordan Times to mark Hungary's national day, celebrated on Sunday, the ambassador said the occasion is a chance to assess cooperation between the two countries and to examine future opportunities.
Education, the diplomat said, is an investment in future generations and an opportunity for cultural exchange. Hungary offers Jordan 400 English-language university scholarships in over 400 subjects for undergraduate, master's and PhD courses.
"Out of the 3,400 scholarships for 60 partner countries, Jordan receives the highest number of scholarships," Czibere said, adding that 127 Jordanian students had enrolled in Hungarian universities through the scholarship programme since September after passing entrance exams, a figure he said should increase.
Around half of this year's scholarship recipients enrolled in master's degrees and 27 in PhD programmes.
Over the past two academic years, 250 Jordanian students enrolled in various subjects at Hungarian universities through the scholarship programme.
Through these learning opportunities, students are exposed to an international environment with scholarship recipients from all over the world, said Czibere.
Culture
The partnership between the Hungarian St. Angela choir and the Jordanian Fountain of Love choir is an example of mutual understanding and cultural cooperation, said the ambassador, who added that the first thing the two choirs learned about each other was their national anthems.
The Jordanian choir visited Budapest in August and had "successful" concerts, while the Hungarian choir is coming to Jordan for the national day celebrations and will spend eight days performing and touring the country.
"This is not only a cultural exchange but an exchange of young people," said Czibere.
In September, a direct charter flight started operating weekly between Hungary and Aqaba, the ambassador said, noting that the route would encourage cultural visits to Jordan as well as tourism and business activities. "We are making efforts to increase the direct air-link to two or three regular flights per week if there is a growing interest".
Even when looking into the future, it is very important to appreciate what Jordan inherited, including the 2,000-year-old Citadel of Machaerus, located atop a hill 800 metres above sea level and overlooking the Dead Sea, some 32km southwest of Madaba in the central region.
The site is one of the most important biblical sites in the region, and it is currently under excavation and will undergo restoration by a team from the Hungarian Academy of Arts, led by Research Director Gyozo Vörös.
"There is a huge potential for attracting visitors, both tourists and pilgrims, because of the religious and archaeological importance of the site," the ambassador said.
Fighting terrorism and hosting refugees
The diplomat said his country shares His Majesty King Abdullah's assessment of the need for international cooperation in fighting terrorism and extremism, particularly by addressing the root causes.
Hungary is contributing to the US-led coalition fighting the Daesh terror group with 150 troops based in Iraqi Kurdistan, he said, voicing intention to increase the number of troops.
"We appreciate that despite all the difficulties surrounding Jordan, the leadership and the people of this country have not only kept the internal stability but also they do more than anyone else to avert the risks by fighting against terror and helping those who fled terror," Czibere said.
The ambassador highlighted Hungary's experience with refugees in the early 1990s, when some 80,000 people from Bosnia, Croatia, and Serbia fled the war in then-Yugoslavia to Hungary, citing similar challenges and dilemmas that Jordan is now facing, including pressure on schools that prompted the country to introduce the double shift system.
"We believe that war refugees should be provided for nearest to their country of origin and that the international community should help these host countries to the best of its capabilities to cover the costs," he said.
Czibere noted that the Visegrad Group, which includes Poland, the Czech Republic, Slovakia and Hungary, will implement a joint development project in Zaatari Refugee Camp, 90km north of Amman.
A total of 79,900 refugees currently reside in the Zaatari camp, according to the latest UNHCR figures.
Economic ties
The embassy has worked successfully with government and private Jordanian partners to carry out two business events this year: a Hungarian products show and a business forum for trade and investment, the ambassador said.
As a result, bilateral trade volume grew by 25 per cent.
Last year, Hungarian exports to Jordan were valued at $35 million, while during the first six months of this year, exports to Jordan reached almost $25 million.
While Hungarian exports to Jordan are "satisfactory", Jordanian exports to Hungary are "limited" and should be increased to realise the potential, Czibere said.
To address the issue, a Jordanian business delegation will visit Hungary early next year to talk directly to the Hungarian business community, he added.
Related Articles
Mar 08,2015
Hungary offers 400 scholarships to Jordanian university students in various levels of study every year, according to Ambassador Csaba Czibere.
Nov 04,2017
AMMAN — President of Hungary János Áder will arrive in Jordan today, starting a four-day official visit during which he will hold talks with
Jan 10,2017
AMMAN — Jordan is "the largest beneficiary" of Hungary's scholarship programme Stipendium Hungaricum, with 400 scholarships annually availab
Newsletter
Get top stories and blog posts emailed to you each day.