You are here
ILO, IYF join forces to tackle child labour
By ILO News - Jan 17,2016 - Last updated at Jan 17,2016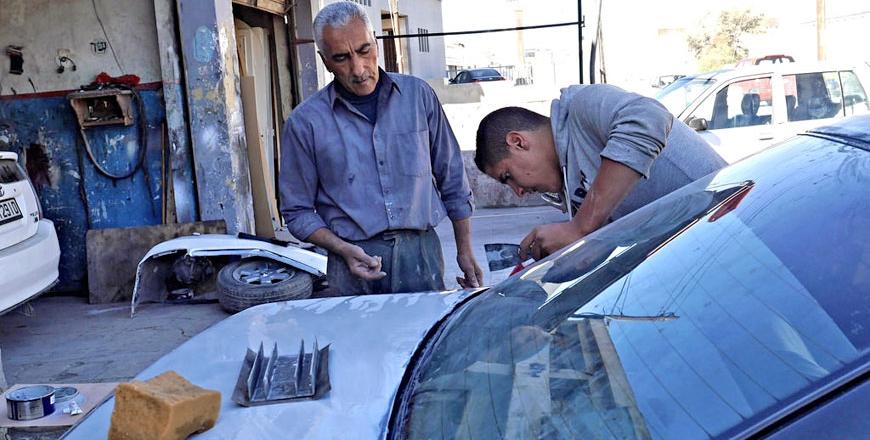 The ILO and the IYF have joined forces to tackle child labour and help young workers at risk of exploitation in Jordan (ILO photo)
AMMAN — The International Labour Organisation (ILO) and the International Youth Foundation (IYF) have begun implementing a joint project to upgrade informal apprenticeships in Jordan.
The project involves 120 participants aged between 16 and 24 who are either at risk of child labour or who are vulnerable to exploitation due to being engaged in unregulated work.
They will receive theoretical and practical on-the-job training in occupations spread across the five sectors of tailoring, mechanics, retailing, food processing and plastic manufacturing in the Irbid, Amman, Zarqa, Maan and Tafileh governorates.
The project was developed based on a successful model on upgrading informal apprenticeships that was piloted in Jordan's auto repair and printing sectors by the ILO and IYF in 2014.
The eight-month project falls within the framework of the ILO's "Moving Towards a Child Labour Free Jordan" project, which is working with national partners to implement the National Framework to Combat Child Labour adopted by Jordan, in 2011 to improve policy and legislation, as well as enhance coordination between relevant ministries in tackling the issue.
"Through this project we are trying to develop a model for children and youth, the majority of whom have dropped out of schools and are engaged in informal work. We want to give them a chance to regain some of the opportunities they lost and build a foundation for a better future as craftspersons in the occupations they have chosen," said Insaf Nizam, chief technical adviser of the ILO's child labour project.
In the early stages of the project, the young apprentices are receiving training aimed at providing them with the skills needed to work in entry-level apprenticeship positions with local employers in their respective governorates.
Together with the training, participants will begin placements amongst 80 local businesses, namely small to medium size enterprises.
Twelve mentors have been selected to provide the apprentices with basic technical training in their specific sector or occupation.
Since it began work in Jordan in 2009, IYF has implemented a number of initiatives that have provided more than 14,000 young men and women with life and job skills training, career guidance and entrepreneurship support.
The current joint project brings together two distinct competencies — the IYF's ability to mobilise and train youth and the ILO's expertise on child labour and youth employment.
"This project comes at a time when there is immense concentration on employing Jordanian youth in decent jobs. We believe in the hidden talents of our youth and believe that this pilot will bring out the best in them to better be equipped for employment," said IYF Jordan Country Director Rana Turk.
Upon the successful completion of the pilot project, the ILO and IYF will look into the feasibility of replicating the project on a larger scale and in different sectors in Jordan.
It is envisioned that benefitting youth will have new skills that will not only enable them to get better jobs and sustain them, but also provide them with extra life skills making their lives easier, not only at the workplace but also in their daily life.
The pilot will also help equip the private sector with qualified youth, which will help develop their enterprises. Some of the enterprises involved in the programme will be employing some of the trainees after the initial pilot is concluded.
"We expect that with the gained experience, the youth benefitting from the pilot will have an easier time finding a suitable job,'' Turk added.
Related Articles
Mar 06,2014
At first glance, the bustling streets of the northern city of Irbid appear like any other in the country. Noisy vendors hawk their wares on pavements, and Internet cafés teem with university students as cars jostle for space on crowded streets. 
Oct 24,2017
AMMAN — Prime Minister Hani Mulki on Tuesday met with International Labour Organisation's (ILO) Assistant Director General and Regional Dire
May 03,2017
AMMAN — The International Labour Organisation (ILO) has launched an e-learning programme for Syrian refugees in Jordan that explains their r
Newsletter
Get top stories and blog posts emailed to you each day.