You are here
Italian excavation of 'extraordinary' Jaya Palace concludes season
By Ana V. Ibáñez Prieto - Dec 05,2018 - Last updated at Dec 05,2018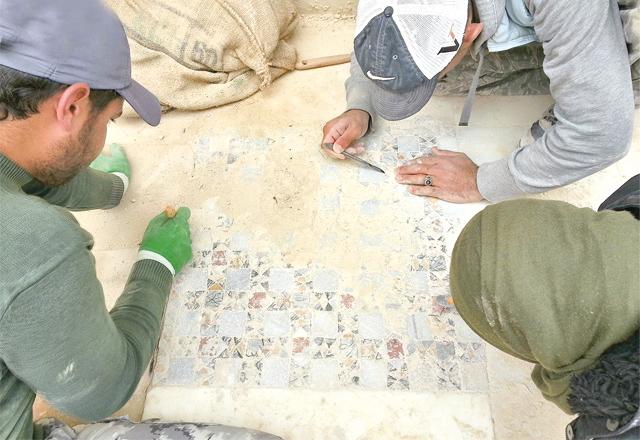 In this undated photo, archaeologists work in the Jaya Palace's courtyard (Photo courtesy of the Medieval Petra-Shobak Project)
AMMAN — The Italian archaeological mission to Jordan's Medieval Petra recently concluded its 2018 excavation season in Al Jaya village (some 200 kilometres south of Amman), which resulted in the excavation of the urban Jaya Palace.
A squared courtyard, a fountain and a pavement adorned in opus sectile (a decorative technique popularised in the ancient and medieval worlds) were found in the lower city of Shobak, the archaeologists said in a statement shared in their social media channels.
"The discovery of Jaya Palace confirms that underneath Jaya village lays the ancient medieval capital city of southern Jordan, founded by Saladin," Professor Guido Vannini from the University of Florence told The Jordan Times, adding that the findings were also "of particular relevance" to the medieval and Islamic heritage of the Kingdom.
"No architecture of a comparable quality has ever been found in the country for the Ayyubid-Mamluk period," the archaeologist pointed out.
"The extraordinary nature of this discovery is not only about its high architectural or aesthetic level, but also about the historical significance of the urban palace... it confirms the thesis advanced some years ago by the University of Florence that Saladin did not destroy the Crusader castle of Shobak, but collected its political heritage by founding a rich and powerful city," the expert highlighted.
"This discovery is an example of the collaboration between Jordan and Italy," the team of archaeologists said in their statement, thanking the Rawashdeh family — who discovered the site and own the land where excavations were performed — for providing the mission with "the possibility of working in this wonderful site" and adding another page to the history of Jordan.
"An agreement was reached in October 2018 to allow the Italian mission to start archaeological research on the land," Vannini said.
"During meetings with the family, it was made clear that the Rawashdeh were fully aware of the cultural relevance of the site, and that it was their intention to revive it for the benefit of Jordanians and tourists alike," Vannini added.
"Now we know how the city was born and we can begin to explore its life, but what is still unknown is the reason for its death," Vannini added, expressing the team's will to investigate the causes behind the city's decay.
"Perhaps, for the first time in the history of archaeology, we will have the opportunity to study an aspect of a crisis that — probably during the 15th century — invested the Arab-Islamic world and opened the way for Ottoman conquest," the professor said.
Newsletter
Get top stories and blog posts emailed to you each day.