You are here
Jaya Palace excavation offers insight into mediaeval transformations
By Saeb Rawashdeh - Aug 20,2022 - Last updated at Aug 20,2022
Archaeological team restores a fountain in Jaya Palace on the foothills of the Shobak Castle in 2018 (Photo courtesy of Mediaeval Petra)
IRBID — The findings of the Italian archaeological mission in Jordan were highlighted at the 15th International Conference on the History and Archaeology of Jordan at Yarmouk University in Irbid, which concluded recently.
The Italian archaeological mission to Petra concluded its 2018 excavation season in Al Jaya village, some 200 kilometres south of Amman, which resulted in the excavation of the urban Jaya Palace from the Ayyubid-Mamluk period.
In the presentation "The Jaya Palace, First Results of the Excavations 2018 and 2021", Michele Nucciotti, professor of Mediaeval Archaeology from University of Florence, said that for the last 36 years, the Italian archaeological mission in Petra and its surrounding area operated under Professor Guido Vannini from the University of Florence.
"In order to study the standing structure and the building material during Ayubbid-Mamluk empires, the Italian team began its work in Jaya village on the foothills of the Shobak Castle in 2014," the professor said.
In 2018, the team from Florence started the excavation of the site and a fountain and mosaics were unearthed at the Jaya Palace, Nucciotti continued, adding that archaeologists found pottery dating from the Nabataean to the Ottoman periods.
The Shobak Castle in Maan Governorate had very active commercial ties with China, Persia and Egypt, and the area was a very important link in the Afro-Eurasian globalisation process, Nucciotti said.
A mixed method approach based on historical archaeology, theories of abandonment and global history, particularly Frontier Studies and Empires Theory, was applied during excavations in the mediaeval sites of Al Wu'ayra in Petra and the Shobak Castle, he noted.
These areas witnessed a series of transformations in the political, social and economic realms during the mediaeval period, between the 7th and 16th centuries, he said.
These transformations carried the ancient capital city of Nabatean and Roman-Byzantine Jordan and its hinterland through its loss of urban status and political role in the Early Islamic period to a new political and economic centrality in the Crusader and Middle Islamic period, until a decline in the Ottoman period, Nucciotti outlined.
"In reviewing the data related to the abandonment phases at Al Wu'ayra, with its correlated defunctionalisation and repurposing of Ayyubid epoch, a pastoral society appears to have reused [possibly on a seasonal basis] the former Byzantine and Crusader installations; whereas in Shobak [after the mediaeval Ayyubid-Mamluk urban season] the dramatic settlement changes in Ottoman epoch, when the lower medina is abandoned and its area is transformed into terraced agricultural land, highlighting the rise of a peasant society," the scholar said.
Related Articles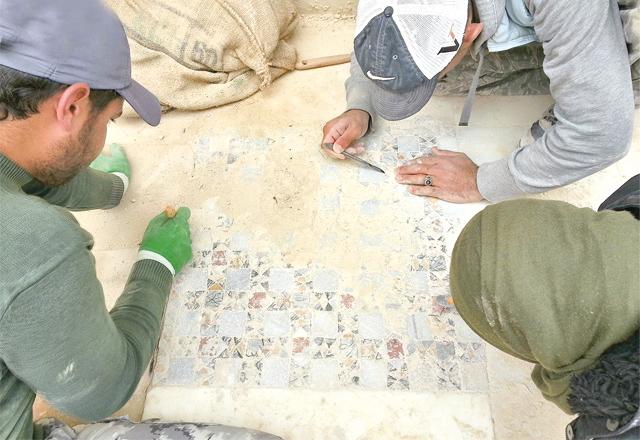 Dec 05,2018
AMMAN — The Italian archaeological mission to Jordan's Medieval Petra recently concluded its 2018 excavation season in Al Jaya village
Feb 11,2023
AMMAN — Specialisation in livestock management was a significant feature of Transjordan during the Mamluk period (1250-1517), noted a Britis
Nov 20,2017
AMMAN — In 1189, after the victorious siege which started in 1187 and the crusaders' fall of Hatting, Saladin came into possession of the ca