You are here
'Jerash opening weekend attracts over 15,000 people from Jordan, beyond'
By Mohammad Ghazal - Jul 25,2015 - Last updated at Jul 25,2015
AMMAN — More than 15,000 visitors attended the activities of the Jerash Festival for Culture and Arts over the weekend, according to its executive director, Mohammad Abu Summaqa.
"The opening was remarkable. Many diplomatic missions attended the activities of the festival over Thursday and Friday," he said on Saturday.
"The turnout over the weekend was huge and exceeded our expectations. It was higher than last year's so far and the attendance of concerts by [Jordanian singer] Omar Abdullat and [Lebanese vocal artist] Rami Ayach was great," Abu Summaqa added.
According to the official, sales of tickets for several concerts planned for this weekend are on the rise.
"The demand on tickets for [Lebanese singers] Wael Kfoury's and Nancy Ajram's concerts for the end of this week is very high. We are happy so far with the attendance," he added, noting that a large percentage of the visitors are non-Jordanians, including Arab Israelis and tourists from several Arab countries, especially the Gulf states.
Ajram's concert is slated for Wednesday, while Kfoury will be performing on Thursday.
"We have taken the measures to ensure that it is a memorable experience to attend Jerash. We made sure to provide all logistic services and that there are enough parking lots," said the official.
Several leading Jordanian and Arab artists are participating in festival activities including celebrity singers like Lebanon's Yara, who performed at the South Theatre on Saturday, in addition to Jordan's Hani Metwasi, and Kuwaiti Abdullah Rowaished, whose concert concludes the festival.
Jerash festival on Sunday will feature a concert in the South Theatre by Lebanese singer Joseph Attieh and Jordanian singer Ghada Abbasi, while the Palestinian band Trio Joubran will be performing at the North Theatre.
Jerash audiences will also have the chance to enjoy the performances of folkloric dance troupes representing Turkish, Circassian, Spanish and Chinese cultures, according to the organisers.
The festival, which concludes on August 1, also features poetry sessions, where renowned Jordanian and Arab poets recite some of their work. It also includes a programme aimed at discovering talents.
The Jerash festival is an annual celebration of local, Arabic and international culture during the summer. It is held in the ancient Greco-Roman town of Jerash, known in old times as Gerasa, and located some 48km north of Amman.
In 2011, the government revived the festival, which was first launched in 1981, after a four-year suspension.
In 2008, authorities had launched the Jordan Festival, a nationwide theme-oriented event under which the Jerash festival became a component, a move that faced bitter criticism from fans, artists and associations.
Related Articles
Jul 22,2017
AMMAN — The first two days of Jerash festival saw a large turnout of local and foreign visitors, an official said.Thousands of fans attended
Jul 31,2016
AMMAN — The 31st Jerash Festival for Culture and Arts attracted over 100,000 visitors, the festival's executive director, Mohammad Abu Summa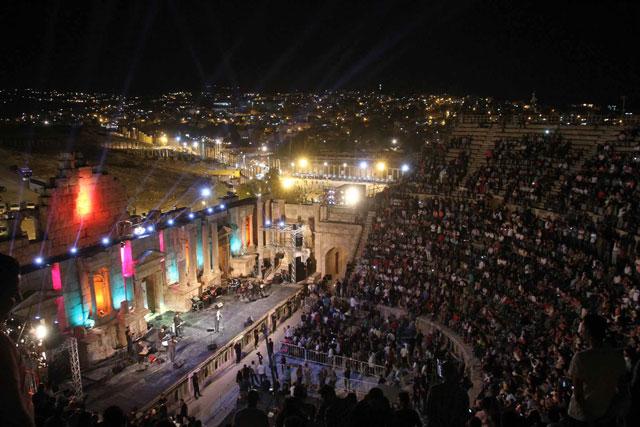 Jul 30,2016
AMMAN —The 31st Jerash Festival for Culture and Arts concluded in the ancient Greco-Roman city on Saturday, and will move to Amman for a ser
Newsletter
Get top stories and blog posts emailed to you each day.