You are here
Jerash festival attracts 100,000 visitors
By Dana Al Emam - Jul 31,2016 - Last updated at Jul 31,2016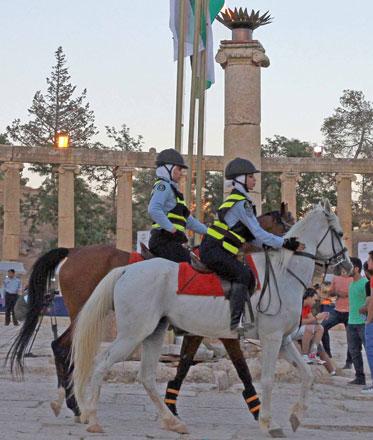 Police women patrol the venue of the 31st Jerash Festival for Culture and Arts in the ancient city last week (Photo by Hassan Tamimi)
AMMAN — The 31st Jerash Festival for Culture and Arts attracted over 100,000 visitors, the festival's executive director, Mohammad Abu Summaqa, said on Sunday.
Some 20,000 of the guests joined the festival's closing weekend, Abu Summaqa told The Jordan Times.
He said that holding the annual cultural event, which concluded on Saturday, demonstrated Jordan's stability and showed that regional unrest had not impacted the local art scene.
This year's festival was held at a time of heightened security fears in the region, Jerash Mayor Ali Qoqazeh noted in a speech at the opening ceremony.
Some gates to the marketplace in the ancient city were shut during the festival, and several roads were closed.
But despite the stricter security measures put in place for the festival, attendance rates were "much higher" than last year, Abu Summaqa said.
Commenting on the festival's revenues, Abu Summaqa said that 95 per cent of the activities were free of charge, except for six concerts held at the South Theatre, for which tickets were sold.
Funding for the concerts came from sponsors and ticket sales, and not the festival's budget, he added.
On Sunday, the Jerash festival resumed at the Royal Cultural Centre in the capital for a concert series, "Amman Evenings".
The concerts seek to bring together Jordanian and international artists in coordination with the Jordanian Artists Association (JAA).
Musicians from Jordan, Egypt, Morocco and Cuba are performing in the capital, and the concerts also feature solo performances on cello and piano as well as singing and religious music.
The Jerash festival is an annual celebration of local, Arabic and international culture during the summer. It is held in the ancient Greco-Roman city of Jerash, known in old times as Gerasa, and located some 48km north of Amman.
In 2011, the government revived the festival, which was first launched in 1981, after a four-year suspension.
In 2008, authorities had launched the Jordan Festival, a nationwide theme-oriented event under which the Jerash festival became a component, a move that faced criticism from fans, artists and associations.
Related Articles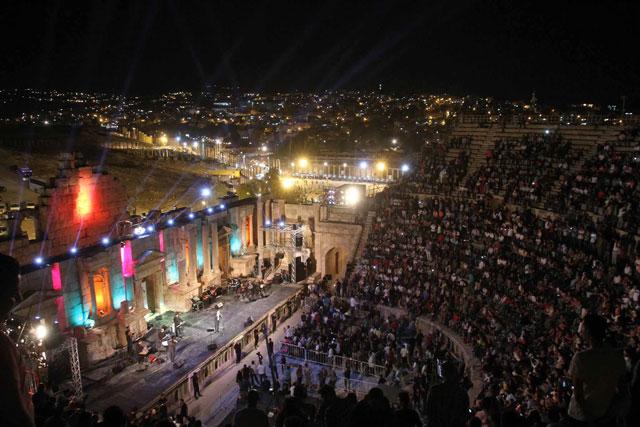 Jul 30,2016
AMMAN —The 31st Jerash Festival for Culture and Arts concluded in the ancient Greco-Roman city on Saturday, and will move to Amman for a ser
May 29,2017
JERASH — Preparations for Jerash Festival for Culture and Arts 2017 have begun, triggering criticism from local tour guides over alleged dis
Jul 25,2015
AMMAN — More than 15,000 visitors attended the activities of the Jerash Festival for Culture and Arts over the weekend, according to its exe
Newsletter
Get top stories and blog posts emailed to you each day.