You are here
Jerash festival moves to capital for 'Amman Evenings'
By JT - Jul 30,2016 - Last updated at Jul 30,2016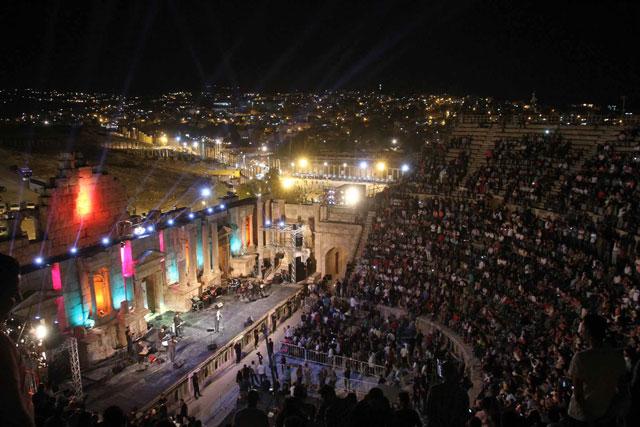 Audiences attend a concert at the ancient Greco-Roman city of Jerash, some 48km north of Amman, last week (Photo by Hassan Tamimi)
AMMAN —The 31st Jerash Festival for Culture and Arts concluded in the ancient Greco-Roman city on Saturday, and will move to Amman for a series of concerts, the festival director said.
Singers from across the region were set to perform on the closing day in Jerash, alongside exhibitions showcasing handicrafts, local food and other traditional produce, said Mohammad Abu Summaqa, executive director of the festival.
Activities will resume at 8.30pm at the Royal Cultural Centre in Amman on Sunday, Abu Summaqa said in a statement.
The "Amman Evenings" are an important part of the Jerash festival, he added, explaining that the concert series aims to bring together Jordanian and Arab artists in coordination with the Jordanian Artists Association (JAA).
Artists from Jordan, Egypt, Morocco, and Cuba will perform in the capital, and the concerts will feature solo performances on cello and piano as well as singing and religious music.
The final concert will take place on August 6. Organised by the JAA, it will feature several Jordanian singers, Abu Summaqa said.
Several international, Arab and Jordanian musicians performed in Jerash over the past ten days, drawing large audiences to the ancient city's theatres.
The Jerash festival is an annual celebration of local, Arabic and international culture during the summer. It is held in the ancient Greco-Roman city of Jerash, known in old times as Gerasa, and located some 48km north of Amman.
In 2011, the government revived the festival, which was first launched in 1981, after a four-year suspension.
In 2008, authorities had launched the Jordan Festival, a nationwide theme-oriented event under which the Jerash festival became a component, a move that faced bitter criticism from fans, artists and associations.
Related Articles
Jul 31,2016
AMMAN — The 31st Jerash Festival for Culture and Arts attracted over 100,000 visitors, the festival's executive director, Mohammad Abu Summa
Jul 22,2017
AMMAN — The first two days of Jerash festival saw a large turnout of local and foreign visitors, an official said.Thousands of fans attended
Jul 25,2015
AMMAN — More than 15,000 visitors attended the activities of the Jerash Festival for Culture and Arts over the weekend, according to its exe
Newsletter
Get top stories and blog posts emailed to you each day.