You are here
JGFMC employees boast successful careers, 'thanks to good management'
By Rana Husseini - May 03,2018 - Last updated at May 03,2018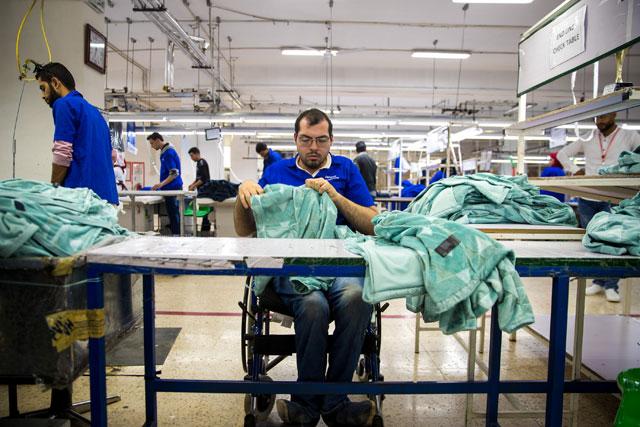 Sufian Malalha, a person with a physical disability, works at a garment factory in Sahab, where 50 of the 2,800 employees are people with disabilities (JT photo)
AMMAN — Sisters Oryana and Ala' Awaysheh are managing over 2,800 employees at the Jerash Garments and Fashions Manufacturing Company (JGFMC) in the Sahab Development Zone.
The two sisters were among a crowd of factory officials and employees who greeted His Majesty King Abdullah during his visit to the establishment on Wednesday on the occasion of Labour Day.
Oryana was working as a teacher when she decided to quit the job and join the textile industry in 2005 as a regular employee, before she climbed the ladder gradually, serving in various divisions until she was named executive manager in 2011.
"I excelled at every post I served in this company because I had lots of ambition and wanted to reach a high position," Oryana, 35, told The Jordan Times.
Meanwhile, Ala', 33, who is now the human resources manager, joined the factory a few years ago following her sister's employment.
"My sister encouraged me to join, and the factory executives were very supportive because they allowed me to complete my last year at college while working part-time there," she told The Jordan Times.
Ala' said she assumed many posts, and the management decided to promote her because of her "convincing performance".
The younger sister stressed that the company always rewards its hardworking employees by "giving them bonuses or promotions".
Abdul Latif Abu Ghweileh, 24, is one of the employees who started as a safety officer and was promoted to a managerial post almost one year later.
"I studied Civil Protection and I first worked as a safety officer, then one year into my employment, I was promoted to safety manager because the management realised that I was serious and dedicated in my work," Ghweileh told The Jordan Times.
Sufian Malalha is a person with a physical disability who insisted on working at the factory's site although he was offered a salary and to stay at home, according to Ala'.
"The factory's policy encourages hiring persons with disabilities and Malalha was hired to prepare the clothes for ironing but he was physically tired from work," Ala explained.
"We offered him the choice to get a salary while at home, but he refused and insisted on working
with us," Ala' said.
Ala' concluded by saying that "what distinguishes our factory is that we live in a family atmosphere where we all eat together and work together".
Related Articles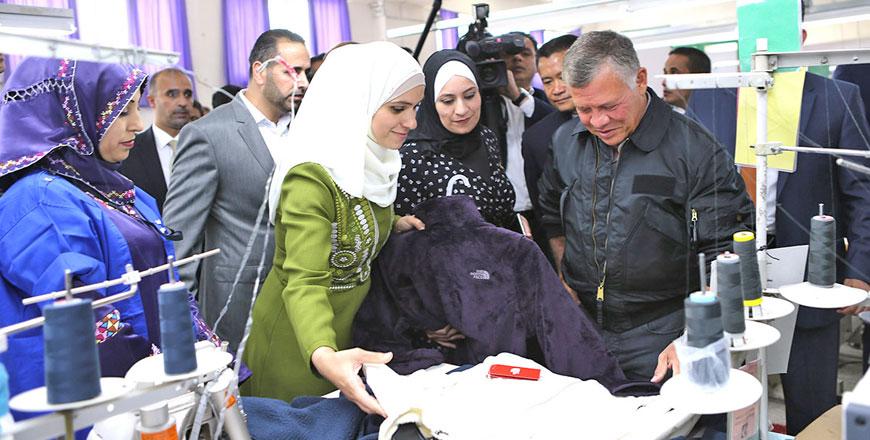 May 03,2018
SAHAB — His Majesty King Abdullah on Wednesday paid a visit to Jerash Garments and Fashions Manufacturing Company (JGFMC) at Sahab Developme
May 02,2016
AMMAN — His Majesty King Abdullah on Monday expressed his pride in workers' efforts and his appreciation of their contribution to Jordan's d
Mar 11,2017
AMMAN — Celebrating International Women's Day, HRH Princess Basma on Friday visited a garment factory in Ajloun that employs 382 women and 1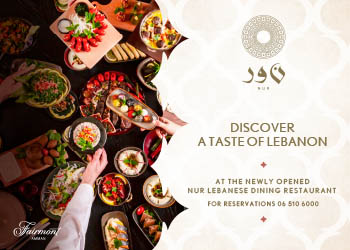 Newsletter
Get top stories and blog posts emailed to you each day.