You are here
King joins workers at garment factory for Labour Day celebration
Hiring hundreds of Jordanians, and counting, Sahab-based firm embodies benefits of foreign investments
By Rana Husseini - May 03,2018 - Last updated at May 03,2018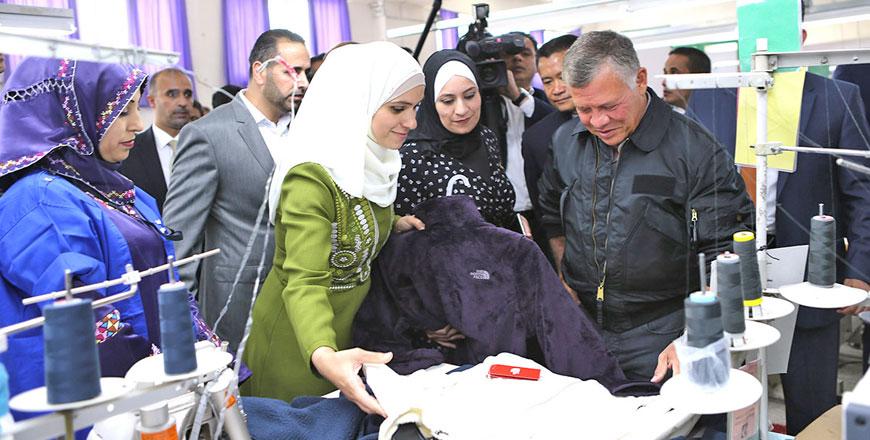 His Majesty King Abdullah tours Jerash Garments and Fashions Manufacturing Company at Sahab Development Zone on Wednesday (Photo courtesy of Royal Court)
SAHAB — His Majesty King Abdullah on Wednesday paid a visit to Jerash Garments and Fashions Manufacturing Company (JGFMC) at Sahab Development Zone on the occasion of Labour Day.
The company, which was established in 2000, is an approved manufacturer by many well-known brands and retailers in Europe and the US, including Walmart, Costco, Sears, Hanes, Columbia, The North Face, Timberland, Wrangler, Lee, Calvin Klein, Tommy Hilfiger and Speedo.
JGFMC runs three locations and employs around 2,800 people, mostly women, including 800 Jordanians and 50 people with disabilities, along with nationals of Sri Lanka, India, Bangladesh, Myanmar, China, Nepal and Syria.
At a meeting with the company's chairperson and senior executives, King Abdullah praised the firm for being the first Jordanian and Arab company to be listed on the NASDAQ Stock Exchange in New York City. Trading will begin on Friday.
The company became the first garment factory in Jordan authorised to export to the EU market under a 2017 relaxed rules of origin deal between the Kingdom and the union.
Total production capacity is approximately 500,000 pieces per month with exports to the US worth $62 million and the EU $300,000 in 2017.
During a meeting with the firm's board members and top executives, King Abdullah affirmed his support for guest investors, stressing the importance of creating and maintaining an investment-friendly climate to enable companies to overcome challenges.
King Abdullah pointed out the importance of JGFMC's contribution to the local community, which will eventually reflect positively on the national economic development.
He stressed that Jordanian women should be empowered to play a key role in productive sectors and become more active participants in economic activities.
His Majesty toured the factory to congratulate workers on the occasion of Labour Day and was met by a cheering crowd that voiced their appreciation for King Abdullah's gesture to greet dozens of workers in person.
The company's Chairperson Choi Lin Hung and a number of executives briefed the King on the production process at the factory, including plans to open a new satellite project in Al Hasa, around 130km south of Amman, employing and training 500 women in the area.
The company's plant in Hasa will include a nursery and a sports facility at the disposal of the local community.
The chairperson said Jordan's security and stability, as well as the incentives offered have encouraged the company to expand its investments and hire more Jordanians.
The company also works to empower local communities by providing training and employment opportunities as part of its corporate social responsibility, Hung added.
The chairman said the fact that the company has been listed on NASDAQ will help it expand and increase its investments in Jordan.
Meanwhile, Labour Minister Samir Murad said JGFMC is considered one of the "most important and successful Chinese investments in Jordan that is providing job opportunities to Jordanians".
Executive Manager Oryana Awaysheh, a Jordanian, said that the company that will open in Hasa was the fruit of the King's visit to The Netherlands "because he took representatives from the textile and agriculture industries there", including executives from JGFMC.
"There, we agreed with several Dutch investors to export our products to The Netherland, which worked well for us and so we decided to expand our operation and build the new branch in Hasa," Awaysheh explained.
She also pointed out that there are training centres at the company and so far "we have trained 150 Jordanian workers for free and also given them allowances".
up
88 users have voted, including you.
Related Articles
May 05,2018
AMMAN — The Jerash Garments and Fashions Manufacturing Company, a Chinese investment in Jordan, has been listed on the Nasdaq Stock Market.N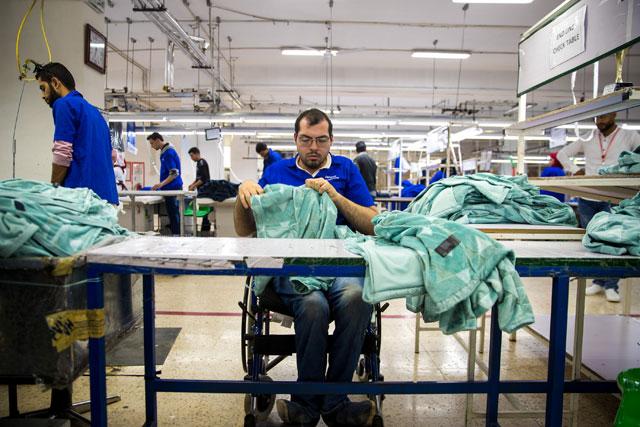 May 03,2018
AMMAN — Sisters Oryana and Ala' Awaysheh are managing over 2,800 employees at the Jerash Garments and Fashions Manufacturing Company (JGFMC)
Jul 27,2016
AMMAN — A legal aid organisation has condemned the "undignified" work conditions some labourers experience in the Qualified Industrial Zones
Newsletter
Get top stories and blog posts emailed to you each day.