You are here
Jordan allows aid delivery, by cranes, to berm refugees
Momani says no changes to sealed border policy
By Khetam Malkawi - Oct 09,2016 - Last updated at Oct 09,2016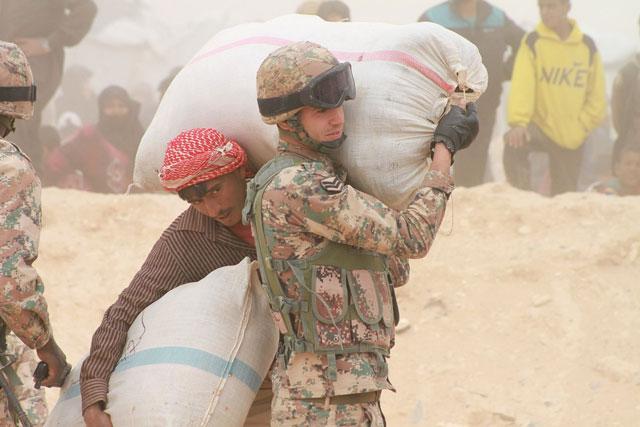 Border Guards help Syrians cross the border into Jordan in this May 4 photo (Photo by Hassan Tamimi)
AMMAN — Based on recent developments and upon further discussions with international agencies, Jordan will allow the delivery of aid to the berm through cranes, to be collected by the community leaders of the displaced Syrians near the border for distribution.
In remarks to The Jordan Times on Sunday, Minister of State for Media Affairs and Government Spokesperson Mohammad Momani said the distribution process will be monitored "in different ways".
Asked if the new measures entail any change to Jordan's policy regarding the berm, the no-man's land between the Jordanian and Syrian borders where the displaced Syrians are gathered, Momani said Jordan will maintain its sealed border policy, and this delivery of aid will not affect that.
The injured and humanitarian cases will be allowed entry based on the assessment of agencies on the ground.
According to the UN, more than 85,000 Syrians are stranded at Rakban settlement in the no-man's-land between Jordan and Syria.
Momani explained aid would be transported by cranes directly from the northeastern border to the other side.
Community leaders in Rakban will receive the aid once lowered and distribute it to the refugees there.
Members of the Tribal Council of Palmyra and Badia, a Syrian rebel group in charge of running the Rakban camp's daily affairs, told The Jordan Times that the preliminary agreement entails the resumption of aid delivery as of next week.
Jordan declared the northern and northeastern border areas a closed military zone in June in the aftermath of a terrorist attack that targeted a military post serving refugees near the border, killing seven troops and injuring 13 others.
Since then, Jordan has agreed with international relief agencies to allow a one-off aid delivery to the area in August, while global stakeholders were expected to seek alternative solutions to continue the mission.
Related Articles
Dec 08,2016
AMMAN — The Kingdom only allows the entry of humanitarian cases of displaced Syrians stranded in the berm area, the no-man's- land between t
Jul 21,2016
AMMAN — Tens of thousands of people are in need of urgent assistance in a border area between Syria and Jordan, the International Committee
Jul 13,2016
AMMAN — Jordan has allowed the entry of food and water to refugees stranded across Jordan's border with Syria in the no-man's-land, an offic