You are here
Jordan allows food, water to Berm, 'temporarily' — sources
By Khetam Malkawi - Jul 13,2016 - Last updated at Jul 13,2016
According to the UN, more than 85,000 Syrian refugees are stranded at Rakban settlement in the no-man's-land between Jordan and Syria (Photo by Osama Aqarbeh)
AMMAN — Jordan has allowed the entry of food and water to refugees stranded across Jordan's border with Syria in the no-man's-land, an official source said.
The opening of borders for aid delivery is "temporary and only for 10 days, until the UN finds an alternative way" to carry out the humanitarian mission.
The source reiterated that the north and northeastern borders are a still a closed military zone and that the "security of Jordanians is our top priority".
Jordan declared the area a closed military zone after a terrorist attack in late June targeted a military post serving refugees near the border, killing seven troops and injuring 13 others.
According to the UN, more than 85,000 Syrian refugees are stranded at Rakban settlement in the no-man's-land between Jordan and Syria. Jordanian officials have put the number at more than 100,000, but there are reports of Syrians leaving the makeshift town back to their homes.
Meanwhile, a Syrian opposition group representing tribal forces in east Syria said that food assistance delivery to refugees stranded across Jordan's borders with Syria is expected to be resumed next week and on a monthly basis.
The Tribal Council of Palmyra and Badia said in a statement sent to The Jordan Times Tuesday that the decision came following a meeting on Monday that brought together Jordanian officials, UN officials and representatives of the council based in the Berm to agree on a mechanism to allow access and distribution of food assistance.
The council said that food delivery to the area is expected to be resumed on Friday, to be distributed to families in portions that cover their needs for one month. The Jordanian sources did not confirm that.
The council's coordination office, based in Istanbul, told The Jordan Times that the agreement was reached after the Syrian organisation provided guarantees to Jordanian authorities to maintain security in the camp and handle the distribution of food to refugees.
In addition, the newly established council will work on a population count in the area to facilitate the aid distribution process.
However, there is no agreement yet on the access to medicine and infants' milk, a member of the council in the "Berm" told The Jordan Times.
Water has been delivered to refugees stranded across Jordan's borders with Syria "without interruption" since Wednesday, he said.
The council, however, discussed with the Jordanian officials the possibility of increasing water rations.
According to Unicef sources, each refugee is now receiving five to six litres of water per day.
The Tribal Council of Palmyra and Badia was formed recently by Syrians from Palmyra and the east Syrian desert to oversee the affairs of Syrian refugees in the region. The council's Istanbul office deals with international agencies and lobbies to secure the needs of refugees.
Related Articles
Jul 18,2016
AMMAN — Syrians stranded across Jordan's border with Syria in the no-man's-land called for increasing water supplies delivered to the camp t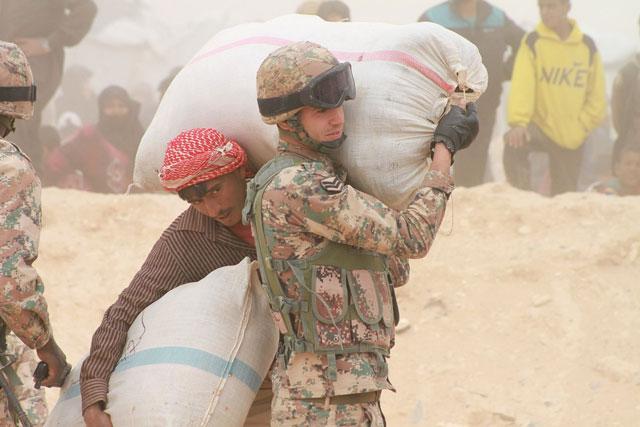 Oct 09,2016
AMMAN — Based on recent developments and upon further discussions with international agencies, Jordan will allow the delivery of aid to the
Aug 03,2016
AMMAN — Syrian refugees at the Rakban camp in the no-man's-land between the Syrian and Jordanian borders received a new batch of aid on Wedn