You are here
Jordan builds on success as int'l filming location
By Muath Freij - Mar 22,2018 - Last updated at Mar 22,2018
The cast of Jordanian film 'Theeb' is seen in the desert of Wadi Rum recently (Photo by Muath Freij)
AMMAN — Wadi Rum tour guide Hussein Suweilheen, who took part in the acclaimed Jordanian film 'Theeb' said many tourists have been asking him to take them to the locations featured in the film.
He recalled how many visitors have requested to take photos with him, eager to learn more about the movie and the shooting location.
"Since the number of movies shot here increased and the media promotion of the area grew, we have been witnessing a surge of tourists heading to Wadi Rum," he told The Jordan Times in a phone interview.
Jordan's beautiful scenery and stable political environment have gradually transformed the Kingdom into a popular destination for filmmakers.
Some 110 feature films have been filmed in Jordan including foreign and local films, Royal Film Commission's-Jordan (RFC) Managing Director George David said, adding that 70 per cent of those films were shot in Jordan after the creation of the commission.
"The number of crews hired since 2003 stands at 87,900 for film and television, with the direct and indirect income generated by production amounting to 230 million," he told The Jordan Times.
Highlighting the Turkish example, he said that dramas produced in Turkey have played a significant role in attracting regional tourists to the country. Jordan has a similar potential, especially with the upcoming production of Netflix's first Arabic original series "Jinn" to be shot entirely in Jordan, he explained.
Jordan Tourism Board's (JTB) Managing Director Abed Al Razzaq Arabiyat confirmed that movies and promotions do have a positive impact on tourism.
"We hosted a lot of filmmakers and TV productions from Korea, which then attracted Korean tourists to Jordan to see the locations from the shows and experience Amman," he recalled.
Following the shooting of several scenes of "The Martian" in Jordan's Wadi Rum, the number of tourists wishing to experience the "Mars" setting surged, according to Arabiyat.
"The number of tourists to Wadi Rum increased by 68.9 per cent in 2017. We are talking about 177,000 visitors last year. In January 2018, another increase of 31 per cent was recorded," he continued.
David added that RFC is very fortunate to be working so closely with JTB and the Ministry of Tourism. "We held the film tourism conference in Jordan last year with many of the production companies and tourism agencies coming to see what can be done in Jordan. It is not only about watching the movie and then hoping that tourists will come; it is also about creating an experience in Jordan that will remind people of the filming location," he explained.
Arabiyat said they are also working with RFC to bring in decision makers from the film industry including Bollywood, Disney, Hollywood and filmmakers around the world.
Arabiyat cited the example of the role "The Lord of the Rings" in increasing the number of tourists to New Zealand.
"Aladdin, which was partly shot in Jordan, is now a good opportunity to link the film with the Kingdom. We aim to work very closely with Disney to create TV ads and commercials to co-brand Jordan as a touristic destination," he said.
Ingrid Dost, a German who went to Wadi Rum twice, admitted that she did not know about "The Martian" shooting before she visited the country, but wishes she had.
"The tour guide told us that the movie was shot there and led us to the place. If I had known that when I watched "The Martian", it would have definitely been a reason for me to travel there. I know that a lot of people travel to Petra because of Indiana Jones," she told The Jordan Times.
She urged stakeholders to implement programmes to build on this cinematographic success. "I was in Edinburgh last summer and they had Harry Potter tours, so one could visit all the film sites. There were also actors reenacting some scenes from the movie," she recalled.
Arabiyat said that the destination management companies in Jordan are developing packages specialised in the film industry. "They know the importance of developing a programme where people can visit the sets of the films, see the costumes and experience the movie itself," he concluded.
Related Articles
Feb 27,2016
AMMAN — Film tourism is emerging globally as an industry in itself, and Jordan has great potential in this regard, with a history dating bac
Aug 13,2017
AMMAN — The Royal Film Commission (RFC) on Sunday launched Jordan's first film tourism strategy, set to guide efforts over the coming three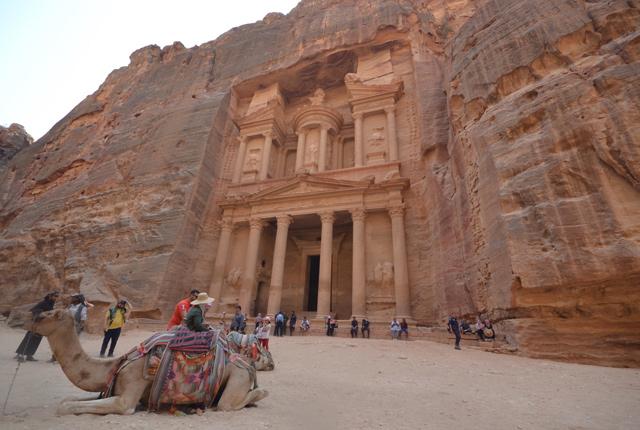 Mar 13,2018
AMMAN — Netflix's upcoming first Arabic original series, which will be filmed primarily in Jordan, is expected to further highlight the beau
Newsletter
Get top stories and blog posts emailed to you each day.