You are here
Jordan, Germany call for inclusive political solution to Iraq, Syria crises
By JT - Jun 24,2014 - Last updated at Jun 24,2014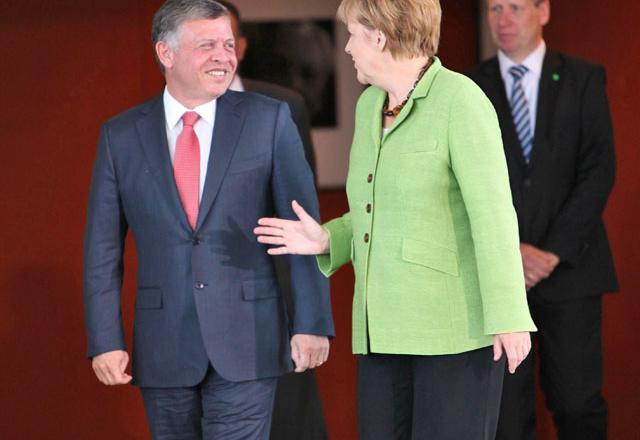 AMMAN — His Majesty King Abdullah and German Chancellor Angela Merkel on Tuesday held talks in Berlin that focused on boosting the Jordanian-German relations and the recent developments in the Middle East, especially in Syria and Iraq.
At a joint press conference ahead of the meeting, His Majesty expressed appreciation for Merkel and stressed the importance of continuing dialogue with Germany regarding the various challenges facing the region and ways to address them.
Following are the two leaders' remarks at the press conference, as provided by the Royal Court:
His Majesty said: "Thank you very much Madam Chancellor. I am delighted to be back here in Berlin. I've always enjoyed the exchanges between both, you and I, and the role Germany has played in our part of the world.
Recently, obviously, I am a tremendous supporter of Germany in the World Cup, so I am very delighted and I continue to wish you well over the next several weeks.
Germany has played an important role in our part of the region, and I think the discussions today will explore the role of Germany, but also in the context of the European Union.
You have mentioned our concern, obviously, of Iraq, and we are looking at the issue of the inclusiveness, the future of Iraq, where all participants of Iraq have to come together in a comprehensive way and be the building blocks of a comprehensive, and a total, inclusive future for the Iraqi people. And we will obviously talk about the importance of stability and security for that country.
We will also have the opportunity to talk about Syria, as you mentioned. This is a tremendous challenge for us in Jordan.
We are the third largest refugee host community in the world. This burden has had a tremendous impact on the people, on the budget and on the infrastructure of our country.
The crisis in Syria has shown that transnational terrorists have no regards for borders as well as the challenge that we face when those terrorist organisations, or those extremists, return back to their host countries. Obviously, we have seen that effect in Iraq also. So, these are part of the discussions we will have today.
Last, but not least, Madam Chancellor, it is very, very important that we put all our efforts behind Secretary of State [John] Kerry, who has done a remarkable job on what remains to be the core issue, which is the [Arab-Israeli] peace process.
We do hope that there is an opportunity to relaunch negotiations between the Israelis and Palestinians. And, again, it is important that, as we look at Jerusalem, that there are no unilateral decisions that create provocations for the holy sites in Jerusalem, specifically for the Christian and Muslim holy sites.
We do hope that Secretary Kerry does have the opportunity to be able to bring both sides together and Jordan will continue to work in that respect.
But at the same time, in Jordan, in specific, with the burden of the refugees, looking at what's happening in Iraq, we are suffering a tremendous burden of refugee traffic in our country.
It is a tremendous burden, and seems unfair for Jordan to shoulder this major responsibility ourselves alone, so we are looking to the international community to help [and] assist us, so that we can continue to be an island of stability in a very volatile region.
Thank you very much for being here and I look forward to some interesting remarks today."
For her part, Merkel said: "I would like to cordially welcome His Majesty King Abdullah II again to the Federal Chancellery.
We last saw each other at the Nuclear Summit in The Hague.
I am very pleased that, given the current developments in the region, we have the chance of an exchange of views.
The recent events in Iraq have shown that Jordan is also affected. We are all very worried and I think that we will also discuss what Germany can contribute to calm down the situation.
We believe that, similar to the war in Syria, only a political solution can bring long-term stability and that it is very important in regards to Iraq to include all religions and all parts of the population in this dialogue, to quickly build a government that promises this, in order for Iraq to emerge stronger against fundamentalists and extremists.
Jordan is carrying a heavy burden in coping with the refugee catastrophe due to the war in Syria. The Federal Republic of Germany has not only offered, but also shown support on numerous occasions, but we will also discuss how Germany can be of further help. Germany itself has also taken in numerous Syrian refugees, but this is nothing in comparison to the challenges Jordan faces.
Last but not least, His Majesty King Abdullah II has always and again advocated for a Middle East peace process. Despite its difficulties and its failings, I can only say: It is now more urgent than ever! The region is highly instable and therefore this will undoubtedly be a topic of our discussion now.
Thank you very much that we have this opportunity of an exchange and welcome again Your Majesty."
During the discussions afterwards, attended by high ranking officials from both countries, King Abdullah, who returned later on Tuesday, and Merkel expressed their mutual keenness on developing bilateral relations in all fields, especially on economic and development levels.
The two leaders reiterated their stands on Iraq, Syria and the Palestinian issue, according to the Royal Court, stressing the need for political solutions that engage all segments of society in Syria and Iraq, and international support with effective US engagement to end the Palestinian-Israeli conflict.
The Jordanian delegation to Germany included Royal Court Chief Fayez Tarawneh, Foreign Minister Nasser Judeh and King's Office Director Imad Fakhoury.
Related Articles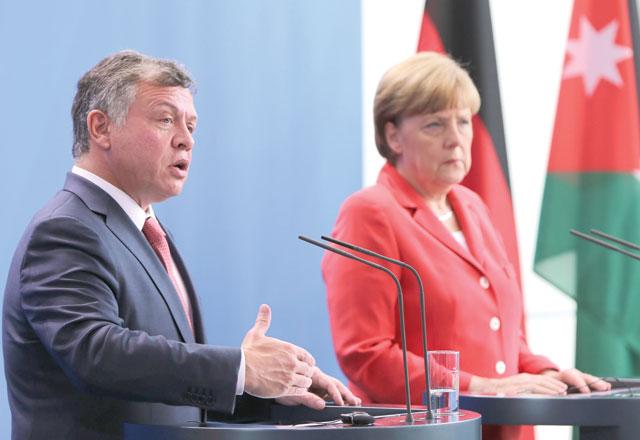 May 14,2015
His Majesty King Abdullah and German Chancellor Angela Merkel on Wednesday held talks which focused on developing Jordanian-German cooperation in various fields, besides reviewing regional developments.  
Oct 09,2016
AMMAN – His Majesty King Abdullah on Friday discussed with German Chancellor Angela Merkel ways to boost bilateral cooperation and the lates
Jun 20,2017
AMMAN — His Majesty King Abdullah and French President Emmanuel Macron on Monday held talks in Paris that focused on the latest regional and
Newsletter
Get top stories and blog posts emailed to you each day.