You are here
Jordan, Italy and UNESCO partner to protect Kingdom's heritage sites
By Andrea Celeste - Oct 21,2017 - Last updated at Oct 21,2017
Participants at the inauguration of the new office of the Italian Archeological Consortium pose for a group photo at the Talal Abu-Ghazaleh building on Thursday (Photo by Andrea Celeste)
AMMAN — The new office of the Italian Archeological Consortium hosted at the Talal Abu-Ghazaleh building was inaugurated on Thursday with the aim of safeguarding the Kingdom's cultural heritage, in collaboration with Italy and UNESCO.
A conference announcing the launch of a book titled "Precious Water; Paths of Jordanian Civilisations as seen in the Italian Archeological Excavations", published by Universita' La Sapienza of Rome was held, in the presence of Italian Ambassador Giovanni Brauzzi, Chairman of Talal Abu-Ghazaleh Organisation (TAG) Talal Abu-Ghazaleh and UNESCO Representative to Jordan Constanza Farina.
"We are all well aware that the destruction of heritage affects societies in the long-term and that its protection is therefore critical," Farina noted.
During the conference, several history and archaeology specialists presented their latest findings.
Roberto Gabrielli from the Italian Council for Scientific and Academic Research (CNR) outlined the innovative technology and training activities implemented at the historical site of Umm Ar Rasas while archaeologist Giorgio Sobra from the Instituto Superiore per la Conservazione ed il Restauro referred to the various activities carried out at Petra.
A Roman tomb was discovered in the red-rose city which "appears to be one of the greatest findings in the site so far," he said.
UNESCO is currently working in Petra to train Jordanian staff and the local community in conserving the site, said Giorgia Cesaro, UNESCO representative to Jordan.
A study of the Jordanian frontiers was also presented by representation of The Universita degli Studu di Firenze, stressing their great importance in world history and "the cultural heritage that they have produced".
Abu-Ghazaleh stressed the importance of the new office in preserving archaeological sties.
"As a Jordanian, I am proud to be from a country so rich in history and I am delighted to have such great partners — Italy and the UNESCO — to help us explore and preserve archaeological treasures; Countries with great history are destined to have great futures," he said.
The office aims to implement a series of activities throughout the year, in cooperation with the Italian embassy, to better achieve coordination among Italian and international missions, a statement from TAG said, adding that it will be conducted with the guidance and control of the relevant Jordanian authorities.
The participants also announced the upcoming 14th international conference of the history and archaeology of Jordan in Florence, Italy, which will be held in January 2019 under the title "Flow of people, goods and ideas".
Related Articles
Nov 24,2016
AMMAN — Luay Abu Ghazaleh, vice chair of Talal Abu-Ghazaleh Organisation (TAG-Org) and CEO-managing of Abu-Ghazaleh Intellectual Property, c
Nov 30,2015
AMMAN — UNESCO on Sunday launched an initiative in partnership with Italian trumpet player and composer Luca Aquino and the Jordanian Nation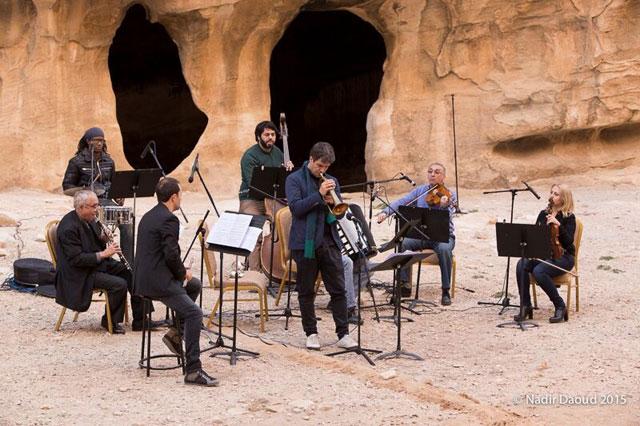 Jun 24,2016
AMMAN — A new album featuring Italian trumpeter and composer Luca Aquino and the Jordanian National Orchestra will be launched at a concert
Newsletter
Get top stories and blog posts emailed to you each day.