You are here
Jordan media 'not free', says latest Freedom House report
By Mohammad Ghazal - Apr 30,2016 - Last updated at Apr 30,2016
AMMAN — Jordan was ranked 145th out of 199 countries in Freedom House's "Freedom of the Press 2016" report, maintaining the same level of last year's report.
On a scale of 0 to 100 (0 being the most free and 100 being the least free), Jordan scored 66 and was classified as a "Not Free" country when it comes to media freedom, the report indicated.
At the Arab level, Jordan ranked fifth, preceded by Tunisia, Lebanon, Kuwait and Algeria respectively, according to the report, posted on Freedom House's website.
Jordan was followed by Morocco, Qatar, Iraq, Oman, Libya, Egypt and the UAE, according to the report, which indicated that press freedom globally declined to its lowest point in 12 years in 2015, as political, criminal, and terrorist forces sought to co-opt or silence the media in their broader struggle for power.
Commenting the report, Jordan Press Association (JPA) President Tareq Momani said: "It is unfair to label Jordan as a not free country in spite of the problems Jordan has with media-related legislation."
"There are some practices in Jordan that restrict media freedom…The situation is not the best, but it does not mean that Jordan is not free when it comes to media," Momani told The Jordan Times in a phone interview on Saturday.
"No journalists were killed or kidnapped in Jordan in 2015…The detention of some journalists in 2015 affected Jordan's image, but it does not entirely mean the Kingdom is not free in this regard," he added.
According to Nidal Mansour, head of the Centre for Defending Freedom of Journalists (CDFJ), the number of violations against media personnel stood at 57 in 2015, compared with 153 in 2014.
Last year, 10 journalists were detained under the Anti-Terrorism Law and the Electronic Crimes Law, marking the highest number of detentions of media personnel, Mansour told The Jordan Times.
Momani said amendments of some media-related laws are needed, calling for an end to the detention of journalists.
"Prosecution of journalists in Jordan should only be limited to the Press and Publications Law, which bans the detention of journalists. If other laws are used, they open the door for detention of media professionals," he added, noting that there is contradiction in international reports on media freedom in Jordan.
Last week, Reporters Without Borders said in its 2016 World Press Freedom Index that Jordan improved 8 ranks on a world index of freedom of the press in 2015.
Jordan was ranked 135th last year compared to 143rd place a year earlier, it said.
Media experts in Jordan have been repeatedly calling for amending some laws to ban the detention of journalists, stressing that such measures tarnish Jordan's image and negatively affect its ranking on international reports.
In its report, Freedom House said only 13 per cent of the world's population enjoys a Free press, where coverage of political news is robust, the safety of journalists is guaranteed, state intrusion in media affairs is minimal, and the press is not subject to legal or economic pressures.
Forty-one per cent of the world's population has a Partly Free press, and 46 per cent live in Not Free media environments, it said.
Related Articles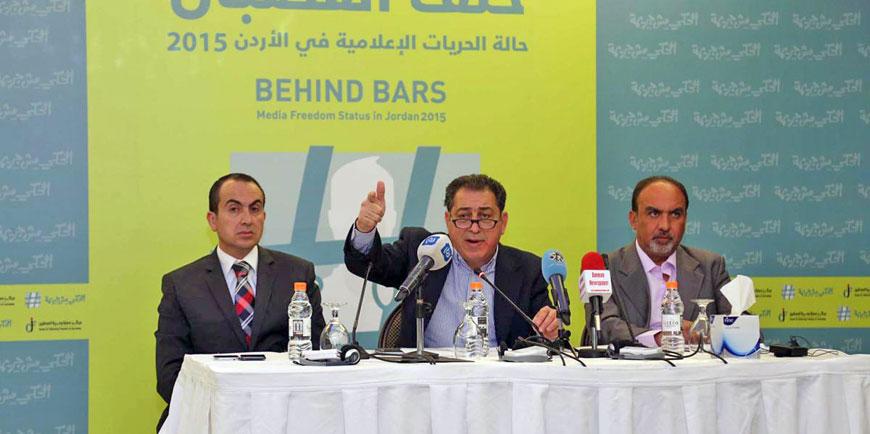 May 07,2016
AMMAN — Ten Jordanian journalists were detained last year under the Anti-Terrorism Law and the Electronic Crimes Law, while the total violat
May 06,2015
Media freedom in Jordan improved slightly in 2014 compared to 2013, remaining at the relatively free level, according to a report issued by the Jordan Press Association (JPA) on Wednesday.
Apr 18,2016
AMMAN — The status of media freedom in Jordan is witnessing a decline amidst the fluctuation and ambiguity of legislation governing the sect
Newsletter
Get top stories and blog posts emailed to you each day.