You are here
'Jordan must be ready for any security developments on Iraqi, Syrian fronts'
By Raed Omari - Jun 17,2014 - Last updated at Jun 17,2014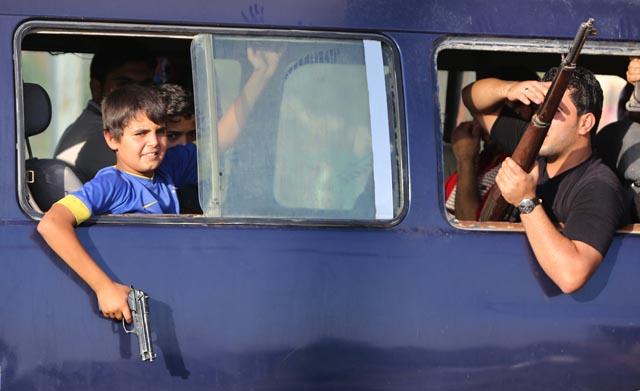 AMMAN — With the Islamic State of Iraq and Levant (ISIL) advancing on Iraq's key cities and with the Al Qaeda-inspired militia perceived as turning from a "virtual" to "real" state, Jordan should be vigilant and fully prepared to deal with any security developments, according to columnists.
After its seizure of the city of Mosul in Ninawa province, ISIL, known in Arabic as "Daesh", has reportedly been taking over other major Iraqi cities, including the heavily armed Tikrit, the hometown of former Iraqi president Saddam Hussein, amidst news about the Islamist group's black banners moving towards Baghdad.
Columnists have cited the Kingdom's 180-kilometre shared border with Iraq and the considerable number of Jordanians fighting alongside the Islamist militia, as the main threatening factors.
Al Ghad columnist Mohammad Abu Rumman, an expert on Islamist groups, described Jordan's current security measures as "natural" and the "least expected" with the ISIL jihadist fighters achieving triumph after triumph against the Iraqi army.
What adds to Jordan's concerns, according to Abu Rumman, is the news of Iraqi troops pulling out or being forced to abandon their posts on the border with Jordan.
"ISIL probably turning out to be the Iraqi troops' replacement on the border with Jordan, coupled with the presence of Al Qaeda affiliate Jabhat Al Nusra in Syria, is definitely a worrying matter," he wrote in a column published Tuesday.
"Bordering a country where extremism and chaos prevail is itself a big threat to Jordan's national security," he added.
ISIL might be targeting Jordan in revenge against its support for the Iraqi Sunni "Sahawat" troops following the Al Qaeda-claimed Amman bombings in 2005, Abu Rumman argued.
The Sahawat killed Abu Musab Al Zarqawi, Al Qaeda leader and the founder of what is today the ISIL.
The Al Ghad columnist said reports of around 2,000 Jordanians fighting alongside Al Nusra and ISIL in Syria and Iraq and their return to the Kingdom one day with military skills and, more importantly, a radical mentality, is no doubt another major threat to Jordan.
"The real concern, however, is the rapid spread of takfiri ideology among the youth segment in Jordan."
The same concerns were raised by political analyst Fahed Kheitan, who urged Jordan to enhance its military and security capabilities to deal with any "surprises" coming from eastern Iraq and prevent ISIL from securing a presence in Jordanian territory.
Kheitan said Iran, Saudi Arabia, Turkey, Syria and Hizbollah have their stakes in Iraq and will all be "burnt from the fire there", urging Jordan to remain distant from the Iraqi crisis and keep its long-held "political pragmatism".
Jordan has long employed a "realistic" and pragmatic approach towards Iraq, keeping channels open with the government and Arab Sunnis alike, despite the risks accompanying such diplomacy, he wrote on Sunday.
Khitan believes the resource-limited Kingdom is in a difficult security situation, with Al Nusra in Syria and ISIL in Iraq.
"Such an unenviable situation requires high vigilance and military preparedness from Jordan to always be ready for any security developments."
Although not underestimating ISIL's spread in Iraq and before that in Syria, Ad Dustour columnist Batir Wardam wrote on Sunday that the threat the radical group poses to Jordan has been "exaggerated".
The major priority for ISIL now is to secure its presence in the territories its fighters occupied in the face of any counterattack from the Iraqi army, he wrote.
"It is not in the interest of ISIL to open a new front with Jordan."
In addition to being prepared to deal with the possibility of an Iraqi refugee influx into the Kingdom, Wardam said Jordan should to keep an eye on the Jordanians fighting alongside ISIL and Al Nusra in Iraq and Syria.
"It is true that there are no widespread radical groups like ISIL in Jordan but there is the Salafist ideology."
Related Articles
Jan 06,2014
The Islamic State of Iraq and Levant (ISIL), also known with its Arabic acronym DAESH, is not a threat to the Kingdom, and the country's borders are tightly controlled, sources said on Monday.
Jan 06,2014
The Islamic State of Iraq and Levant (ISIL), also known with its Arabic acronym DAESH, is not a threat to the Kingdom, and the country's borders are tightly controlled, sources said on Monday.
May 12,2014
A rogue Iraqi offshoot of Al Qaeda is now killing more rival Al Qaeda fighters every week in Syria than President Bashar Assad's forces as infighting intensifies among opposition gunmen.