You are here
Jordan stands out as better host to Syrian refugee children — survey
Despite relatively safe, assuring environment, global support urged to address resilience gaps
By Mohammad Ghazal - Mar 17,2018 - Last updated at Mar 17,2018
In this recent photo, Syrian refugee children are seen leaving a school at Zaatari camp northeast of Jordan (Photo by Amjad Ghsoun)
AMMAN — Around 15 per cent of Syrian children in Jordan said they have experienced violent discipline at home compared with 50 per cent in Syria and 39 per cent in Lebanon, according to World Vision's report "Beyond Survival" issued on Saturday.
The report, which covered more than 1,200 Syrian children, in Syria, Lebanon and Jordan, indicated that 63 per cent of children surveyed in Lebanon said they were not attending school. In Jordan and in Syria, the numbers were much lower, with only 6 per cent of children in Jordan saying they were not in school and 7 per cent of children in Syria.
According to the report, e-mailed to The Jordan Times, 57 per cent of children in Syria who went to school say they struggle to learn. They expressed frustration with the curriculum and the classroom environment. In Lebanon the figure was also significant at 27 per cent.
In Jordan, only five per cent of children who went to school believed they were struggling to learn, according to the report.
In Syria, 42 per cent said they have witnessed violent discipline by teachers and other school staff compared with 17 per cent in Lebanon and 10 per cent in Jordan, it indicated.
More than half of all children surveyed said they do not have access to healthcare. According to their responses to the survey, life in Syria is unsurprisingly much more precarious and harmful conditions are more prevalent than in Lebanon and Jordan. However, the survey results also show that refugee children in Lebanon struggle more than those in Jordan.
The report showed that 19 per cent of Syrian children in Jordan voiced concern about living in exile, 20 per cent voiced concern about having unpredictable future and 33 per cent said they were concerned that the conflict in Syria was unending.
Fifty-two per cent of Syrian children in Jordan named at least one education-related stressor they were facing such as bullying, violent discipline and difficulty of curriculum. This percentage was 86 per cent in Lebanon.
Overcrowded housing is prevalent in all three countries.
Some 80 per cent of Syrian children in Jordan said they were living in such conditions, compared with 73 per cent in Lebanon.
Commenting on the results, Hussein Khuzai, professor of sociology at Balqa Applied University, stressed on the need for continued support for Syrian refugees.
He said it was essential to focus on providing psychological support to address traumas and conditions that the Syrian refugees have suffered from to ensure that they have a brighter future.
Some Syrian refugees in Amman called for increasing support given to their children.
Manal Salloum, a mother of five, said she was forced to allow her 14-year-old son to drop out of school to work and earn money.
"I get some money from some charities but it is not enough. We also get some support from UN agencies but that is also not enough. If my son does not work, we cannot live in Amman which is very expensive compared to Homs where we come from," Salloum said on Saturday.
"My son is the eldest and I need him to earn money. If countries are concerned about the future of children, they should support them more so they do not have to take jobs," the mother added.
The report called on host governments and donors to concentrate support efforts for children who experience multiple and overlapping stressors, adding that these children are at higher risk of long-term negative health and social outcomes.
Donors must prioritise funding for mental health and psychosocial support programmes (MHPSS) as these programmes promote resilience and positive coping mechanisms and have shown to reduce levels of stress, insecurity, emotional and behavioural difficulty and protect childhood development trajectories, the report indicated.
Donors must renew efforts to fully fund the education of Syrian girls and boys, it indicated, calling on donors to support funding and innovations in the education, child protection, and health sectors to shift attitudes and create new behaviours in caregivers and others who directly influence the day-to-day lives of refugee children.
Wynn Flaten, World Vision's Syria crisis response director, said in a statement to The Jordan Times Saturday that Syria's children are living in the midst of the most significant humanitarian protection crisis in living memory. "In Jordan's host communities, World Vision is providing safe places for children to play and receive psychosocial support, and we are giving children access to education through the kindergarten in Azraq refugee camp, remedial education in host communities, as well as classroom construction for schools that have had to accommodate a lot more students due to the influx," Flaten said.
"All of these interventions have proved to be effective in reducing the negative impact of conflict. Ultimately, however, the international community must step up to its responsibility to end the conflict and focus on doing more than just helping Syria's children to survive," Flaten added.
"We are failing to protect their lives, their childhoods and their futures…While their survival is and should be everyone's priority, we need to go beyond just keeping them alive. It is imperative that they are able to lead happy, healthy and productive lives after Syria," Flaten said in a statement to The Jordan Times.
More than 5.5 million Syrians have fled the country, half of them are children. Another six million have left their homes in search of safer spaces inside Syria, according to the UN.
The report concluded that the right political, programmatic and funding investments today will limit the legacy of Syria's violence on families, especially the girls and boys who are bearing the brunt of this conflict.
Related Articles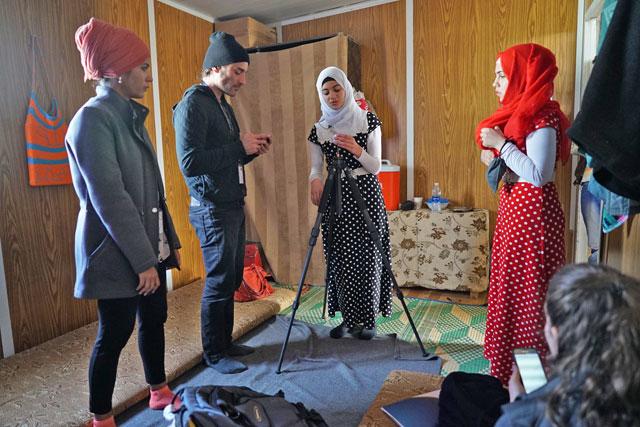 May 30,2018
AMMAN — Using virtual reality to help the world understand the plight of Syrian refugees was the purpose behind the recently released "Dream
Mar 11,2014
More than 65 per cent of refugees fear they may not be able to go back to Syria despite desperately wanting to return, according to an Oxfam survey.
Jan 22,2017
AMMAN — As the one-year mark of the London conference approaches, a report issued on Friday urged the international community and host count
Newsletter
Get top stories and blog posts emailed to you each day.